Monday night's Iowa Brown & Black Presidential Forum is a rare opportunity for minority issues to be placed front and center in the state that hosts the nation's first major electoral event in the presidential selection process. Democratic candidates Hillary Clinton, Bernie Sanders, and Martin O'Malley will address public policy on issues such as economic development, immigration, education, health care, discrimination, and civil rights. The event, which began in 1984, is one of the oldest minority forums for presidential candidates in the nation, and we at the League of United Latin American Citizens, a Latino anti-discrimination group, are proud that one of our members, Mary Dominguez Campos, is a co-founder of the forum.
Conventional wisdom holds that the interests of minorities are poorly served by giving Iowa—a state that's 90% Caucasian—such an outsized role in narrowing the presidential field. Iowa's early position in the primaries dilutes the impact of states with more diverse populations, whose caucuses and primaries come later in the electoral calendar. Compounding this dynamic is the relatively low turnout of registered voters in the Iowa caucuses (less than 20%), and the fact that caucus participation is even less diverse than the state's overall population.
Adding weight to this argument is the amped up rhetoric of this year's early Republican primary, much of which appears to be courting the demographic that was America in the 1950s, rather than the diverse tapestry of voters that we have today. One has to wonder if California, Texas, Florida, or New York were "first in the nation" how different the positions and issues addressed by presidential candidates might be.
Yet where some see barriers, others spot opportunity. Fusion is broadcasting tonight's Brown & Black Presidential Forum, bringing national attention to the event for the first time. It's also livestreaming the forum on their website, YouTube, Facebook, and other platforms. The network is clearly not content to wait for the presidential candidates to focus their attention on states that more closely match their target audience. Given that tonight's host, Jorge Ramos, was tossed out of an Iowa press event by Donald Trump last year, it's not hard to see why the network understands that Iowa's impact should not be ignored.
LULAC is also stepping up in a big way in Iowa by spending more than a quarter million dollars to turn out more Latino voters in the Iowa caucuses for the first time. More than 50,000 Latinos are registered to vote in Iowa, but in the past, few have participated in the caucuses. LULAC volunteers and staff hope to change that by sending out mailings, making phone calls, knocking on doors, and conducting caucus "training" events designed to help a community that hasn't participated in the past get motivated to engage in the caucuses this year.
G/O Media may get a commission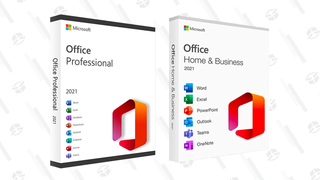 89% off
Microsoft Office Professional 2021 Lifetime License
The potential upside for both Fusion and LULAC in Iowa are significant. Should half of Iowa's registered Latino and black voters decide to participate in the Iowa Caucuses this year, they could make up 20% of the voters participating in the first electoral event of the Presidential primaries. That would turn conventional wisdom on its head and forever change Presidential politics. Yet even a modest increase in Latino and black voter participation could cause Iowa's results to defy the early polling, which is based upon the voter participation staying as it has been.
Such a result is exactly what Rep. Wayne Ford and Mary Dominguez Campos, the co-founders of the Iowa Brown & Black Presidential Forum, set out to do over 30 years ago. A major goal of the event has been to mobilize and motivate members of both Latino and African American communities, in Iowa and around the country, to participate in the political process. On February 1, Iowa's diverse communities have a chance to impact Presidential politics like never before. My prediction is that this time they will deliver, and the Iowa caucuses will never be the same.
Brent Wilkes is the National Executive Director of the League of United Latin American Citizens. Based at the National LULAC office in Washington D.C., Wilkes spent five years growing up in Iowa and returns to the state frequently.
Brent Wilkes is the National Executive Director of the League of United Latin American Citizens.