Ciara—dancer, singer, ATLien, mom to baby Future—was named the new face of Roberto Cavalli, an occasion we should all mark in 2015's fashion almanac as a moment.
Just on the heels of Rihanna's appointment at Dior, it's perhaps premature to say it's a "banner year" for luxury fashion and diversity. But it is certainly a watershed moment for CiCi, who has struggled in recent years to find her stronghold in pop culture.
Upon her debut in 2004, Ciara Princess Harris was dubbed the "First Lady of Crunk & B," but her sound was never so brash. The influence of Missy Elliott on her first album Goodies positioned Ciara much more as the second-coming of Aaliyah, as she parlayed her paper-thin voice, tomboy swagger, and near acrobatic dance moves to instant fame. Bending gender and her pliable torso on her 2006 sophomore effort Ciara: The Evolution, the entertainer saw the album as "the evolution of music, the evolution of dance, the evolution of fashion" for herself. She essentially levitated to the top of the charts with a string of hits like "Step Up," "Promise," and "Like A Boy."
G/O Media may get a commission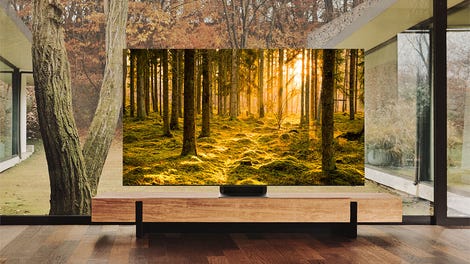 Up to 40% off
Samsung Smart TVs
Ciara didn't demand the big production of a Beyoncé or a Rihanna. Her artistry didn't supply the powerhouse vocals, costume changes, or corporate sponsors of her peers. In fact, there was something more localized about Ciara's appeal. She was rooted in Atlanta and that throwback slinky, sassy sound producers Jazze Pha and The Dream had enveloped the city in during the early aughts. Nevertheless, CiCi fit perfectly amongst this trifecta of mainstream R&B divas. She was necessary.
CiCi's follow-up work, however, would only produce a succession of momentary hits that called into question her career's trajectory. 2009's "Love Sex and Magic,"2010's "Ride," 2013's "Body Party"—all respectable hits, but never part of a strong, cohesive body of work that would edify the singer's sound.
She had a very public falling out with her record label Jive in 2011, penning an open letter to the company requesting to be released from her contract due to a lack of promotion; she was released shortly thereafter and switched to Epic Records. She had a very public courtship with her producer, Future, which spawned the album Ciara and her delicious baby, Future, Jr.—but endured a rather messy split, both personally and collaboratively in 2014.
As The Guardian mused recently, despite the fact that all of her albums, save for 2010's Basic Instinct, charted in the top 5, Ciara has failed to become a household name, a phenomenon the singer attributed to "timing" and an "inaccurate portrayal of her personality."
"I've had records just as big as those artists [Rihanna and Beyoncé]," she said. "I've had No. 1 songs around the world. My biggest competition is me."
Ciara was floundering musically at this time, but she had also most noticeably found a medium in which to flourish: fashion.
Or did fashion find her? As she told Fashion Week Daily, she met Givenchy's Creative Director Riccardo Tisci after he invited her to perform in Brazil at Fashion Rocks Rio six years ago. "We bonded so, so strongly. We're really like family. I call him Papa Ricky, Uncle Ricky…we're brothers, we're sisters, we're everything in one!"
Developing familial ties with one of the biggest names in fashion served as a springboard for Ciara's personal style and engagement with the fashion world. While fans were still waiting for her 2015 release, Jackie, Ciara was planted front row at Fashion Weeks and sprawled out in a string of image-altering shoots. The tall, statuesque frame the entertainer famously twirled and spun about stage easily poured into luxury designs and Vogue decreed her one of 2014's ten rising style stars. Ciara also grew close to Emilio Pucci's Peter Dundas, who has since been hired at Roberto Cavalli. Hence, CiCi was an obvious choice as the line's new frontwoman.
And while Ciara's Jackie was released to tepid reviews just last month—Billboard argued it felt "impersonal" and was "a robotic retread" of previous work—it's becoming obvious that fashion has allowed for Ciara to not only remain apart of the pop cultural conversation, but to experiment in ways that her music hasn't.
As the press release for her Roberto Cavalli campaign reads, people see Ciara as a "beauty with a hint of wildness." But rather than a hint, it would be game-changing if her relationships and collaborations with some of fashion's most avant-garde and progressive creatives would evoke a burst of spontaneity in her sound.
Marjon Carlos is a style and culture writer for Fusion who boasts a strong turtleneck game and opinions on the subjects of fashion, gender, race, pop culture, and men's footwear.