SERRA DO CIPO, Brazil— A rock climbing mecca is emerging out of the jungle tops of Brazil, a nation more associated with samba, soccer and surf than cliffhanging daredevils.
Far from the Andes and the established climbing scene in Patagonia, the crags around Serra do Cipó National Park in Brazil's southeastern state of Minas Gerais are starting to be recognized as South America's premier destination for "sport climbing," a style that uses fixed bolts in the rocks for climbers to clip into with carabiners and ropes.
Over the past five years, the number of established climbing routes in these cavernous and craggy limestone formations has more than quadrupled to around 400, from upside-down climbs through soaring archways to vertical ascents up 200-foot cliffs marked with natural grooves and pockets for climbers to cling to. This year-round natural playground has for decades attracted Brazilians, but now elite international climbers are also recognizing this area known as Morra do Pedreira (Quarry Hill).
"The rock is one of the best rock I ever climbed," says Spain's Patxi Usobiaga, winner of the 2009 world climbing championship and an elite climbing coach, who in August 2014 visited this remote village where ranchers still ride horseback into town and cows meander roadside. "It's not as known right now in the climbing community, but they have a lot of potential, they have a lot of routes, they have a lot of projects."
G/O Media may get a commission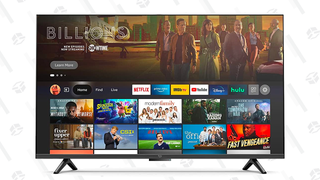 22% off
Amazon Fire TV - 50" Omni Series 4K - Early Access Deal
The arrival of world-class climbers such as Usobiaga represents the culmination of a nearly three-decade fight to preserve these rocks from mining interests, indicative of how this sport is bringing a conservationist mindset to poorer communities in the interior of Brazil. More than just a growing destination for self-described "dirtbags" who live out of dusty gear-stuffed backpacks in search of ideal climbing conditions, Cipó is a microcosm of the growth of a sport that is driving investment and international tourism far from the beaches of Rio de Janeiro.
"The government now recognizes that climbing is good for the local economy," says Wagner Borges, cofounder of a local climbing association that has spearheaded efforts to maintain relations with local landowners and authorities and promote climbing as a form of sustainable economic development. "This place is really special for me and for the climbers in Brazil. It's a tropical El Chaltén," he adds, referring to the climbing destination in Patagonia.

The 'Big Hug'
Climbers have not always been welcome in the mineral-rich state of Minas Gerais, a name that translates as "general mines" and has long been a hub for mining companies. In 1989, local landowners began quarrying Morra do Pedreira for its marble and limestone, spurring several hundred climbers to literally form a human-circle around the rocks in an event that became known as the Grande Abraço (The Big Hug).
At the time such demonstrations were rare in Brazil, which was emerging from several decades of a military rule that had quashed public unrest and pushed development of roads and industrialism throughout the interior of Brazil. Just months before the Grande Abraço, in December 1988, the famed environmental activist Chico Mendes had been assassinated at his home in the Amazon, and subtle threats were also made against the climbers.
"Some messages came that we should be careful, that some people needed jobs and they were angry with us for trying to preserve the area," recalls André Ilha, one of the protest organizers who afterward flew to Brasília to meet with federal environmental authorities. "We based our fight on substituting a harmful activity, mining, which generates few jobs and poorly paid jobs, with tourism, which generates better jobs and more opportunities for medium-sized businesses."
As 1989 was also an election year, the Green Party's presidential candidate participated in the protest, helping bring national attention. Amid the spotlight, President Jose Sarney in January 1990 decreed Morro da Pedreira as part of a nearly 500-square mile protected environmental area surrounding the 130-square mile national park of Serra do Cipó.
"It was obvious for me that sport climbing would come," adds Ilha, who discovered some of the first climbing routes in these red-and-yellow rock outcroppings. "What was not clear was that it would become a world destination."

If you bolt it, they will come
For the next two decades, climbing developed little, with only several dozen new sport climbing routes being established. Major change started happening around 2010 when a handful of climbing enthusiasts moved to this remote village and began blazing new trails and discovering hundreds of new ways to climb the myriad cliffs and rocks. In 2012 they founded the Climbers Association of Serra do Cipó (AESC), which recently gained a seat on a local counsel that oversees the park and its surrounding area—an indicator of climbers' growing sway over local development.
"This place for me is my life," says Borges, the former president of the local climbers' association. He estimates he has spent nearly $1,000 of his money on the thousands of steel bolts and rings that he has drilled into the rocks for the 60-odd climbing routes that he has established.
Now on weekends and holidays, climbers flock to the rocks and fill up the dozens of local pousadas, hostels and hotels that have sprung up in recent years to accommodate the influx. Locals are hoping for added attention this year when Rio de Janeiro — a short flight away — hosts the Summer Olympics and the government temporarily lifts its onerous visa restrictions for all international visitors from July to September. For Americans, that means saving the normal $140 visa fee.
"I live here, my money is invested here, it's important for me to maintain Cipo," adds Borges, who himself started a popular hostel known as Mandalla that opened in 2012.  "The climbers are like the guardians of the place."

Cracks in the rocks
The legacy of environmental conservation continues with initiatives such as a volunteer fire brigade to assist the federal Instituto Chico Mendes de Conservação da Biodiversidade (ICMBio) in combating the annual brush fires that have threatened the town and forced evacuations. The climbing association is also advocating for the area's establishment as a formal park, rather than just a protected area, which means that access for now still depends on goodwill from private landowners as well as permission from Brazil's federal environmental agency.
"It's very political," says Eduardo Barão, the new president of the climbing association "We have to negotiate with the owners and the local government."
Further complicating matters, cracks have started to form between climbers over how to manage and conserve this area. With some 100 new bolted climbing routes appearing in every year, and seemingly no end in sight to further growth, some see the fast development as harmful to this unique biosphere filled with green parrots and boa constrictors, among other rare animals.
"These kinds of microenvironment are unique, they're like islands," says Daniel Cardoso de Carvalho, a local climber and biology professor and the Pontifícia Universidade Católica de Minas Gerais. "I like all the new routes. But I think it's too much. Some people want more, and more, and more. Why not? Why not build things everywhere? Why not build roads everywhere? You have to preserve some things."
Such concerns are not unique to Serra do Cipó, says Ilha, the organizer of the 1989 protest who has remained active in environmental issues by founding the nonprofit Grupo Ação Ecológica and becoming president of the Fundação Instituto Estadual de Florestas in Rio de Janeiro. Today is a consultant to Acesso às Montanhas, a group that advocates for access to climbing areas, which this past year developed a climbing management guide that aims to help local associations like AESC reconcile their activity with concerns of environmental authorities and private landowners.
These concerns will only grow as the local economy continues to grow around rock climbing and locals invest in hotels and restaurants on the bet that Serra do Cipó will continue to grow as a world-class destination.
"For sport climbing, I guarantee Cipó is one of the best," says Marcelo Braga, a 51-year-old climber from Rio de Janeiro who has climbed throughout the United States and Europe and in 1987 won the first annual South America climbing competition held in Córdoba, Argentina. Braga moved to Cipó in 2014 and opened a pousada, drawn here not just by the rocks but the surrounding hiking trails and waterfalls and "energy of the place."
"If I had to choose one place in the world that I've been to live in for climbing," he says, "I'd choose Cipó."
Stephen Kurczy, a Brazil correspondent, has reported from the favelas of Rio de Janeiro to the jungles of the Amazon. Somewhere along the way he became addicted to açaí, a purple slushy made from the powerfruit.