This is Episode 2 of Real Future, Fusion's new documentary series about technology and society. (See Episode 1 here.) To be notified about new episodes, like Real Future on Facebook, or subscribe to the Real Future newsletter below.
The following are field notes on Episode 2 from Real Future host and co-executive producer Alexis Madrigal.
---
I'm standing in the pit, behind a protective net, a sea of men with tools tweaking and perfecting their flying machines all around me for the first-ever Drone National Championships. The atmosphere here is like a motocross race mixed with a Reddit forum, set on a sweltering field in an empty stadium at the California State Fair in Sacramento. A Ferris wheel spins in the distance.
The drones being used here aren't the kind that rain down missiles in Afghanistan. They're little and stripped down: four propellers attached to a battery-laden frame that's about the size of a paperback book. The drones broadcast real-time video from a front-facing camera to the pilots, who watch the feed on wraparound goggles. They see what the drone sees and respond with big, bulky controllers. It's called FPV drone racing, for "first-person view."
FPV drone racing is, at best, a fledgling sport, viewed mostly on YouTube (where compilation videos have become a popular subgenre). But it has boosters who describe it as a cross between e-sports and extreme sports and think it will draw similarly huge audiences someday. That's why the Drone National Championships are important. There is a total of $25,000 up for grabs, which isn't going to make anyone rich, but is a step towards professionalizing the hobby.
G/O Media may get a commission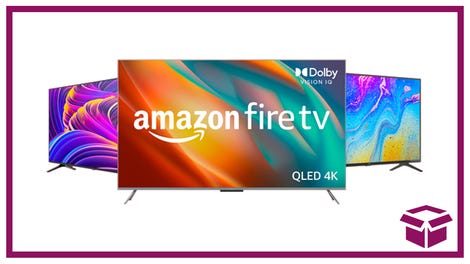 Ooh. stunning.
New Amazon Fire TVs
Here's how drone racing works: The field is covered in flags and the pilots, most of whom build their own rigs, must weave through them. It's not easy: in most of the early heats, few drones make it through five laps. Hell, in dozens of heats I watch, at least one drone in each race doesn't even make it a lap. Some have technical problems. Others take the first turn too sharply. They clip flags. They run into the gate that marks the finish line. They toss propellers. The racing is fast, but the competition is ugly and slow most of the time. As a spectator, the biggest problem is that the view from the stands and sidelines sucks; it's only people who bring specialized equipment to intercept the video feeds from the drones that actually can see what the hell is going on.
As the drones race around, crashing and in some cases burning, thanks to the lithium ion batteries, the pit of pilots cheers and groans. People know each other from their YouTube clips and some aliases called out over the loudspeakers elicit excited whispers from the guys.
There are so many boys with toys that you might miss Zoe "Hexinair" Katherine, though she is tall and red-headed, tuning up her drone. In the emerging sport of FPV drone racing, Zoe has emerged as a master: she's fresh off a victory at a drone-racing competition in her town of Santa Cruz—and has been practicing non-stop for weeks. Her specialty is freestyle, doing tricks, but she can compete in the racing heats, too.
For her, a win at the Drone National Championships would mean more than money and a trophy. Her mother recently got laid off, and Zoe's been laid up the past year with devastating complications from a routine medical procedure. It's been a bad, bad year. And this drone stuff has been the only real bright spot.
That these strange buzzing machines we call drones would represent hope in Zoe's life feels almost paradoxical. Across the world, the other kinds of drones—the big military ones—have become symbols of surveillance, military might, and destruction. But as Zoe rebuilt her sense of self as she battled through her health problems, she needed something, and this technology happened to be the thing her brain reached out to.
I found out why as our time together wore on: she felt so restrained and bound by her body and life's limitations, and here was this tiny flying machine that she could… become. Without her flying goggles on, she was a smart and depressed working-class 24-year-old who wasn't sure what her life would hold. But when she put on the goggles and sent her drone into the sky, she could fly.
This wasn't the story we expected to find when we went out to the Drone National Championships. But that's what we found. And the next thing I knew, we were sitting in a field by a parking lot in Sacramento, watching a young, fearless woman try not to crash.