After Alfred Olango was shot by police in San Diego on Tuesday, a bystander used their phone to stream video of the scene using Facebook Live. Olango, 30, was the third black civilian to be shot and killed by police in three weeks, and, like both Terence Crutcher and Keith Lamont Scott, had his death brought to public consciousness using Facebook's latest feature. The video, in which Olango's sister screams at police, "Why couldn't you tase him?," has over 115,000 views.
When Facebook launched the service last April, CEO Mark Zuckerberg said it was a platform to broadcast "whatever the most personal and emotional and raw and visceral ways people want to communicate." Zuckerberg said he wanted users to share moments like their  baby's first steps. But over the summer the tool has emerged as anything but cheerful; It's now the go-to tool for black Americans to share their experiences with police brutality, and ideally, hold cops accountable by going viral.
Facebook originally targeted media publishers as Live users, even paying them to use it, resulting in videos of journalists blowing up watermelons and binge eating cheese. But the most important uses came from people like Diamond Reynolds, who used it to ignite outrage. On July 7th, she brought the world into her car as she watched her boyfriend Philando Castile bleed to death. In the emotionally charged moment, Reynolds notably remembered to acknowledge her audience: "I ask everybody on Facebook, everybody that's watching, everybody that's tuned in, please pray for us."
Soon, more police shootings would prove Reynold's wasn't alone in her impulse. Days later, Alton Sterling's shooting death in Baton Rouge was also caught on camera and uploaded to Facebook. And two weeks ago, when Keith Lamont Scott had officer's guns trained on him, his wife instinctively grabbed her phone and began recording.
Facebook Live was mobile-ready at launch specifically so it could be used like this, to chronicle people's lives in the moment. The instantaneous nature of streaming means it was designed to be unedited, unpredictable, and exist outside of a curated, career-friendly profile. Describing the appeal of Snapchat—which Zuckerberg aims to emulate—Jenna Wortham of New York Times Magazine said the service was a break from the pressures of keeping up appearances online: "It's entire aesthetic flies in the face of how most people behave on Facebook, Instagram, and Twitter—as if we're waiting to be plucked from obscurity by a talent agent or model scout."
G/O Media may get a commission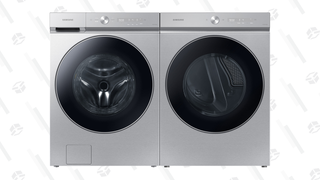 Get $500 back in credit
Last Chance: Samsung Bespoke AI Washer and Dryer Preorder
Facebook, which is built on sharing, will never be Snapchat, a relatively private network where your videos disappear when viewed. And unlike YouTube followers, Facebook friends are a kind of built in community that are regionally and culturally specific; These people probably care more than strangers about what you upload. Plus, an algorithm will help push your content into the feeds of others (friends of friends) who are also likely to respond to it.
In the wake of Diamond's video, Zuckerberg posted to his own account saying, "While I hope we never have to see another video like Diamond's, it reminds us why coming together to build a more open and connected world is so important—and how far we still have to go." In his statement, Zuckerberg's signature, sunny "share everything, connect with everyone" optimism is at odds with the horrific nature of the videos going viral on his platform. How do the streams of police brutality uploaded by black users fit into Facebook Live's strategy?
In a lengthy investigative piece, Buzzfeed News reported that a similar alignment, coupled with an overzealous commitment to "freedom of speech," has nearly paralyzed Twitter in responding to rampant harassment. All summer, the social network has made headlines as a coordinating base for attacks by neo-nazis, white supremacists, and the alt-right. Twitter's own live streaming platform, Periscope, faced criticism after an alleged sexual assault and a young woman's suicide were both shared online.
Three weeks after Reynolds' video, Korryn Gaines live streamed portions of her armed standoff against police outside of Baltimore. Videos showed Gaines and her young son barricaded in her home as police ordered her to exit. Gaines recorded her stand-off with police until her account was deactivated by a request from officers. In a statement, Baltimore Police explained that the deactivation was partially due to her interactions with her followers:

"Gaines was posting video of the operation, and followers were encouraging her not to comply with negotiators' requests that she surrender peacefully. This was a serious concern; successful negotiations often depend on the negotiators' ability to converse directly with the subject, without interference or distraction during extremely volatile conditions."
The response to Facebook's decision was met with anger. Essentially, the social network had severed its own vaunted "open connection" between its users at the behest of the very organization whose abuses were being documented across the site. The event revealed to many lauding its revolutionary potential that Facebook's commitment to open sharing across the world is tenuous.