Jeb Bush was "heartbroken," he wrote in an email to a constituent as Florida's governor on April 22, 2000. To another constituent, he wrote that he was "sickened" by the federal government's handling of the saga of Elian Gonzalez.
"This is a horrible day," he told another supporter.
Newly released emails paint a revealing picture of the former Florida governor's time in office, as he explores a run for president.
The emails, which were released late Friday by the left-leaning group American Bridge, show how Bush handled the thorny issues that popped up often during his tenure as Florida's governor.
They include a look at Bush's response to the saga of Elian Gonzalez, then a 6-year-old Cuban child who had fled the country with his mother. She died during the trip to the U.S., sparking a contentious custody battle between his father in Cuba and relatives in Miami. It ultimately ended with a pre-dawn raid in which federal agents returned him to Cuba. The emails give insight into the behind the scenes of how Bush and his staff approached the issue publicly.
G/O Media may get a commission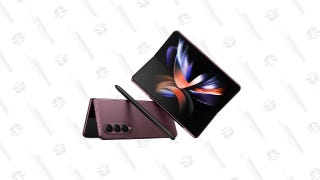 Save Up to $300
Galaxy Z Fold4
Bush's emails regarding Gonzalez also offer insight into his views on Cuba. They paint a consistent picture of his approach toward the island nation, as he has been critical of President Barack Obama's recent decision to re-establish diplomatic relations with the country.
The emails display that Bush was actively engaged with Gonzalez's situation soon after the young boy arrived in the U.S. in November 1999 and was released to his paternal great-uncle by the Immigration and Naturalization Service.
After INS Commissioner Doris Meissner announced the agency's decision that Gonzalez's father was responsible for his custody and he would be returned to Cuba, Bush wrote to an angered constituent the same day that the decision was a "huge mistake."

"I have publicly stated my disappointment in the INS decision. It was a huge mistake. I believe the situation should have been resolved in state custody court," Bush wrote in an email to Mari Rodriguez Ichaso, who described herself as Cuban-American.
"In addition, there is an effort in the US Senate to give Elian US citizenship which I support. Finally, I have asked that [then-Attorney General] Janet Reno overturn the INS decision."
Following up on that email, he sent one to his general counsel, Carol Licko: "Carol, I think we should ask that ATTY General Reno overturn the INS decision and allow a custody proceeding take place in state court. We should do this manana. what do you think?"
The following day, he issued a statement blasting the INS decision, calling on Reno to overturn it. He said he was "deeply disappointed" and that Gonzalez's case should be settled in court.
Gonzalez's plight was the subject of at least 520 email exchanges among Bush, the governor's staff, and constituents in the first half of 2000.
To one constituent on Jan. 6 who asked about the possibility of political asylum for Gonzalez, Bush responded that he didn't think it was possible because "Elian is a child."
"I believe it is a shame," he wrote.
He also engaged with Floridians who disagreed with his view. One constituent from Pensacola wrote that he was "very disappointed" with Bush, saying that a father should have the right to raise his own child. The constituent's email ended with an all-caps plea to "LET THE BOY GO HOME WITH IS FATHER!!!"
Bush wrote back that he would support a judge's ruling to return the child to Cuba, but not a decision from INS.
"With all due respect, what I am advocating is the rule of law. Elian should be given a hearing in state court to determine his custody," Bush wrote. "That is the law and the INS, which initially stated that a state court hearing was the way to go, has decided to deport a six year old child. I would support the judge's decision which might include reunification with his father in Cuba."
Another constituent asked him if he or anyone had asked Gonzalez where he wanted to live. Bush responded that it was an "excellent question" and added a postscript to his response: "All i know is that when i see him on television, i want to hug him and tell him that many people love him."
Bush's choice to engage with some constituents was surprising — like with one who called Elian Gonzalez's mother's decision to come to the U.S. on a small aluminum boat "nothing less than abortion." The constituent told Bush to "please send him home and stop this insanity."
Bush responded that the matter should be decided in court, at which point the constituent fired back that he gave an overtly "politically correct response." But Bush rejected that charge, and displayed some of the hostility he has shown again recently with respect to Cuba.
"[I]t is the right thing to do. Have you lived in Cuba? Have you been told that if you say one thing you will be punished or your family will be? That is the norm of Cuba," Bush wrote. "So political correctness is in the eye of the beholder."
In another email exchange, he compared Gonzalez's case to a hypothetical one in which a mother and child tried to escape from East Berlin during the Cold War.
"Regarding Elian, would you say the same if a mom tried to escape East Berlin with her six year old child by climbing over the Berlin wall and was shot and the boy made it across? Should that boy go back to East Berlin without a hearing?" Bush wrote to a constituent who urged him to send Gonzalez back to Cuba.

Ultimately, Bush was dismayed that armed federal agents had taken Elian Gonzalez from the home of his Miami relatives while court proceedings remained ongoing. (The U.S. Supreme Court ended up rejecting a last-ditch effort by his Miami relatives to keep him in the United States.)
One constituent wrote to him, then-Sens. Connie Mack and Bob Graham, and then-Rep. Charles Canady that Gonzalez's "kidnapping" by federal agents was a "shameful attack on decency."

Bush replied only to the constituent.
"I agree," he wrote.
Brett LoGiurato is the senior national political correspondent at Fusion, where he covers all things 2016. He'll give you everything you need to know about politics, with a healthy side of puns.