We're not saying it's easy to win a Grammy Award, but there sure are a lot of them. This year, at Sunday's 57th annual ceremony, a total of 83 trophies will be handed out, one more than in 2014. And with five nominees per category — and with categories as diverse as Best Roots Gospel Album, Best Classical Instrumental Solo, and Best New Age Album — that sure is a lot of music.
But what if your car radio is busted, you lost your phone, you've spent nine months wearing earplugs 24 hours a day as an ambitious social experiment, or, for whatever reason, you've fallen behind on popular music? How long would it take you to catch up?
We added up the duration of every track, album and other recording in all categories except production and crafts — did you know that there's a Grammy for liner notes? — making sure to avoid unnecessary repetition. (For example, you wouldn't need to listen to Beyoncé twice just because it was nominated for both Album of the Year and Best Urban Contemporary Album, which is not to say you wouldn't want to.)
In total, it would take you 11 days, two hours, and 47 minutes to listen to everything that's nominated.
G/O Media may get a commission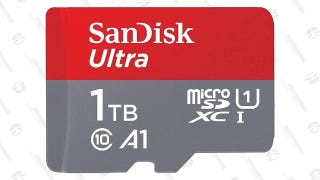 Save $75
SanDisk Ultra 1TB MicroSDXC Card
If you'd prefer a CliffsNotes version of the Grammys, you could always pick and choose your favorite genres:

Pop: Eight hours, 29 minutes
Rock: Four hours, 21 minutes
R&B: Eight hours, 24 minutes
Rap: Six hours, seven minutes
General (the all-around-best "of the year" categories): Four hours, 21 minutes
The single most time-intensive category is Best Spoken Word Album, which might as well be retitled Best Audiobook, clocking in at just over two days of material.
The Grammys air at 8 p.m. on CBS this Sunday. Considering that's less than 60 hours from the time we're publishing this post, you might want to budget your time wisely this weekend.
Molly Fitzpatrick is senior editor of Fusion's Pop & Culture section. Her interests include movies about movies, TV shows about TV shows, and movies about TV shows, but not so much TV shows about movies.