Over the weekend, comic book and nerd culture enthusiasts of all sexualities and orientations came together at the Marriott Hotel in Downtown Brooklyn for the second annual Flame Con, a comics and entertainment expo dedicated to queer creators and fans. Gamers, cosplayers, speed daters, and general attendees enjoyed panels and workshops, supporting their favorite creators while taking part in the broader conversation about how to make comics more inclusive.
If you're even vaguely aware of the comics industry, you're probably aware that when it comes to female and LGBTQ characters, publishers don't have the best track record. Almost as a rule, female characters are drawn in a sexualized manner, yet they're often denied sexual agency outside of their relationship to a male character and the male gaze. When it comes to queer characters—which are immensely underrepresented, when they are portrayed—their storylines are often marred by insensitive harmful tropes.
No one is more aware of this than the four female comic writers and illustrators who sat down with Nerdy Bird's Jill Pantozzi on Saturday evening to discuss "Women & Sexuality" in comics. The panelists were Kate Leth of Kate or Die!, K. Perkins, who has worked on the Supergirl comics, Amy Chu, who most recently wrote for Poison Ivy, and Amy Reeder, an illustrator who worked on Batwoman and Rocket Girl.
All four speakers discussed wanting to see healthier depictions of female relationships and sexuality in some of the biggest titles in the comics industry, but they've each also had experiences butting heads with corporate interests.
"Because there are so many corporate mandates it can be really difficult to tell an honest story about those kinds of things," Leth said. "Because when you're thinking, 'Oh I really want to reach all these people,' they're thinking, 'Oh well here are all the countries we can't sell it in.'"
G/O Media may get a commission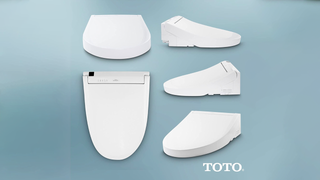 44% off
Toto Washlet Electronic Bidet Toilet Seat
That doesn't necessarily mean they can't get their way. "If you're doing something for Marvel or DC, you've got to really talk through a lot of people and get things approved," Amy Reeder added. "They have their own beliefs of what's appropriate for people to read. I'm of the belief that if you're going to work with Marvel or DC, you're planning to play the game a little bit."
During Perkins' run on Supergirl, she made history by revealing that Maxima—a character whose backstory has basically consisted of aggressively trying to convince Superman to mate with her—is a lesbian. "You do have to find that middle ground," Perkins explained. Noting that in exchange for Maxima's new identity, she had to keep another character to serve as a love interest for Supergirl, although what she really wanted was for Supergirl to focus on loving herself.
When Amy Chu took on the character of Poison Ivy, she inherited a well known sexy villainess: a woman known for seducing men and discarding them with her poisonous kiss. Detangling sexuality and sexiness proved to be a challenge. Chu acknowledged that, although artist Clay Mann was drawing Poison Ivy to be as sexy as she ever was, she wanted to bring something new to the character. "We all know she's a highly sexual character and has been for 50 years," Chu said. "So the challenge was, okay, we know she's sexy, but what else is she?"
"I think I was fortunate again taking over a character that was already highly sexualized, so there's really nowhere to go but up from there," Chu said, causing the room to erupt in laughter. "I don't want to say it was easy, because there were things that I had to fight over, but if you wait 'til everybody's distracted and busy with deadlines, then you kind of infuse an agenda in there."
For Leth, all the projects she works on are platforms for her messages when it comes to sexuality. She worked hard to include a bisexual male character in Hellcat and to give Vampirella, one of the most iconic sexy characters of all time (aside from Poison Ivy, I guess), a meaningful, monogamous relationship. "You don't see that a lot in comics, where someone is really sexy but also [is in] love, and it's not a big deal," she mentioned.
Leth explained that, at first, all of the characters she wrote were either bisexual or lesbian, because it's not like she had to worry about overrepresentation. "I could put lesbians in every comic I write and it would still be like 0.3% of comics," she joked.
But while the four women are on the battlefront, fighting for a positive depiction of women and their sexuality against the time-honored tradition of creating female characters to either drive or seduce the main male characters, they do believe it is actually getting better.
"We're the creators making the decisions that we're affecting the landscape more, so we get to determine what it looks like what that sexuality looks like because back when we were kids we didn't have that," Perkins said.
"I'm very optimistic," Chu said. "It comes down to sales. Saga was a game changer and so was Ms. Marvel." The decision to allow a Muslim teen from New Jersey to take on the title of Ms. Marvel was seen as a big risk at first, but the character is one of the most beloved in recent comics history. "The higher ups are like, 'Whoa, you know what? Give people what they want.'"
Hopefully, what the people will want will soon more accurately represent the reality of female sexuality, not just as a dirty idea wrenched out of some dude's imagination, but as a healthy spectrum. And maybe, just maybe, in this hypothetical future, discussing the reality of female sexuality without compromise in mainstream comics will simply be the norm, not something writers have to smuggle into their comics under the radar.