Even though the Avengers franchise is still dominated by male characters, Marvel Studios wants to make sure that female fans know that they too can become Earth's mightiest heroes.
Today, the studio announced the Captain America: Civil War Challenge, a competition aimed at girls ages 15–18 designed to get them thinking creatively about STEM (science technology engineering and math).
According to the contest's website, any girl currently in the 10th–12th grade can submit a project demonstrating "the potential to benefit humankind." Five chosen participants will be flown out to Marvel's HQ in Hollywood where they'll be given the chance to present their projects to a group of leaders in STEM field.
While each of the selected participants will also get a $500 savings account from sponsor, Synchrony Bank, one girl will win the grand prize: an internship at Marvel Studios.
G/O Media may get a commission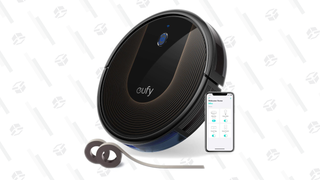 48% Off
Eufy BoostIQ RoboVac
The contest sounds cool and it's obviously a great way to promote Captain America: Civil War, but as far as actually inspiring and empowering girls to get into STEM goes, it falls flatter than flat. Marvel definitely has the ability to accomplish both of those things, but a prize-driven competition isn't exactly the way to do it.
As girls move through the U.S.'s educational system, it's been shown that they gradually lose interest in science and math, primarily because we tend to socialize kids to think that the subjects are "for boys."
In an October 2014 interview with CNN, Soronko Solutions founder Regina Agyare and a number of other women explained that the best way to get girls interested in STEM is to pair them up with industry professionals.
"Introduce girls early to role models of other women In STEM" Agyare said. "[These women] will mentor them and introduce them to STEM through games and practical learning experiences."
Between the last two Avengers films alone, Marvel has raked in more than $3 billion. Ideally, Marvel could use its sizable coffers to help connect its contest participants with researchers in a long-term, meaningful way. Instead, though, they're getting a few hundred bucks and a chance to promote a movie that really doesn't need any more hype.
For the sake of argument, though, let's say the task of partnering with universities and research teams to get girls excited about STEM proved to be too much for a multi-billion dollar company. There's still a much simpler way that Marvel could promote its film and potentially inspire kids to get into the sciences.
Civil War features Black Widow (Scarlett Johansson), Agent 13 (Emily VanCamp), and the Scarlet Witch (Elizabeth Olsen). Respectively, they're two super-spies and a superhuman who can move things with her mind and cast powerful psychic illusions. You'd think that they'd be the type of characters Marvel would want to highlight for a movie about people saving the world, but you'd be wrong.
Both Widow and the Scarlet Witch have suffered from the curse that all too often plagues female characters when it comes to merchandising, and aside from a few glimpses in trailers, Agent 13 gets barely any airtime in Marvel's marketing.
The Civil War Challenge's message of getting girls into STEM may reach a few thousand people with the tiny marketing footprint behind it—compare this to, say, the many trailers and posters and TV spots for the various Marvel productions. Alternatively, though, Marvel could just as easily make an effort to highlight its female characters and explore the STEM-related aspects of their abilities.
Giving Black Widow a chance to really shine could inspire a girl to think about what it would take to build better stun batons or a photostatic veil. Exploring the Scarlet Witch's abilities instead of just calling them weird could spark the idea that revolutionizes how we approach electrostimulation neurotherapy.
That idea may seem silly at face value, but being able to see yourself in media, no matter how fictional, matters. Science fiction marketed to little boys has been revolutionizing real world technological development for hundreds of years. Why not give girls the same shot?
Fusion is partially owned by Disney, Marvel's parent company.