Former First Lady Nancy Reagan died Sunday. She was essential to her husband Ronald's presidency—and some of her biggest contributions came in the form of appearances on TV.
The most famous Nancy Reagan TV moment is undoubtedly her appearance on a 1983 episode of Diff'rent Strokes, where two orphaned boys live with a wealthy widower. In that episode, Gary Coleman's Arnold investigates the drug scene at his elementary school, and ends up reporting his findings to a local newspaper, catching the eye of Nancy Reagan, who happens to be in town. Reagan takes the time to visit Arnold's school to deliver her then-popular "Just Say No" message.
Dovetailing with her husband's war on drugs, Reagan was concerned with substance abuse by young people and coined the phrase "just say no" in the early 1980s. It became an advertising slogan as well as Reagan's rallying cry to prevent drug use by children. It was expanded a little bit in 1986 to, "Say yes to your life. And when it comes to drugs and alcohol just say no." The message, however, was ultimately a huge failure. As Think Progress points out, "Instead of convincing kids not to use drugs, the hysteria around drug use by young people helped create some of the most destructive mechanisms of mass incarceration."
It led to zero-tolerance laws being passed to cover public schools, which lead to increased law enforcement presences in schools. Most damning of all was the failure of the DARE program, where police officers came into classrooms to teach children about peer pressure and other tactics to avoid drugs. According to Scientific American, "researchers found that teenagers who were enrolled in the program were just as likely to use drugs as those who did not receive this training."
Failure aside, Reagan's Just Say No campaign was huge in popular culture in the 1980s, and it all really started on Diff'rent Strokes.
This appearance paved the way for future First Ladies to deliver a message on TV, from Hillary Clinton's multiple Saturday Night Live drop-ins to Michelle Obama's Sesame Street appearance.
G/O Media may get a commission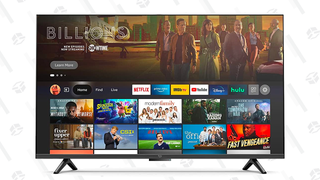 22% off
Amazon Fire TV - 50" Omni Series 4K - Early Access Deal
It wouldn't be the last time Reagan shared a space with a beloved 1980s sitcom character either—as The Daily Beast notes, ALF was at the 1987 White House Christmas party.
Five years after her Diff'rent Strokes appearance, ABC aired a special anti-drug program, in primetime and on a Saturday morning, starring The Flintstone Kids, a short-lived cartoon featuring the grown-up Flintstones characters as adolescents. According to the book, Prehistoric Humans in Film and Television, the young Bedrock kids are offered marijuana in their quest to find "Michael Jackstone" tickets. The kids say no (highly ironic given how the same characters were used in the past to advertise cigarettes) and are able to see the concert which features a version of "Beat It" re-written to contain anti-drug messaging ("Just say no to drugs/Defeat it!").
Reagan appeared in a commercial during the program, advocating for Just Say No clubs, which numbered over 12,000 by the end of 1988, according to the Ronald Reagan Presidential Foundation and Library.
Reagan made a more direct approach during the 1988 World Series. Before Game 1, Reagan appeared in the broadcast booth with Vin Scully and Major League Baseball commissioner Peter Ueberroth to talk about Just Say No. The '88 Series was one of the highest-rated World Series ever, so it's safe to say a good-portion of America heard Reagan's spiel. The First Lady then threw out the ceremonial first pitch.
Major League Baseball was itself coming off a PR nightmare and a drug crisis among players, so this appearance could easily be interpreted as being aimed at the players as much as the impressionable youth who admired them.
The Just Say No campaign did see some success, though, with cocaine-use-by-teens dropping to a ten-year low in 1988. Though that could also be chalked up to being frightened into good behavior with this commercial co-starring America's Dad, Clint Eastwood.
Reagan would move on from Just Say No to make a humanizing appearance on a November 1989 episode of The Tonight Show Starring Johnny Carson to promote her memoir My Turn. It was a few months after she and Ronald left the White House, so she's fairly loose and clearly having fun, as evidenced by the opening-minute "joke" about borrowing a dress from Phil Donahue. It's a wide-ranging interview, touching on how she was never offended by the show's occasional jokes at her expense, her reputation as a "fluffhead," as well as her well-documented association with astrology, which she says "helped [her] through a very rough time" after the assassination attempt on her husband.
It's a long clip, but it's a nice capsule of late 1980s America, right down to the Sears commercials and Chevy Chase showing up as Carson's second guest of the evening.
David Matthews operates the Wayback Machine on Fusion.net—hop on. Got a tip? Email him: david.matthews@fusion.net