Stephanie Mott was 50 years old in 2008 when she entered a polling place at the Brown vs. Board of Education National Historic Site in Topeka, KS, to cast her first ballot as Stephanie.
"I walked in there," Mott said, "looking like Stephanie but with documentation that said Steven."
Steven was Mott's name given at birth, so it was listed on the IDs she brought with her. She said she began living authentically as Stephanie in 2007 but wasn't able to change the name on her license before election day rolled around.
As she made her way to a table to get her ballot, a woman asked for Mott's last name, then her first name.
G/O Media may get a commission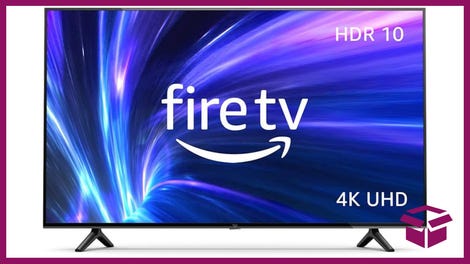 42% Off
Amazon Fire TV 50" 4K Smart TV
"I said, 'Steven.' And she just looked at me and she goes, 'Well, you're not Steven," outing Mott as transgender in front of the entire polling place and leaving her terrified.
Some of the nation's most heated state-level battles wending their way through legislatures and courts are being waged over voter ID laws. Supporters say the measures are intended to prevent voter fraud. Critics, meanwhile, cite the apparent absence of pervasive voter fraud and charge that these restrictions are often synonymous with the disenfranchisement of immigrants and communities of color.
And yet another community that faces difficulties thanks to restrictive ID laws at the polls rarely gets mentioned among those whose enfranchisement is at risk: transgender voters. ID laws stand to prevent thousands of transgender voters from casting ballots each year, transgender advocates say.
According to research at UCLA's Williams Institute, a think tank dedicated to studying issues affecting the LGBTQ community, strict voter ID laws in eight states—Alabama, Georgia, Indiana, Kansas, Mississippi, Tennessee, Virginia, and Wisconsin—could keep over 34,000 transgender people like Mott away from the polls in November.
"You don't have any choice: If you want to vote, you have to out yourself to somebody as being transgender," said Mott, who is the founder and executive director of the Kansas Statewide Transgender Education Project, as well as vice chair of Equality Kansas. "It's frightening because you never know how that's going to be responded to."
In some cases, it can be dangerous. Three percent of National Transgender Discrimination Survey respondents reported being assaulted or attacked after presenting documents that didn't match their gender identity, according to research published by the Williams Institute. Over 40 percent reported being harassed.

🗳 🗳 🗳
Obstacles for transgender voters are particularly acute in Kansas, one of the most conservative states in the country, where Mott was born and has lived almost all of her life. Kansas consistently elects rightwing Republicans and its capital, Topeka, is home to the notorious anti-LGBT hate group Westboro Baptist Church.
In 2011, the state legislature considered a bill that would require a valid photo ID for all in-person voters, and a proof of citizenship—like a birth certificate or a passport—for first-time voters when registering.
During the hearings, Kansas Secretary of State Kris Kobach testified that he supported the law because it would increase prosecution of voter fraud, just like a similar law in Indiana—another strict ID state.
Groups that are often involved in activism around voter ID rules—such as the AARP, the Kansas State Conference of NAACP Branches, the ACLU of Kansas and Western Missouri, and the Kansas League of Women Voters—testified against the bill, saying it would disproportionately affect the voting rights of elderly, poor, minority, and disabled people.
"Each of us were recognizing how this kind of a law was gonna not just affect our own populations, but how it was gonna affect some of the other populations as well," Mott explained.
Mott and other LGBTQ advocates, meanwhile, set out to explain the  bill's potential harm to the transgender community. The proposed law, they said, would render elections inaccessible for many transgender Kansans, not only because of harassment or hassle at the polls, but also because Kansas law makes it difficult to procure the necessary identification documents in the first place.
As the voter ID bill moved through the legislature, advocates for the transgender community also wanted training for poll volunteers and workers so that transgender voters could have their needs sensitively addressed. But bids to include the trainings never made it into the final bill, which passed in 2011.
Last week, however, an appeals court upheld a federal district court ruling that the National Voter Registration Act trumps the part of the 2011 Kansas voter ID law requiring citizens to provide physical proof of citizenship, like a birth certificate or passport, to register. The National Voter Registration Act requires only that would-be voters swear that they are in fact citizens under penalty of perjury. In an agreement with the ACLU, Kansas Secretary of State Kris Kobach said he would register and notify citizens who tried to register at the state's Division of Vehicles or used a federal form, but were not successful because they did not provide proof of citizenship. The ACLU estimates that over 18,000 people had been unable to register to vote because of this policy.
But Kansas Secretary of State director of public affairs Desiree Taliaferro said the requirements put in place by the 2011 law for presenting photo IDs on election day will remain unaffected by the ruling. So, while one burden to registering has now been lifted, voting rights advocates fear that strict demands for photo IDs to cast ballots and get them counted could still make for an obstacle to some voters.

🗳 🗳 🗳
For post-transition transgender voters, getting the name, photo, and gender marker changed on the photo IDs required to vote can be both onerous and costly, said Taylor Brown, a public policy analyst at the Williams Institute.
Brown and his colleague Jody Herman co-authored a study, published in March, outlining the financial cost to transgender voters of changing photo ID documents, like driver's licenses and passports, to match their true name, appearance, and gender. They found that Kansas had some of the highest costs—if people could even change their IDs at all.
Brown said that to change a name and gender listed on a driver's license in Kansas, transgender individuals have to obtain either a court order or a physician's letter certifying that the individual has undergone surgery; send those documents to state officials; have the documents approved; bring their approval to the Kansas Department of Revenue Division of Vehicles; then finally pay a fee for a replacement ID—as well as submit other documents needed to verify the new card. "There's lots of steps in the way," Brown said. "There's lots of areas in which costs add up."
Brown and Herman estimated the whole process could cost up to $153—plus the cost of surgery required for a physician's letter—to change name, gender, and photo on a passport. And to change the gender marker on a driver's license, Kansas requires a court order, which could cost $173, or a physician's letter certifying that the individual has undergone surgery, which can also be expensive.
The Kansas law makes a concession that offers little relief for many transgender voters. To prevent the cost of getting an ID from deterring people from voting, the state is required to provide a free photo ID card for anyone who signs an affidavit saying they are using it at the polls. But such voters can only take advantage of the free ID if they don't have any other forms of photo ID, so anyone who has a driver's license would be excluded.
"In some states," Brown explained, "you do actually have to present evidence of transition related surgery. And not all people go through that. That's effectively the state telling you that you have to have certain surgical treatments in order to have this ID which you also need to vote, and that in and of itself is a huge burden."

🗳 🗳 🗳
While organizations around the country have worked together to fight for voting rights as they affect groups like the poor, women, and people of color, Mott said fewer groups work on transgender voting rights. That advocacy has mostly been the carried out by local and national LGBT and trans-related organizations, though the ACLU  has joined a coalition of LGBT groups in support of the Voting Rights Advancement Act.
"I don't think that there's been by any means a groundswell of support from any other organizations," Mott explained.
In an effort to alleviate that burden, several advocacy groups have taken to educate their constituencies about knowing their voting rights.
Mott's group, known by its acronym K-STEP, constantly updates members of the transgender community with information of what to do about their documents and if they encounter harassment; they will ramp up efforts as election day draws near. Equality Kansas executive director Thomas Witt said they are also doing outreach to inform transgender women and men living in Kansas of their rights at the polls, though he declined to publicly discuss the specifics of these efforts. As part of an initiative called Voting While Trans, the National Center for Transgender Equality created a video campaign along with a checklist that prepares transgender voters with information about the documents they will need and the harassment they may face. It even includes a section transgender voters can give to poll workers who may give them trouble on election day.
"Transgender voters are not doing anything wrong or trying to deceive you—they are just being themselves," the guide advises workers at the polls. "Transgender people have the right to vote just like everyone else, and it is your responsibility to ensure they are able to do so without hassle."
Mott recalled that, when she first voted in 2008, she had to explain to the poll worker in front of everyone else voting that day that she was transgender—and what that meant—before she was given a ballot. Experiences like these, she said, prevent transgender voters from selecting the legislative leaders who would fight for their needs.
"It just adds to an already horribly difficult life that a lot of people who are transgender are already forced to live," Mott said. "We talk about the election fraud that this law was supposed to take care of, and real true election fraud is when you sit out there and you disenfranchise voters from being able to exercise their right to participate in the legislative process."