Survivor's Remorse, loosely based on the life of NBA champion and executive producer LeBron James, is one of television's most underrated shows. The Starz comedy, about a basketball player who gets drafted into the NBA and moves his entire family from Boston to Atlanta, doesn't portray black athletes in a way that's fit for reality TV or rooted in stereotypes. Instead, the show thrives with a nuanced and sometimes politically incorrect humor and uses satire to poke fun at the media and sports industry. And while the show explores how Cam Calloway (Jessie T. Usher) grapples with the wealth and responsibility that come with being an NBA player, it's the black women in his life who are his support system and ultimately guide him into the decisions he makes.
While the women on the show call the shots, there weren't any women directors behind the scenes in the first two seasons, save for one episode directed by Debbie Allen. That was until the show's creator Mike O'Malley put out a call on social media for women of color directors and added Millicent Shelton, Victoria Mahoney, and Geeta Patel to the roster for this season.
"This isn't an accident or serendipity," Mahoney told me in a phone interview. "They hunted down our voices." She said that Ava DuVernay passed her name along, and then she got a call.
In its three-season run, Survivor's Remorse has created dialogue around significant topics like death, domestic violence, racism, gender equality, and—with Sunday's episode—colorism. With the discussions around Zoe Saldana's casting as Nina Simone, Jesse William's "light-skinned" privilege, and a dating app for black people where you can pick suitors based on complexion and hair texture, this episode couldn't have come at a better time. It tackles more than the surface-based conversation of light-skinned versus dark-skinned and digs into what happens when you are in position of power to control the narrative and create visibility in the mainstream beauty spectrum for black women.
G/O Media may get a commission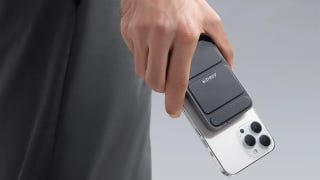 15% off
15% off Anker Top Ten Products
Take charge
Treat yourself to a portable power bank, a magnetic wireless battery for iPhones, or even a solar generator. There is a reason these are in the top ten. For instance, the Anker 747 Power Bank is a 4-in-1 charger utilizing USB-A and USB-C to be capable of charging up to four devices at once. Great to take with you when traveling and in need of keeping your phone, laptop, and even Nintendo Switch powered on.
I talked with the director Victoria Mahoney (Yelling To The Sky) and writer Ali LeRoi (Everybody Hates Chris) about their own experience with colorism and the importance of exploring this issue in entertainment.
This episode finds Reggie's (Cam's cousin and manager) wife Missy (Teyonah Parris) heading up a fancy magazine shoot, for which she specifically picks a darker-skinned model to pose with Cam in an attempt to negate the idea that professional black athletes only date women who are white or of a lighter complexion. The shoot doesn't go exactly as planned when the original model lands a gig at Vogue and a lighter-skinned model named Trina is hired in her place. Missy fires Trina and the two women have heated argument about privilege and representation.
"All I know if that my whole life women who like you have been winning. Today, I could put someone that looked like me, and I did," Missy tells the model. "So you think the way you look should work in your favor? That is the most light-skinned shit ever."
"But don't you see we're in the same boat? If the boat sinks you think because I'm light-skinned I won't drown?" Trina says. "I thought that God had created this job for me. He gave another model the one you hired, who is my friend by the way, a job for Vogue. God created two doors, and this door was for me. But I guess I don't have enough color for you. This was a huge job for me. The exposure would lead to more work."
Writer Ali LeRoi pointed out how, in this scenario, Missy doesn't even recognize her own privilege and power. "In a functional sort of way, she's not even respecting her own position in that conversation. She is experiencing some form of privilege and has some form of power and she's taken this opportunity to right some wrong that she's experienced, yet is this the right time? And is this the right way?" LeRoi said. "I think a lot of time as individuals we just like to approach problems for what would be best for us singularly if everything were to go our way and we don't really care how it impacts someone else. And I think that's really what that show is about."
Should a woman of color who isn't the exact complexion you intended for a magazine spread be fired based on your personal pains? Should a woman of color gracing the cover of a magazine feel like less of a win because she is of a lighter complexion? There isn't one right answer.
"Everything was so deeply considered and discussed in advance [during the episode's production]. You can't have a discussion like this, that's this weighted and that could injure either side of the discussion and not handle it with acute care," Mahoney told me. "I walked in deeply, deeply conscious about every single word and sentence that was uttered. It was a group effort, and that includes Logan Browning and Teyonah Parris who were also wonderfully a part of carving that particular scene."
Colorism is a still very much relevant, complex, and touchy subject that exists in multiple communities but is rooted in the ideology of white supremacy. In 1988, when Spike Lee released School Daze, a movie about HBCUs, Greeks, and the power and privilege one is allotted based on skin tone, it was met with hostility for exposing the dirty laundry within the black community. "The idea that we keep things secret in storytelling doesn't advance humanity in anyway," Mahoney said. "I'm not saying an episode of Survivor's Remorse is trying to advance humanity in the massive scope but I am very, very clear that this particular episode of Survivor's Remorse was interested in inviting a discussion. Today, audiences are extremely vocal about wanting to have their life experiences reflected. People say that audiences weren't as vocal before, but that's because they didn't have a platform to clap back."
This conversation has expanded on screen. In 2011 and 2015, Bill Duke released the documentaries Dark Girls and Light Girls, exploring colorism in black America from the perspectives of women. In an episode of Girlfriends where Toni Childs (Jill Marie Jones) stops dating a guy because he is too "black," Lynn (Persia White) delivers the best line: "It's our different skin tones that keep the white man perplexed." And on Being Mary Jane, Mary Jane's niece confesses that she was proud that her daughter's father was Filipino because that meant her child would be "pretty" and "have light skin and an easier life."
There have long been apparent prejudices around skin tone surrounding the casting of black actors and actresses: according to Hollywood tropes, lighter skin means more desirable and beautiful, while darker skin means loud, aggressive, and not sexy. We've even seen this bias reflected on television shows created by people of color, like in the differences between Pam and Gina on Martin. It's something that How to Get Away With Murder star Viola Davis touched on last year:

…when you do see a woman of color onscreen, the paper-bag test is still very much alive and kicking. That's the whole racial aspect of colorism: If you are darker than a paper bag, then you are not sexy, you are not a woman, you shouldn't be in the realm of anything that men should desire.
It's something Dope star Kiersey Clemmons discussed in May, saying, "We have set up this idea of what beauty is and that's why there's only one Lupita. There should be dozens of Lupitas."
It's something even Queen Bey benefits from. "Beyoncé just put out Lemonade and she's upset with Becky With The Good Hair, but to a legion of black women she is Becky With The Good Hair," said LeRoi.
Like every episode of Survivor's Remorse, this wasn't a pandering lesson about the effects of colorism, but instead an open-ended discussion that felt honest and human. Both Trina and Missy had valid point of views that mirror a real discussion that might happen behind the scenes when it comes to women of color casting women of color for photoshoots and television shows and the importance of representing all skin tones.
LeRoi and Mahoney both helped the episode feel authentic because of their own experiences with colorism. Mahoney got backlash about her skin tone from both white people and black people. It was part of the reason she became a storyteller on film.
"I was eagerly seeking to figure out what the hell was going on because it was so permanent and unending. It was every time I left my house, it was always this thing about my skin tone and it seemed to always bother people one way or another it was a deficit to their existence," Mahoney said. "I can see when I walk into a room who was awkward because of height, who is awkward because of hair color, who is awkward because of body weight, who is awkward because of skin color. I was able to identify and connect with people in that awkwardness and somehow the other stuff just stripped away. No matter what color people are, no matter what class, gender, LGBTQ whatever it was I found a way to just connect to the thing inside of them of where that dagger landed and that's where we had a human exchange and that's where I found a sense of strength instead of weakness about this perceived thing coming at me."
Tahirah Hairston is a style writer from Detroit who likes Susan Miller, Rihanna's friend's Instagram accounts, ramen and ugly-but cute shoes.