Appearance is a form of self-expression without uttering a word, a barometer of personal growth, and a yardstick we use to judge others, especially women. From its 2007 debut through the series finale last week, The Good Wife was deeply fascinated by the meaning projected by its female characters' sense of style—and particularly by their hair, which the show understood to directly reflect a woman's power.
Loosely based on former New York Governor Eliot Spitzer's sex scandal, the CBS series centered around Alicia Florrick (Julianna Margulies), the "good wife" of the title. After her philandering State's Attorney husband Peter Florrick's (Chris Noth) is forced to resign, she decides to stand by his side and support him. In the pilot, Alicia takes the stage next to her husband. She's in the spotlight, but she's not really being seen, playing the role of a prop. And her appearance—a drab, ill-fitting houndstooth blazer, little to no makeup, and flat, swept-back hair—doesn't help differentiate her as an individual or deflect the opinions and assumptions of nosy onlookers.
But the beauty of The Good Wife lies in how it allows Alicia Florrick create her own narrative, using her appearance as a source of strength. In the very next scene of the first episode, Alicia has transformed. She walks into the Lockhart Gardner offices for her first day as an associate looking like a different woman—with coiffed hair and a professional, though still ill-fitting, black pantsuit.
"There's this whole re-casting of her, using her work life in order to get back to some sense of subjecthood because that's all been so erased by her husband's sexual misconduct," Suzanne Leonard, associate professor at Simmons College and author of "Sexuality, Technology, and Sexual Scandal in The Good Wife," told me over the phone. "Ever since [we're first introduced to Alicia], she's a constant professional and that's articulated by her clothing, by her professional hairdo and by her jewelry. That's been so much of the show's attempt to give her agency in a situation that would deprive her of agency."
G/O Media may get a commission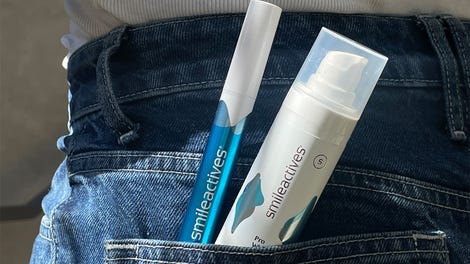 58% off
Whitening Powerhouse Pen & Gel Duo
The Good Wife challenges perceptions about women and what qualifies them as right or wrong, good or bad, powerful or weak, smart or naive—not just in the courtroom, but in every aspect of their personal and professional lives. Real-life women have long adopted power suits and power hairdos as a means of commanding respect in a world full of men who underestimate them. At a time when women's hair on television all looks nearly the same, the hair on The Good Wife arms many characters with increased authority and agency, allowing them to control how they are perceived by others, to their own benefit.
Silvie Salle, who joined The Good Wife as lead hairstylist in 2011, understands the profound importance of hair. "It's my firm belief that the hair is the frame of the painting so whatever image the wardrobe designer is trying to project, even though they have makeup on, without the hair the woman just isn't polished, she's not framed," Salle told me. "In order for the painting to really look good, you need a good frame."
Throughout the series' seven seasons, there are moments where Alicia doesn't always win, but she rarely looks anything less than victorious. Her coiffed hair and tailored outfits aeep her pulled together like armor.
"I call this an ethic of quiet refusal, which is to say she just won't comment on things. Alicia won't break the facade of being in control: the armor, the strength, the poise, the self-assuredness, even as secretly or in the background she may be insecure. But she never breaks character when she's in the public eye in that way," Leonard said.
Subtle changes to Alicia's hair continually frame her growth and ability to adapt as she navigates through the political and legal sphere while juggling motherhood, marriage, and romance. As she gains prestige as a defense attorney, her hair gets sleeker and her clothes more tailored and expensive. Even in her loungewear of cashmere sweaters and Ivy League sweatshirts, her hair remains styled.
Although she ditches her conservative housewife 'do in the first season, it isn't until the second season—after she uses her Florrick name to sign a client and land an associate position over rival Cary Agos (Matt Czuchry)—that she completely ditches her longer style for darker, shorter hair. This new Alicia is a seasoned defense attorney who is both a little more ruthless and a little more confident.
Alicia gets bangs in the opener of the third season. Ironically, after she bangs Will Gardner (Josh Charles) but must keep their relationship a secret, she lets the new hairdo speak for her, lending her a youthful, sensual glow. Her hair also becomes softer, with a slight flirty wave, after she starts her affair with Jason Crouse (Jeffrey Dean Morgan) in season seven.
In seasons four and five, Alicia's hair gets bigger, and as it takes up more space, so does she. First, Alicia earns a more powerful position with Lockhart Gardner, becoming an equity partner. Then, with Cary, she forms a boutique law firm of her own: Florrick, Agos and Associates.
Once Alicia hits her political stride in season six, her hair becomes straighter and she starts wearing one side tucked behind her ear. The public is already familiar with her as a politician's wife, but now she needs them to see her differently. This straight hair helps Alicia appear more serious under scrutiny as she runs for State's Attorney, while that one exposed ear could symbolize her willingness to listen to her constituents. In the Good Wife finale, Alicia returns to straight coiffed hair, lacking curls, lacking movement, but now exuding power. She may be standing by Peter's side, but the public finally identifies Alicia as her own person. Peter is announcing the end of his political career, but the camera's focus is on Alicia, who is at the very beginning of her own.
As for the other characters, the reasoning behind their hairstyles is similar: bold looks that not only command attention, but strongly resonate with a truth about their personalities.
There's no person within the universe of The Good Wife who looks more like they have their shit together than Diane Lockhart (Christine Baranski). When we first meet Diane, we're made quickly aware of her position of power—partly because her name is on the wall at Lockhart Gardner, but mostly because of how she presents herself. She's dressed to the nines in a perfectly tailored pinstriped suit with a bold brooch and a voluminous, blunt blonde bob that makes her immediately recognizable in a crowd. Diane constantly reminds us of her status with her unforgettable appearance and timeless haircut. A name partner and near-nominee to the Illinois Supreme Court, she has excelled in her career. Unlike Alicia, Diane doesn't need to change her hair to indicate an increase in power or growth, because she's already at the top of her game. Even when she's shooting guns with her husband in the woods, her 'do remains flawless.
Lucca Quinn (Cush Jumbo), a younger lawyer with natural instincts and Alicia's friend, hasn't reached the same career level as Diane, but her sharp, sleek pixie cut is ambitious as she is, geared towards the position she hopes to obtain in the future. "For her character to become this stronger, young lawyer, especially a woman of color in the industry, she had to have the look, she had to look powerful," Salle explained. Whether she's fighting with the pompous judge in bond court or taking second chair on a case at Lockhart, Argos & Lee, Lucca uses her appearance to help fight for recognition in a world where she's not only set apart as a woman, but as a black woman.
Using one's appearance to establish a sense of authority is one thing—using it to deceive and disarm others is a little more complex. If you underestimate a person based on the way they look, that says more about your own naiveté and preconceptions than it does about the person in question. The recurring female characters on The Good Wife use illusions like this to their advantage, leveraging their knowledge of how they'll be perceived to manipulate their adversaries (usually men) in the courtroom.
Elsbeth Tascioni (Carrie Preston) leads with quirk rather than power with her disheveled, bright red hair and whimsical take on business attire. The first thing Peter says after finding out Elsbeth is going to be his attorney is that he hopes he's severely underestimating her. It turns out that he, like everyone else she goes up against in court, has no idea what she's capable of.
Patti Nyholm (Martha Plimpton) believes that people are more sympathetic to pregnant women and new moms, foregrounding her motherhood to persuade jurors and judges to side with her. During Patti's time on the show, she changes her hair three times: first, a face-framing bob with bangs, then loosely tossed curls in a bob, and finally, a pixie cut with a heavy bang pulled behind the ear with mini hoop earrings. Each of these looks is an archetypal mom haircut, but not without a self-possessed sleekness.
With long, slightly messy blonde hair—which becomes a shorter, more traditionally professional hairdo in later seasons—Nancy Crozier (Mamie Gummer) is obviously aware of the bombshell and dumb blonde stereotypes associated with her appearance, which for her is a means to appeal to men in the courtroom. This makes Alicia livid, because unlike those clueless men, she's aware of Nancy's manipulation.
At other times, the hair of The Good Wife allows characters not to stand out, but to blend in. Typically dressed in knee-high boots, a leather miniskirt, and a low-cut blouse, private investigator Kalinda Sharma (Archie Panjabi) uses her wardrobe and sexuality to deceive both men and women into getting the information she needs. But her neat bun ponytail is also vital to her character. Her hairstyle is both practical and indistinct, so that she can be equipped to maneuver the world outside of the courtroom as an inconspicuous observer who is seen only when she wants to be seen.
Assistant State's Attorney Geneva Pine (Renée Elise Goldsberry) wears her hair in a ponytail, too, but for different reasons than Kalinda. Geneva works in world full of men and she wants to be taken seriously. We found out in season four that the State's Attorney's office is likely to promote white male lawyers over women and people of color. Geneva doesn't want anything to distract her colleagues from the quality of her work—and that includes her hair. The first few times we see Geneva, she's wearing modest pantsuits and skirt sets. As she gains more power, her wardrobe becomes more polished—full of tailored blazers, zippers, and sleek lapels—but her intentionally non-distracting ponytail never changes.
The Good Wife introduced us to a world of incredible women, all of them unique and multidimensional. They didn't want to be more like men, sacrificing their femininity in the name of professional advancement—they wanted to be more like themselves. Nowhere is that more evident than in their gorgeous, ever-evolving hair.
Tahirah Hairston is a style writer from Detroit who likes Susan Miller, Rihanna's friend's Instagram accounts, ramen and ugly-but cute shoes.