LAS VEGAS— The temperature was too hot for technology. By the time the volunteers reached the third house, their iPads overheated and shut down.
The high school and college student volunteers were supposed to use iPads to identify where registered Democrats live, but once they got to the front door it's all about the face-to-face conversation. The volunteers were canvassing a neighborhood outside Las Vegas as part of an effort to ensure that registered Latinx Democrats get out the vote in November.
Young Latinx people make up almost half of eligible Latinx voters in the U.S., but young people are also the least likely to vote. These two factors may help explain why the rate of Latinx voters going to the polls on Election Day is historically low, compared to white and black voters.
But the young Latinx volunteers dedicating their weekend to making sure Nevadans support Democratic candidates are challenging that voter apathy with their strong sense of civic duty.
G/O Media may get a commission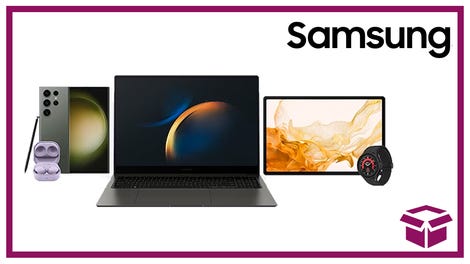 24 hour deals
Discover Samsung - Daily Deal
Young people across the country are targeted with ads reminding them their vote counts, but that's especially true in Nevada, where Senator Harry Reid was reelected in 1998 by only 428 votes.
"You can have so much power here," says canvasser Jakki Durón, who is based in Reno, a swing city in a swing state. "My high school graduating class was like 428 people; that's why door knocking is so important."
When it comes to this year's presidential election, Latinx in Nevada are 16% less likely to vote than the average American, but the votes they cast are three times more likely to decide the outcome of the election because they live in a key swing state, according to a Fusion tool that looked at voter turnout and polling forecasts.
Latinx voters in Nevada are overwhelmingly supporting Hillary Clinton's bid for president. A Univision poll last month found Clinton would win the Latinx vote comfortably with 65%, compared to 19% for Trump. During the primaries 93% of the Latinx electorate in the state did not vote for Donald Trump.
But organizers aren't taking that support for granted; they need to make sure that voter intention translates into actual ballots on Election Day. That's why sending Latinx volunteers out to talk to Latinx voters is such an important part of the "ground game" strategy to making Nevada go blue.
"Face-to-face canvassing allows you to have connections to ask questions that you wouldn't normally ask in other settings," said Durón.
If it's done right, studies have found that a personal conversation with a campaigner can have a profound effect on the likelihood of a voter showing up to the polls. Statistically, door-to-door canvassing is more effective at turning out the vote than TV ads, direct mail and phone calls.
But while door-knocking is effective, it can also be nerve wracking to knock on a stranger's door to talk politics.
"There's always some nerves; you never know what to expect," Durón told me. "But I love speaking with people because they get to have a conversation instead of misinformation from ads."
When her iPad overheated Durón downloaded the same app on her phone so she could continue canvassing the neighborhood. She told me that her motivation to plow through the is the idea that the next president will choose the new Supreme Court justice. Also because many of the people she talks to remind her of her mother, a naturalized U.S. citizen born in El Salvador. She says her Salvadoran mother hasn't mastered English, so accessing voter information can be difficult.
"Language barriers really hinder folks if they don't have the information to weigh their own options," Durón told me.
J.J. Straight, the regional field director for Planned Parenthood Votes, says face-to-face canvassing and phone calls are low-tech tactics that are still vital for getting registered voters to actually go the polls on Election Day.
"We're door-knocking because we know that it's the most effective way to talk to voters, particularly about issues that really motivate them," said Straight. "We want people who are going to be most impacted by this election doing the work.
Straight helped organize the training hosted by Planned Parenthood Votes, the Super Pac with ties to Planned Parenthood.
The canvassers stood out in the Winchester neighborhood just south of the Las Vegas strip. They wore hot pink shirts, and where were the only people walking around outside. Despite the blistering heat, each team of two volunteers managed to knock on three dozen doors. The entire group that went around the city targeting different demographics knocked on more than 450 doors, surpassing their goal for the day.
Another team of volunteers at the training conducted by Planned Parenthood Votes called more than 2,000 registered voters that same day.
Planned Parenthood Vote's hope is that the young people will gain the skills to feel more confident and continue to advocate for candidates who support women's health.
Latinx voters have the numbers to decide the elections in Nevada. Of the estimated 196,000 registered Latinx voters in Nevada, 55% of them registering as Democrats, according to the National Association of Latino Elected Officials (NALEO) Education Fund. That means there are about 107,800 Latinx Democratic voters in Nevada — a significant number considering President Obama beat Mitt Romney here by just 67,806 votes.
This year Latinx voters in Nevada can also vote to put Latinx candidates in different offices across the state level.
Governor Brian Sandoval, a 53-year-old Mexican-American, is considered a moderate Republican who dropped the state's court battle against same-sex marriage and has supported women's health as long as abortions are not paid by federal funding. Catherine Cortez Masto, a Democrat and the granddaughter of a Mexican immigrant, is running to be the first Latina elected to the U.S. Senate. And House candidate Ruben Kihuen, who was born in Mexico and came to the U.S. when he was 8-years-old, could be the state's first Latino congressman if he beats Republican incumbent Cresent Hardy.
It's why the footwork by volunteers like Jakki Durón is so important in the final weeks of campaign.
"I'm helping [voters] understand that they have the autonomy to make the decisions they think are best for them," Durón told me at the end of her doork-nocking.