Musicians have been known to ask for some preposterously specific things on their tour riders. Sometimes, these requests are made to verify whether venues are actually reading the riders in the first place, as was the case with Van Halen's notorious "no brown M&M's" clause. Other times, Lady Gaga just wants a mannequin with puffy pink pubic hair. I mean, who are we to deny Mariah Carey the simple pleasure of being surrounded by 20 white kittens and 100 white doves?
Punk band PWR BTTM's tour rider might not be as extravagant as the elusive chanteuse's, but the band does have one provision that's totally worth noting: easily accessible gender neutral restrooms for everyone who goes to their shows.
Bathroom accessibility in public spaces has long been a source of anxiety for many transgender and non-binary individuals. A 2013 Williams Institute survey found that 70% of respondents reported having been denied access, verbally harassed, or physically assaulted, all because they had tried to use a public restroom that corresponded with their gender identity.
State and local governments have legislated on the issue in recent months, often with disastrously regressive results. Houston voters repealed their city's nondiscrimination legislation last November following a transphobic ad campaign that propagated the harmful, and untrue, myth of the trans "bathroom predator." And North Carolina state politicians, including Gov. Pat McCrory, are currently pushing to repeal a Charlotte provision that allows trans people to use public bathrooms in accordance with their gender identities.
South Dakota's state senate passed a bill on Feb. 16 that would require public school students to use a bathroom that corresponds to their "biological sex." House Bill 1008 defines "biological sex" as "the physical condition of being male or female as determined by a person's chromosomes and identified at birth by a person's anatomy," a highly subjective understanding of sex and gender that erases intersex people entirely.
G/O Media may get a commission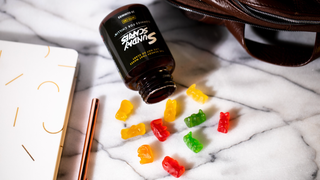 10mg CBD Gummies (22-Count)
The bill is not yet law; Gov. Dennis Daugaard has until March 1 to decide whether he will sign it. Mara Keisling, the Executive Director of the National Center for Transgender Equality, hopes that Daugaard will not sign the bill.
"For many trans students, if they aren't allowed to use the right bathroom, they can't use the bathroom at all," Keisling said in an emailed statement. "Meanwhile, if they're told to use a different bathroom, it draws negative attention to them. It makes them vulnerable, both socially and physically. No matter what, the school is singling them out for being trans."
She continued: "Bathrooms are important for trans students for the same reason they're important for every other student. House Bill 1008 would give schools the right to stop kids from going to the bathroom until they provide a birth certificate, give DNA samples, or undergo genital checks. This bill would subject the South Dakotan students to scrutiny and humiliation when they're just trying to pee and get back to learning. Gov. Daugaard should veto it."
Kelsey Pritchard, the governor's Director of Communications, told me in a phone call Monday that Daugaard had met with the bill's sponsors and the Center for Equality, a Sioux Falls-based nonprofit advocating for the rights of LGBT people in South Dakota, so that he could "meet with both sides."
While PWR BTTM cannot directly affect state policy in South Dakota or North Carolina, they can at least create more inclusive spaces at the venues in which they perform. And as far as the band is concerned, there are no two "sides" to the issue of bathroom access.
"I'm not interested in debating that," guitarist Ben Hopkins told me over falafel on Wednesday.
PWR BTTM formed while members Ben, 24, and drummer Liv Bruce, 22, were students at Bard College in Annandale-on-Hudson, N.Y. The two have since graduated and relocated south to Brooklyn, and last September saw the release of their debut album, Ugly Cherries, on Miscreant Records and Father/Daughter Records.
Their music is rooted in and informed by their queer life experiences, both Liv's as a non-binary trans person (pronouns: they/them/their) and Ben's as a self-described "broke-ass drag queen" (pronouns: he/him/his or they/them/their). So they were both taken aback by an experience they had with a certain venue's management while on the road last summer, supporting fellow Father/Daughter act Diet Cig's national tour.
"We had a show last summer at a venue in Philadelphia that had gendered bathroom signs that were transphobic," Liv told me while we were holed up at Mamoun's on St. Mark's during Wednesday's midday downpour. "One sign said 'boobs' and the other said 'balls.' That sucked because we're a queer band that plays queer music, and queer people come to see us… I tried to bring it up with the owner that some of our fans have boobs and balls and some of our fans don't have boobs or balls. I asked, 'What can we do about this?' And he just kind of laughed in my face," telling Liv that there was a "gender neutral" facility all the way at the back of the space up some stairs, hardly accessible or even visible to the average attendee at their concert.
On the bus ride home to New York, Liv vented their frustrations to Jeanette Wall, PWR BTTM's manager and founder of Miscreant Records. That experience led to the creation of the band's gender neutral bathroom provision, which was implemented beginning with their headlining tour that kicked off in December. The policy reads:

In an effort to ensure the safety and comfort of patrons of all gender identities, PWR BTTM asks that restrooms at the venue be made gender neutral for the evening. PWR BTTM will allow there to be both gendered AND gender neutral bathrooms IF AND ONLY IF the gendered and gender neutral bathrooms will be equally accessible to attendees and within similar range of the stage (in other words, 'we have a gender neutral restroom! It's just up a flight of unlit stairs in the back of the venue' doesn't cut it), otherwise all restrooms will be made gender neutral.
The vast majority of venues have been totally understanding and cooperative with this policy, although some places have been unable to meet the request due to various state laws demanding equal restroom space for men and women.
In other instances where the band is supporting another headlining act at venues that have already been booked, such as Ra Ra Riot's upcoming national tour (which kicks off Mar. 2 in Albany), PWR BTTM might not be able to guarantee gender neutral bathrooms for concert-goers. (Ben, Liv, and Jeanette Wall all noted that this is not the fault of those venues or the bands that PWR BTTM is supporting and that all parties have been supportive, regardless of how the restroom policy was ultimately able to be implemented.) In such instances, PWR BTTM alert fans about the gendered restroom situation ahead of time via Facebook. That way, their trans and non-binary fans won't be caught off-guard by gendered facilities and can decide beforehand whether they feel comfortable navigating those spaces.
"We've talked a lot about this before, but Ben and I both used to feel like there wasn't a place in the music world for anybody like us," Liv said. "In that sense, I feel good about the representation we've achieved. But it's not enough. This restroom policy is exciting to me because there's something concrete to make these punk and DIY spaces more welcoming for trans people."
While the gender neutral restroom policy is a step forward, PWR BTTM are careful to note that it is just a "first step" in their process of figuring out how to make punk and DIY spaces more welcoming to trans people and individuals of other marginalized identities. The duo is also having conversations about how to promote consensual moshing at their shows, and Jeanette Wall, the band's manager and Miscreant label head, said that they're looking to making wheelchair accessibility at venues a priority.
"It's important for us to use our platform to communicate things that are actually important to the community that we are a part of," Ben told me. "We say a lot of shit and nonsense onstage. But we're also trying to figure out a means of action that actually represents that shit. I've been asking people to send me zines to push queer literature and dialogue to other places. We'll put them out on our merch table so that these thoughts can be circulated now that we're touring nationally. If somebody in Michigan can read some kid in New York's zine, maybe they can feel less alone and understand their queerness better."
It's easy to assume that punk and DIY spaces would be welcoming to people who feel alienated from mainstream culture; they are, but some identities can be more welcomed than others. Without any oversight, these spaces often replicate the same racist, misogynistic, and transphobic dynamics that are at play in society at large, namely the valorization and validation of straight, white, cis men's experiences over those of marginalized people. The recent sexual assault allegations against former Life or Death PR CEO Heathcliff Barru and former Chimes bassist and curator Winston Scarlett (who, to clarify, is neither straight nor white) are all too evident of that.
That's why Miscreant label head Jeanette Wall told me that she, as a woman, always felt like she "had to fight" to stay in these spaces. That's why Liv said they're misgendered at nearly every new venue they play. That's why Ben felt "constantly belittled" for their technical abilities during PWR BTTM's come-up, driving them to hone their musicianship to a level where the "frat bro-y" guys in the punk scene "cannot possibly fuck with me." It's all connected.
Trans-inclusive restroom legislation might be out of PWR BTTM's hands, but the band's rider policy can at least provide safe and accessible bathrooms at venues in Sioux Falls, Houston, and other places where such a thing is not always guaranteed. And in implementing this policy, Ben and Liv hope to have a ripple effect in the cities they tour.
"Say we send our rider to a venue in Chattanooga, Tenn., that has never gotten that kind of rider before," Liv said across the table, nearly drowned out by the music playing at Mamoun's. "Maybe five people who have never shared a bathroom with someone of a different gender identity will use that gender neutral bathroom. Of those five, maybe one person will opening a business next year and ask themselves what they have to gain from upholding the gender binary with their restroom spaces. If I had a bigger ego, I'd say that's how you change the world."
"You don't have a big ego?" Ben asked, turning their head to Liv.
"Well," Liv responded, glancing back. "It's all relative."
---
Unclear wording in a previous version of this piece incorrectly suggested that Winston Scarlett is a straight, white man. He is queer and black.
Bad at filling out bios seeks same.