When Ala'a Basatneh was recently contacted by the office of U.S. Representative Mike Quigley's, she thought there must have been something urgent about the situation in Syria. Just a few months earlier, the Syrian-American activist had met the congressman in Washington, and they promised to stay in touch about the humanitarian situation in that country.
But a few minutes later, she was on the line with him, and the congressman asked her a seemingly random question: What was she doing on January 12? More specifically: What was she doing for the State of the Union Address? And could she come to Washington D.C. as his designated invitee?
"I was really, really surprised, and basically speechless," Basatneh told Fusion of the invitation. "As a Syrian-American and as a Muslim woman, especially in today's environment, I feel like this is an incredible opportunity."
"Alaa is an incredible example of how to make an impact in our world and deserves to be celebrated," read a statement from the office of Rep. Quigley (D-IL). "By attending President Obama's State of the Union Address, I hope that Alaa's story can help inspire love and compassion over fear and discrimination."
The two first met a few months ago during a Washington screening of the documentary #ChicagoGirl, which follows Basatneh, 23, through the early days of the Syrian Revolution, which later transformed into the ongoing civil war. From her home in Chicago, she began coordinating with activists in Syria, helping them organize protests, methodically sidestepping President Bashar Al-Assad's surveillance networks to help citizen journalists send media to global news networks.
G/O Media may get a commission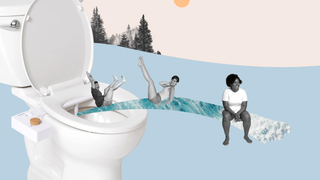 17% off
Tushy 3.0 Warm Water Spa Bidet Attachment
"I started by watching videos on YouTube and starting conversations with the people who shot them," she previously told Fusion about how she became involved in the revolution. Over time, she became an asset and a hub of information for activists on the ground, half the world away. Twice during the conflict she has visited "liberated" areas of Syria, bringing badly needed medical supplies and hardware for citizen journalists along with her.
A third trip was cancelled after she received a specific death threat from members of Syria's al-Nusra Front, which the State Department has designated as a terrorist organization.
The death threats from abroad have long been a reality, Basatneh said, but lately a domestic source of uneasiness has been emerging for her—a hijab-wearing Muslim woman—in her own hometown of Chicago.
"Lately, after what [Donald] Trump has been saying, people are saying 'fuck you, go back to your country.' This is my country," said Basatneh, who left Syria to the U.S. with her family when she was six months old. People give looks when she walks by, she said. Store clerks will greet everyone when they walk in, but say nothing when she enters.
"I walked on a minefield to get medication to children in Syria," said Basatneh. "There's no way that I will do harm to anyone at any place, and the fact that some people think that just because I have a piece of fabric on my head makes me a threat to them, that kills me."
"Sometimes, I cry," she said. "It's not fair that me and other Muslim girls are going through this."
On the opportunity to go to the State of the Union Address, Basatneh said she hopes it will send a powerful message to the nation.
"We [Muslims] are active members of society. We make up the fabric of this country, and we deserve to live like everyone else," she said. "Our founding fathers created the Constitution and created this amazing country so that we can all live together, so to look at Muslims or to look at Syrian refugees in a different way, that is not fair."
In Syria, she said, the fact that she was invited to one of the biggest speeches of the year by a member of the U.S. Congress might send a separate, much needed message to activists, regular citizens, and citizen journalists who are trapped between a dizzying array of players involved in the conflict. The message: people still care about you.
In the current news cycle, Basatneh said, the rise of ISIS is a much sexier story than the fact that people are still organizing weekly anti-government protests in Damascus, the regime's stronghold. With the increasingly complex involvements of Russia, Iran-backed Hezbollah, Turkey, the Kurds, and the U.S.'s military coalition in the conflict, the original purpose of the Syrian Revolution—getting rid of Assad's regime and pushing for a democratic government—has nearly been forgotten.
But it's important people don't forget about regular Syrians who just want peace, she said.
Just this week, Basatneh real-time translated an interview with a German journalist and an activist in Aleppo over Skype and helped organize a SkyNews video shoot with two activists in Damascus, she said.
"It took someone in Chicago to connect three people in Syria," she joked. "It happens every single day with me… These people are literally putting their lives on the line to get information out, to make change, and someone has to help facilitate that."
When she arrives in Washington next week, Basatneh looks forward to meeting other attendees and politicians, especially Representative Keith Ellison (D-MN), the first Muslim elected to U.S. Congress.
Recently, she graduated from Northeastern Illinois University with a double major in political science and Arabic studies. In Washington, she hopes to find a grad school where she can studying international human rights—clearly a passion of hers.
"I'm really excited [about next week]," she said. "It shows some politicians are really aware of what Muslims in this country are going through right now."
"It's inspiring, and really, I feel like this is going to keep me going," she said.
This post has been updated with comments from Rep. Quigley's office
Daniel Rivero is a producer/reporter for Fusion who focuses on police and justice issues. He also skateboards, does a bunch of arts related things on his off time, and likes Cuban coffee.