LIMA – Most of the audience can't understand the lyrics to Uchpa's songs.
But when this Quechua rock-and-blues band takes the stage in Peru's capital city, people leap from their seats to dance around. The more energetic fans form a mosh pit up front, jumping frantically up and down, as the band belts out a high-tempo, electronic, Andean folk song that talks about having a "happy heart."
The music is striking a strong nationalistic chord even with those who can't sing along.
"This band makes me feel very Peruvian," says Marco Estrella, a college student who attended a recent Uchpa concert in Lima.
"It's the third time I've seen them," adds friend Alaska Cervantes, still sweating from the mosh pit. "I don't really understand their Quechua, but I think it's great that they sing in our ancestor's language."
Quechua is rarely heard in Peru's capital city, where those who speak the indigenous language are often mocked or discriminated against.
G/O Media may get a commission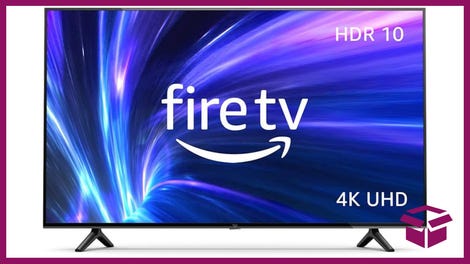 42% Off
Amazon Fire TV 50" 4K Smart TV
But Uchpa is on a mission to revive the ancient Incan tongue and celebrate all things Andean.  The group is Peru's only rock band that sings exclusively in Quechua. And interest in their music is growing.
"When we first started to play in Lima, people would look at us with a puzzled face, as if we were aliens," Marcos Maizel, the group's lead guitarist, told me after a recent concert that drew 1,000 fans. "But now you can see we have fans and some people even know our songs."
Uchpa is mostly followed by working class urbanites whose families come from rural Quechua-speaking areas.
But the group is also benefiting from the growing trendiness of Peru's indigenous culture among Lima's Spanish-speaking young professionals. It's a rediscovery and cultural embrace that goes beyond music.
In gastronomy, chefs in white-linen restaurants are using pre-hispanic ingredients like Quinoa to give a new twist on Italian Risotto.
The Quechua language is more frequently featured in nationally produced movies and books. And it's even become trendy for famous tenors to sing the national anthem in the Inca tongue at sporting events.
Like the famed Peruvian chefs who blend pre-hispanic ingredients with European cuisine, Maizel says his band is also on a mission to fuse cultures.
In addition to singing in Quechua, Uchpa (which means Ashes) mixes Andean music styles, like the mournful, high-pitched Huayno, with American blues. Dancers dressed in traditional costume perform an acrobatic folk dance during the concerts. But the show gets cranked up to 11 with a loud, fast-tempo guitar intro that could compete with any arena rock concert.
"I love Jimi Hendrix, Led Zeppelin, Deep Purple, John Maier and Bad Company," says Freddy Ortiz, the band's silver-haired founder and frontman. "What we are going for now that we have matured as a group, is to achieve the perfect fusion between the music you find deep in Peru, and western styles."
Ortiz said the decision to sing in Quechua came about quite naturally: He's a native speaker.
"None of us spoke English in the countryside, but when people sang rock songs, they'd end up making up words and mumbling," Ortiz said. "I started to sing in Quechua so that people could understand me well."
Nowadays Ortiz is also helping to promote the language beyond indigenous communities. Quechua was Peru's main tongue before the arrival of the Spanish conquistadors. It's now only spoken by 13 percent of the population.
"In Lima you have kids who are 15 or 20, and who speak Quechua but they are embarrassed to use it," Ortiz said. "So if we do modern music in Quechua, and people like it, perhaps that will encourage them not to lose the language."
Uchpa has been rocking the Inca world for almost 25 years.
The band had its first songs recorded onto cassettes in the '90s while Ortiz was a cop in Ayacucho, a mountain town where the Peruvian government fought a tenacious war against the Maoist Shining Path guerrilla movement. As a cop in a war zone, Ortiz didn't have any time or money to commission art for his first album. So he had a photo of himself taken by a local photographer.
"They didn't have equipment to reveal film in Ayacucho," Ortiz said. "So we had to send the film to Lima to get it developed."
The band has come quite a long way since those tech-challenging days, and now posts dozens of videos on Youtube. Uchpa also appears regularly on newspapers and local tv channels, and has made a name for itself as a leading champion for Quechua revival.
Still, the band hasn't been able to find a recording company to produce its next album, and Lima's main radio stations won't play their songs.
"It also happens to local bands that sing in Spanish," said Andres Tapia, a businessman who assembles recordings of classic Peruvian rock bands. "Peru is not a very big rock country, and station managers tend to stick to whatever is  trending internationally."
Maizel says his band hopes to play in several music festivals in Europe next year to broaden its reach. The group is also working with a production company that will make a documentary about their music.
But Ortiz isn't seeking fame. Like a true, long-haired rocker, he seems to be fine with making a modest living as long as he can focus on his musical journey.
"My goal is not to be number one," the retired policeman said. "What I want to do is to promote the blending of cultures, and to open spaces for campesinos in modern society."
Manuel Rueda is a correspondent for Fusion, covering Mexico and South America. He travels from donkey festivals, to salsa clubs to steamy places with cartel activity.