Los Angeles has been the host to gay pride parades since 1970, but this year, organizers canceled their annual parade. Organizers are instead marching down Hollywood Boulevard in what they're calling the #ResistMarch.

There are no floats. No flatbed trucks with men dancing on them. No corporate sponsors either, and according to organizers, the march will cost six times as much as the annual Pride Parade. But the founder of the march says it's all worth it.
"We want to be marching through the busiest parts of Los Angeles so that people know we're resisting transphobia, homophobia, racism, and the idea of pushing us back into the closet," Brian Pendleton, founder of the #ResistMarch, told Fusion.
Pendleton, 49, says he first posted the idea of turning the parade into a march on Facebook as a private citizen. At the time, he had nothing to do with the organization that puts on the pride events, but the post received so many likes that he was contacted by Christopher Street West, the organization that puts together LA Pride Parade and Festival. Pendleton, who is retired, is now a board member of the organization.
Pendleton said the #ResistMarch is bringing the community back to their roots, "our protests roots," he told Fusion in a phone interview, referring to the early days of the LGBTQ rights movement: On Feb. 11, 1967, a group of protestors in LA's Silverlake neighborhood clashed with police who were raiding a bar frequented by LGBTQ people. Two years later, on June 28, 1969, activists in New York also confronted police officers who were targeting patrons at the The Stonewall Inn.
G/O Media may get a commission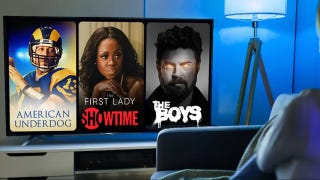 UNDER $1
99¢ Prime Video Channels
The website for the #ResistMarch says the march is bipartisan and for anyone who believes "that our country's strength is its diversity."
"The LGBTQ community is lending it's iconic rainbow flag to any person who feels under threat, no matter your [immigration] status, DREAMers, women who care about reproductive health, people of color and people of faith," Pendleton said.
The 3.2-mile-long-march will start in Hollywood and end in West Hollywood. The first LA gay pride parade took place in 1970 on Hollywood Boulevard, but in recent years the celebrations moved to the more affluent neighboring city of West Hollywood.
The march route is three times as long as the parade's usual path, which is part of the reason why this year's event costs much more. Organizers need to provide services like portable bathrooms and help with clean-up costs.
Sunday's march will start at the intersection of Hollywood and Highland, where there is also a subway stop that could facilitate travel for more marchers. The march starts with a short ceremony at 8 AM and ends with a rally in West Hollywood. Several elected officials are expected to speak at the end of the march, including U.S. House Democratic Leader Nancy Pelosi and Rep. Maxine Waters (D-Los Angeles), who has been leading her own resistance effort in Washington.
Pendleton also noted Bamby Salcedo, founder of the Los Angeles-based TransLatin@ Coalition, is scheduled to speak at the rally as well. Salcedo has been featured in several Fusion stories for her work advocating for the rights of undocumented trans women—she recounted being detained in a men's immigration detention in a 2014 story.
The #ResistMarch has partnered with over 100 organizations, including other groups who have been targeted by the new administration's policies.
Partner organizations include Asian Americans Advancing Justice, Muslims for Progressive Values, Coalition for Humane Immigrant Rights, Planned Parenthood, Black Women for Wellness, and the ANSWER Coalition, which has organized several anti-war and police brutality protests in Los Angeles. Pendleton said youth groups had partnered too.
Pendleton said, "you don't have to be LGBTQ to be with us this year, or really ever."
There are a number of cities across the country who are also hosting marches this weekend. You can find more information about events near you here.