You get a job in the White House, which means you're going to be a powerful and influential individual. Lots of deep-pocketed individuals are going to want to curry favor with you, but it's hard for them to do that in a way that withstands government ethics rules.
Normally, bribes are easy to detect. If a mysterious Chinese company gives a White House staffer $10 million, for instance, that's a bribe. If the same staffer has $10 million of Goldman Sachs stock but sells it to the Chinese company for $20 million, that's also a bribe. If he sells the stock for $5 million, on the other hand, then he's the one doing the bribing.
In order to determine whether there's something nefarious going on, then, when a certain asset changes hands, you really need to know how much it's worth. If I pay you $10 million for a Picasso, that might be legit; if I pay you $10 million for a finger painting by your toddler, then that's a bribe.
The problem is that in a Trump White House full of gazillionaires, there are lots of holdings that can't easily be valued, and that give mysterious Chinese companies lots of ways to transfer wealth into the pockets of the powerful.
For instance: After Anthony Scaramucci was offered a job in the White House, he sold Skybridge, his asset-management firm, for more than $200 million. The buyer was HNA, a low-profile company that had previously evinced no interest in the asset-management business, and that was described by The New York Times as having "deep ties" to the Chinese Communist Party.
G/O Media may get a commission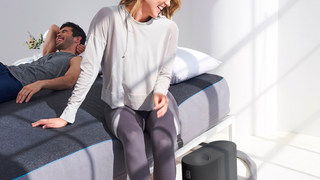 Eight Sleep Pod Cover
Was Skybridge worth that much? Probably not. Skybridge is in decline, in terms of the amount of money it's managing, and yet it sold at a valuation-to-Ebitda ratio of more than 7, well above the range of 3 to 5 which is normal in the industry. Still, you can't prove that Skybridge wasn't worth that much. After all, a company is worth whatever an outside buyer is willing to pay, right?
Or consider Wilbur Ross, the billionaire commerce secretary. He sold most of his holdings before taking office, but not all of them: He's holding onto his stake in Diamond S Shipping Group, a company that owns and operates oil tankers. How much is that stake worth? Well, another investor in Diamond S Shipping Group is a Chinese sovereign wealth fund, and it wouldn't be hard for China to make the company very valuable indeed, were it so inclined.
Most recently, another Chinese company, Anbang, made headlines by putting together a deal to pay $4 billion for a Manhattan office building, 666 Fifth Avenue, which just happens to be owned by the Kushner family. Yes, that Kushner. The deal keeps the Kushners invested in the building–they will retain a 20% stake, which could ultimately be worth as much as $1.4 billion, if everything goes according to plan–while also giving them some $400 million in cash.
Is 666 Fifth really worth $4 billion? It was sold for just $518 million in 2000, and was then bought by the Kushners in 2006 for for $1.8 billion in what was, at the time, the highest price that anybody had ever paid for a single building in Manhattan.
No one thought that deal was particularly smart. By 2012, the Real Deal estimated that the Kushners had made "about $100 to $120 million" on the retail portion of the building, but had lost more than $200 million on the offices. And yet, now, amazingly, they seem to be cashing out at a valuation more than double the frothy levels of 2006.
The point here is not that the Chinese are bribing, or trying to bribe, Trump Administration officials. Rather, the point is that they have the opportunity to do so, should they be so inclined, just because those officials own assets that are very hard to objectively value. Turns out, that's one of the many advantages of being incredibly rich.