Voter turnout in this month's midterm elections was historically bad.
Only 36.4 percent of eligible voters cast ballots, the lowest rate since World War II, according to estimates from the United States Election Project.
Low turnout in midterm elections isn't a new story and that's especially true for young voters. Approximately 10 million people ages 18 to 29 voted in 2014, a turnout rate of about one in five, according to The Center for Information and Research on Civic Learning and Engagement (CIRCLE). That's actually an improvement from 2010, when just 9.2 million young voters went to the polls.
We know that midterm turnout has been low for years. What can be done to get more young people to vote? Fusion asked several voter engagement groups.
Make voting easier
G/O Media may get a commission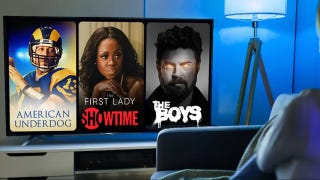 UNDER $1
99¢ Prime Video Channels
Secretary of State Debra Bowen displays cellphones and a paper form to demonstrate the different ways California voters register to vote during a news conference Wednesday, Sept. 19, 2012, in Sacramento, Calif. (Rich Pedroncelli/AP Photo)
Expanding practices like online voter registration and early voting could have a big impact on boosting turnout, experts say, as would allowing voters to register on Election Day.
Just around half of eligible voters ages 18 to 29 are registered to vote in midterm years, but the rate is higher in the 10 states that allow Election Day registration. Seven of out of the 10 top turnout states in the 2012 elections (a presidential year) had same-day registration, vote by mail, or no registration required, according to a CIRCLE analysis.
Rock the Vote, a non-partisan youth outreach group, promoted reality TV star Kendall Jenner's online voter registration this fall. Young people are twice as likely to register online as older voters, but the practice is only available in 23 states.
"We have to meet young people where they are, which is online, to get people registered to vote," said Ashley Spillane, president of Rock the Vote.
On the other hand, voter ID laws have been shown to have a negative effect on youth turnout. States that tightened these laws saw a disproportionate drop in turnout among voters ages 18 to 23 in past elections, according to a Government Accountability Office study.
"We had a challenging time keeping up with them and getting information out to people in a way that wasn't scary and was informative," said Spillane.
Teach schoolkids the importance of voting
In this photo taken Oct. 16, 2014, Navil Babonayaba, 16, center, a student at Yuma High School participates in her civics class in the rural farm town of Yuma in eastern Colorado. (Brennan Linsley/AP Photo)
Rock the Vote estimates that 12,000 Americans turn 18 every month, but many aren't receiving information about how to vote or the importance of voting.
Abby Kiesa, a youth coordinator and researcher at CIRCLE who studies youth voting patterns, believes more young people will vote if they are educated about the process and political issues. Only nine states require a social studies test to graduate from high school.
"Young people can be intimidated by politics that they don't know quote-unquote enough about a topic," she said.
Across the board, young people show an apathy toward voting. But those with higher education levels are more likely to vote than those who are not as educated.
Many young people, especially the less educated, feel their vote doesn't matter. That's an acute problem in midterm years, when there isn't a presidential race that garners widespread national attention.
"We need to do a better job of conveying the impact that you can have with your vote," Spillane said.
Change the election calendar

Vicki Cowart, President and CEO of Planned Parenthood of the Rocky Mountains, speaks during a news conference and rally against Amendment 67, the so-called personhood measure, at Planned Parenthood, in Denver, Friday, Oct. 10, 2014. (Brennan Linsley/AP Photo)
The New York Times ran a provocative op-ed just before Election Day that argued all federal officials—congressmen, senators, and presidents—should be elected every four years.
None of the groups we spoke to went that far, but overall youth turnout is historically higher in presidential years. In this election, turnout was up in states with competitive races.
Close races, however, aren't enough to boost turnout alone. Young people voted at a lower rate than those nationwide in five states with key Senate races: Georgia, Arkansas, Louisiana, and North Carolina.
Ballot measures can also influence youth participation. Turnout in states with initiatives, such as Colorado's personhood amendment or Florida's medical marijuana measure, was five percentage points higher than it was in 2010, according to CIRCLE.
Engage young voters
Brett Harris, a sophomore at the University of South Carolina, poses with Sen. Rand Paul for a photo at the Gressette Room on campus in Columbia, S.C., Tuesday, Sept. 30, 2014. (Richard Shiro/AP Photo)
The biggest factor in young people's decision vote might be the most obvious: direct contact from campaigns or advocacy groups.
"We know that grassroots mobilization efforts have been – and continue to be – the best way to reach voters," Liz Accola, a spokesperson for the liberal campaign group America Votes, wrote in an email.
Voters between the ages of 18 and 29, however, were the least likely to be contacted by a campaign via phone, email, mail, text message, or home visit, according to a Pew Research Center report.
"Parties have such a sustained impact on youth outreach. But they are under-invested in youth outreach," said Kiesa.
Jordan Fabian is Fusion's politics editor, writing about campaigns, Congress, immigration, and more. When he's not working, you can find him at the ice rink or at home with his wife, Melissa.