On Monday, July 18th, the 2016 presidential campaign will shift into high gear when the Republican National Convention kicks off in Cleveland. There will be speeches from various luminaries, and presumptive nominee Donald Trump has promised a "showbiz" feel and atmosphere. It should be something!
All of the major TV networks are going to be providing coverage around the clock. CNN, Fox News, and MSNBC will be on-site for their respective audiences, and C-SPAN will be as well. The broadcast networks CBS, NBC, and ABC are all airing hour-long specials each day of the convention during primetime.
Fusion, of course, will be covering the convention in its entirety, including regular live broadcasts on our Facebook page, and loads of live coverage on Twitter. You can also watch Fusion's coverage on our TV channel.
However, you won't have to follow along on TV, as there are a number of streaming options for viewers to follow all the excitement and chaos.

G/O Media may get a commission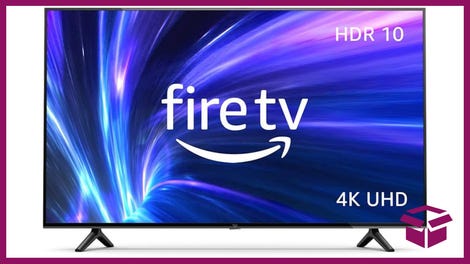 42% Off
Amazon Fire TV 50" 4K Smart TV
Facebook
Facebook's live coverage of the RNC promises to be robust. According to Politico:

Facebook is partnering with 21 media organizations, including CNN, Yahoo!, Fox News, The New York Times and local media in both cities to use the "Facebook Lounge" which will act as a studio for live broadcasts.
It's not clear yet which outlets will be offering live video of the RNC, and how much they'll be offering, but it's safe to assume that you'll be able to find a number of streams on your feed from many of the major outlets.

Twitter
Twitter is teaming up with CBS News to stream both the RNC and DNC, and is promising live-tweet integration. (It's safe to assume they'll be doing something with Periscope, as well.) You can follow CBS News on Twitter here.

Snapchat
If you prefer your convention video vertical, The Daily Show plans to be all over Snapchat, beginning on July 15. Snapchat's popular politics show, "Good Luck America," will likely make a comeback as well.

Other apps and sites
There's an official GOP app for iOS and Android, which will be streaming from the convention.
Twitch is partnering with both parties to broadcast this year's conventions, saying they're providing "an opportunity for [their users] to engage in the political process, and with each other, during this election year without leaving [their] native habitat."
Bing and YouTube are also going to be streaming the convention, but the most interesting option may be BitTorrent. The file-sharing site is launching BitTorrent News on Monday on its BitTorrent Live platform. There coverage will be a handled by some experienced news makers, including veterans from Fox News and Al Jazeera English. They're promising an independent voice and could make for an interesting alternative.

If you have a cable subscription: whichever network you like!
If you do want to watch TV coverage on your computer or mobile device, and you have a cable subscription, you're set. Fox, MSNBC, Univision, Fusion, CNN, and others all offer live-streaming services to cable subscribers, through their own apps. A lot of these are available as apps on over-the-top boxes, like Roku and Apple TV, as well.
ABC is streaming "gavel-to-gavel," and NBC is planning to be as well. PBS is teaming with NPR News to stream coverage with Gwen Ifill and Judy Woodruff anchoring from 8-11 EST each day of the RNC.
Enjoy the circus!
David Matthews operates the Wayback Machine on Fusion.net—hop on. Got a tip? Email him: david.matthews@fusion.net