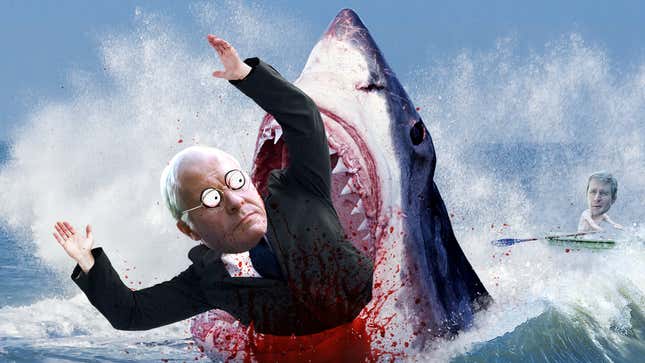 "I wake up every morning literally with a smile on my face, grateful for another day I never thought I'd see." — former Vice President Dick Cheney
Katherine Krueger
I watched the trailer for Adam McKay's new movie Vice, which is out in theaters today, with whatever measure of cautious optimism I'm still able to muster. I've been waiting for this movie to arrive, which rarely happens! Sam Rockwell as W! Amy Adams is there as Lynne Cheney and likely far underutilized! A fattened up Christian Bale (who is nothing if not super fucking committed to roles) as Dick Cheney, keeling over and shooting a gun, probably at his friend!

Pair that with the driving, rock-y soundtrack McKay loves and we've got a cool-ass-looking movie that has been somewhat tepidly reviewed so far. So what, it's fine!
But there was one glaring, inescapable fact that got in the way of my ability to fully enjoy the buzz around the movie (which will quite likely hold over when I see the film): We'll have to watch the whole thing—documenting Cheney's dastardly dealings in the White House, his years as an architect of forever war in the Middle East, and making his money destroying the planet—knowing that he's still out there kicking. Just think: a man with the blood of hundreds of thousands of civilians on his hands is probably out there right now, sipping an iced tea on the porch while using a servant as a human ottoman, or whatever the rich and awful do while running out the clock as the good continue to die young.
Fuck that!!

What I need right now is to spend some time visualizing an alternate end to this movie, one that neatly brings the story of Cheney's life to a close. Eaten by sharks while snorkeling?? Would be a great, fitting end! Struck down by lightning on a sunny, cloudless day?? Why not! Slowly sucked to the Earth's fire core by quicksand?? Yes please!
G/O Media may get a commission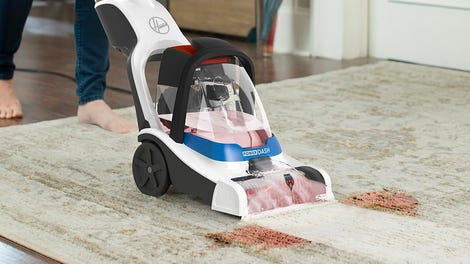 26% Off
Hoover PowerDash Pet Compact Carpet Cleaner
Consider this alternate ending to Vice and feel your worries melt away: It's now 17 years since the terror attacks of Sept. 11. One of the elementary children President Bush was reading "The Pet Goat" to when he learned of the news that fateful day—and then proceeded to sit there and do nothing for awhile longer—has grown up to be a member of an elite squad of highly trained assassins.
For 17 years, he has spent each day training and meditating on his eventual target: Dick Cheney. He learns everything there is to know about the man, with each ghastly new discovery only spurring him forward. When the long-awaited day arrives, he smacks Cheney in the back of the head with a salami as he bends down to make himself another mint julep in his old country home. His remains are dumped in a local dumpster exactly as rancid as the one appropriate for Richard Nixon.
Libby Watson
Look, I'm not above this: Dick Cheney dies of farts. He farts so much and so violently that he dies. I'm not a doctor, so I don't know how the mechanics would work. But the scene is, he's visiting an elementary school, maybe he donated a bunch of money to it or something. He clutches his stomach and his butt at the same time, like in a cartoon. Then the explosion: One, two, three, 10, 20 farts, violent and appalling, echoing, rumbling, as he falls to the floor. The kids point and laugh. The last things he hears is children calling him Stink Cheney. Haha.
Hamilton Nolan
Dick Cheney is walking around his Wyoming ranch and falls into a hole full of oil. A lightning bolt hits the oil hole and Dick Cheney burns up. In the afterlife he finds out that Islam is the one true religion.
Jack Mirkinson
Perfect for Christmas: Cheney is visited by three spirits who show him the error of his ways, then kill him.