This week, the biggest players in the sharing economy have had to deal with the ugly specter of racism on their home rental and ride-hailing platforms.
On Tuesday, Airbnb asked its users to formally commit to not discriminating against other users of the platform based on their race, gender identity, or sexuality, among other factors. Hosts that refuse to sign the mandatory "community commitment" will be barred from the service, Airbnb has said.
Meanwhile, Uber and Lyft came under fire after a study released Monday by researchers at MIT, Stanford, and the University of Washington found that riders with "African American-sounding names" faced higher cancellation rates than users with "white-sounding names." Black men in particular faced cancellation rates as much as three times higher. In an open letter, Senator Al Franken cited the study and pressed both companies to audit drivers for discriminatory behavior.
G/O Media may get a commission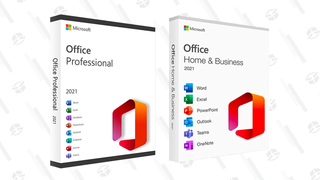 89% off
Microsoft Office Professional 2021 Lifetime License
In statements, both Lyft and Uber have reaffirmed positions that ride-hailing has made transportation easier for people of color. "Because of Lyft, people living in underserved areas—which taxis have historically neglected—are now able to access convenient, affordable rides," spokesperson Adrian Durbin said to The Washington Post.
"We believe Uber is helping reduce transportation inequities across the board, but studies like this one are helpful in thinking about how we can do even more," Rachel Holt, Uber's head of North American also told the Post.
It turns out that while racism works the same way in the on-demand economy as it does everywhere else, accountability does not. As part of their user agreements, renters, drivers, and riders alike waive their right to public jury trials or to file class action suits against Airbnb, Uber, and Lyft.
On Tuesday, a federal judge ruled against Gregory Selden, a black man attempting to launch a class action suit against Airbnb for violating the Civil Rights Act of 1964. When Selden's reservation request was rejected by a white host, he rebooked using fake profiles with the names "Todd" and "Jessie." Both were accepted instantly.
But, following the ruling, he'll have to plead his case in private arbitration, where relevant documents are sealed and the outcome won't help other users facing the same problem. Despite a number of black Airbnb users alleging racism on the platform, many of whom have used the #AirbnbWhileBlack hashtag to share their stories, they're prevented from merging together to form a broader class action suit because of the same clause.
The judge in Selden's case wrote in his court opinion that "no matter one's opinion of the widespread and controversial practice of requiring consumers to relinquish their fundamental right to a jury trial—and to forego class actions—as a condition of simply participating in today's digital economy, the applicable law is clear."
Speaking to the New York Times in June, Jamila Jefferson-Jones, an associate professor of law at the University of Missouri, Kansas City, said, "Airbnb can say it doesn't condone racism and even has an anti-discrimination policy, but right now that policy doesn't have teeth if the company is legally insulated from having to comply with the same anti-discrimination laws that real estate brokers must comply with."
These sharing economy mainstays have taken small steps to confront racism. In addition to its mandatory commitment, Airbnb offers unconscious bias training to hosts and has said they will reduce the prominence of profile photos. In the study analyzing biases on Lyft and Uber, the researchers suggest removing passenger names from the service altogether, but acknowledge the safety benefits of driver discretion in choosing which riders to carry. The Washington Post's Jeff Guo posited that this could lead drivers to avoid minority neighborhoods altogether. Anonymity isn't the solution.
While these leaders in the sharing economy continue to emphasize collectivism and community as the benefits of their ecosystem, it's essential to pull back and expose the inner workings holding them up. Because equality, community, and diversity—ideals each company has said they value—mean revamping not just the way the app functions, but the way these companies are held accountable.