Dealing with your family can be difficult enough around the holidays, but imagine doing it in the airtight bunker where you have been living for the last several months in anticipation of President Obama using his final days in office to put you and your fellow patriots in FEMA camps.
Talk about a headache!
But I am here to help you through it. Last weekend, probably because of my gift subscription to Food Network magazine and that one time I bought something from L.L. Bean, I received a doomsday prepper catalogue in the mail. (It called itself "the ultimate preparedness gift guide.")
The prepper movement, sometimes called survivalism, is organized around the basic idea of being prepared in the face of a crisis. But what that crisis looks like can vary wildly, since preppers come in all ideological stripes. There are the arch-conservative preppers who believe that the Obama administration will cause another civil war, the hippy preppers who are sometimes called homesteaders and don't vaccinate their children, and the middle of the road survivalists who stockpile in anticipation of an unnamed and potentially nonpartisan threat—or because they are planning to go camping for a long weekend.
I am but a simple woman with an alarmingly weak core who has also spent most of her life in and around major cities, but I still really enjoyed this survival catalogue, and I decided to see how I could plan this year's Thanksgiving using its helpful tips.
G/O Media may get a commission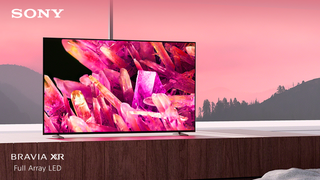 $400 off
Sony 55 Inch 4K Ultra HD TV X90K Series
"It's not a question of 'if' this country will face a crisis. It's only a matter of 'when,'" reads the opening statement of the catalogue. And honestly, who could disagree? Times are legitimately bad. But why let that stop you from celebrating a day of thanks with friends and family?
So please grab your iodine tincture and join me on this journey to the perfect Thanksgiving at the end of the world.
The meal.
I could not find freeze-dried turkey in the catalogue, but there are chicken chunks that I believe could be easily re-constituted into the shape of regular meat. Freeze-dried green beans, corn, and Heartland's Best Mashed Potatoes are obvious choices when it comes filling out your meal with classic holiday sides.
There are no pies, but there is chocolate pudding.
I would legitimately eat every single thing on this menu.
The conversation.
You are set for food, today and arguably for the next 25 years (that is, if Uncle Kevin will stop sneaking rations while the others take their sleep shift). Now you need conversation.
I have got you covered there, too.
Try icebreakers like this:
Would you like to join me in guessing how, in these waning days of his administration, Barack Hussein Obama will come to take our guns?
What do you think the elites did to Robert De Niro in order to make him pull that anti-vaccine documentary from the Tribeca Film Festival?
Do you miss sunlight?
The cleanup.
Real cleanup—like getting this country back on the right path—may be impossible. But you can still clean up after your dinner. If you are loathe to tap into your water reserves, use a dry cloth to clean plates and place scraps in compost bins.
Then sit back, relax, and contemplate the abyss (maybe while snacking on freeze-dried strawberries).
Happy Thanksgiving!
A. Prepper is surviving.