Gawker is, according to Capital New York, in the "fight of its life." Next month in a court in Florida, Gawker will have to defend its 2012 decision to publish excerpts from a surreptitiously-taken video of Terry Bollea having sex. Bollea, better known as Hulk Hogan, has sued Gawker for $100 million, and Gawker's CEO Nick Denton has told the New York Times the company doesn't have the money to pay if it loses. So Capital New York is saying this might be a deathmatch for the decade-old blog — which is terrible if true, because legal experts say Gawker needs to lose to preserve the privacy of the world's other (and future) sex tapes.
"Right now there's an 'anything goes' mentality when it comes to publishing information about celebrities. If Gawker loses, we might begin to see some rethinking of that mentality," says Eric Goldman, co-director of Santa Clara University's High Tech Law Institute. "If Gawker wins, I think it will further embolden online publishers that anything related to celebrities is fair game. That could be used to justify publication of unredacted photos from the Fappening, for example."
Three years ago, we didn't have a broadly-accepted term for the category of sex tape Hulk Hogan was featured in. Today we would call it "revenge porn" or "involuntary porn:" intimate evidence of a sexual nature released without his consent. Worse, according to Bollea, it was also made without his consent — by Bubba the Love Sponge, a Tampa radio personality and then-friend whose wife Bollea was having sex with. Before Gawker got its DVD anonymously in the mail, another gossip blog called The Dirty had published stills from the video. So people knew it existed. But Gawker decided to up the ante and publish a minute's worth of excerpts from the 30-minute tape in a post titled, "Even for a Minute, Watching Hulk Hogan Have Sex in a Canopy Bed is Not Safe For Work but Watch it Anyway." The author, former editor A.J. Daulerio, describes what happens in the tape in detail and justifies the publication of the video excerpt by saying, essentially, "Look, celebs have sex just like we do."
G/O Media may get a commission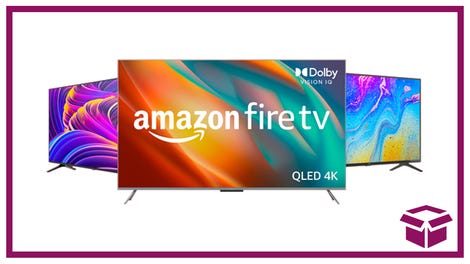 Ooh. stunning.
New Amazon Fire TVs
According to Capital New York, Denton told his staff that the company will argue that "we're fighting for the truth to hold elites accountable … whether that light exposes a Florida celebrity having a swingers party invited by the host to have sex with his wife—whether it's that or whether it's the fact that the system is rigged and people can't make it." Hogan has sued over "publication of private facts," and Gawker's general counsel told Capital New York that the company will argue that Hogan's sex life was in fact no longer "private" because "he's talked about really, really graphic details of his sex life, again and again and again, including on  [Howard Stern]'s show."
When I questioned the idea that seeing Bollea pin an opponent in the bedroom "held elites accountable," Denton told me, by Twitter, "Hulk and Bubba are Tampa celebrities and buddies, united by 'man code,' passing women around and boasting on air. That's a story."
Gawker could have told the story and described the video (as it did, in great detail, which you can still read, even though the video has been taken down due to the litigation) without actually publishing the video. "Of course, journalists can write that it was made but the video itself isn't newsworthy. We don't need to see the video. It's a sacred invasion of privacy and humiliating and exposing," says University of Maryland law professor Danielle Citron, author of the book Hate Crimes in Cyberspace. "It was a big mistake and [Gawker is] sticking by it because they made it."
While privacy advocates may be rooting for Gawker to lose, few are rooting for Gawker to be sued out of existence. Citron called the potential $100 million loss "the craziest highball estimate." "I doubt it would come close to that," she said. The jury would decide how much the former wrestler's exposure and humiliation are valued at. "Ideally, Hogan will win, but he'll get $20,000," says Citron.
If Gawker does lose, though, it will certainly appeal to a court that has previously ruled against Bollea and signaled a pro-"sex video publication as free speech" bent. Citron fears that if Gawker ultimately wins, it opens the door for other "newsworthy" sex videos to be published. "If Hulk Hogan is newsworthy, then a case of an unconscious women being raped is too and some media might publish that saying we should be seeing it," she says. "It would be chilling for people who are in the public eye. Everything is newsworthy once people are interested."
If sex videos are ruled fair game, it could make the already aggressive paparazzi even worse. "Think about people breaking the law to get those videos," says Citron. "If an outlet can run it and not fear the public disclosure tort, it would incentivize people getting it. It puts incentives in troubling places."
Citron says that sexuality and intimacy remain in the small, protected zone of privacy that even celebrities enjoy. "The argument that, 'he talked about his sex life and put it in public eye,' was the same one rejected in the Pamela Anderson case," she says. "They also argued she trafficked in sexuality, because she ran around Baywatch in her bathing suit and talked about her sex life."
After their now-famous sex tape was stolen in the 90s, Pamela Anderson and Tommy Lee sued Penthouse unsuccessfully for invasion of privacy for publishing a story about it, but they won a lawsuit against the company that published and sold the video. The first case was thrown out, while the second resulted in a default judgment against Internet Entertainment Group for its commercial sale of the tape. Anderson and Lee were awarded nearly a million dollars each (far short of the $100 million that Bollea is asking for). Of course, Gawker wasn't selling Bollea's tape, it was reporting about it.* Media advocates worry a Gawker loss will be chilling for the news media, creating a slippery slope for when they're allowed to report news of a sexual nature.
"It's in many respects a dangerous First Amendment precedent for the court to let a case like this go to a jury," media lawyer Charles D. Tobin told the New York Times. "Newsworthiness should be decided by people who choose to look at Gawker or not look at Gawker, not by a jury."
Citron says that a sex tape is a special category, uniquely deserving of privacy, and that, if Gawker did lose, it would not chill the media's ability to, for example, report on and publish bulge-filled photos a mayoral candidate sent to women via Twitter while running for office — the oft-referenced "Weiner example." "A Gawker loss won't be chilling because this case is so unique," she says. "I think we have a societal consensus that sex tapes are unique and not newsworthy."
If Gawker does lose, its appeal would go to a court that previously ruled against Bollea, saying that Gawker's excerpts of the sex tape "address matters of public concern." And of course, there's always the possibility that at the last minute, before the trial starts on July 6, Hulk Hogan will decide against trying to body slam Gawker in court, and instead take the settlement the company has reportedly offered, leaving the question of the media's right to publish sex tapes unresolved.
* Corrections: Penthouse published stolen Polaroids of Pamela Anderson and Tommy Lee but no stills from the video, only a description and transcriptions of their conversations. A parenthetical about Gawker monetizing the tape "through the ads around it" was removed, as Gawker 'doesn't put ads on NSFW posts.'