Maulama Akonjee, 55, and his friend Tharam Uddin, 64, were on their way home from Saturday prayers at their local mosque in New York City this weekend when they were approached from behind, shot in the head, and killed by an unknown assailant.
The man was seen on security camera footage fleeing the scene without taking any money or belongings from the victims, according to police reports. Akonjee was the imam, the spiritual leader, of the Al-Furqan Jame Masjid in Ozone Park, Queens, where he had been praying. Uddin was his assistant. The community leaders were shot and killed around the corner from their homes.
An NYPD spokesperson told Fusion that they're questioning an individual in custody on an unrelated matter who they suspect may have been involved. At this point, they said, the killings are not being treated as a hate crime–though they told reporters over the weekend that the NYPD's Hate Crimes Task Force was involved in the investigation.
That the attack is not currently being investigated as a hate crime is hard to believe for many of the people who gathered over the weekend and on Monday to mourn the men—community members say it's clear to them that the two were targeted because they were Muslim.
And it feels to some like a violent conclusion of the Islamophobic atmosphere they've found themselves cast into in the past year, particularly with anti-Muslim rhetoric escalating in Donald Trump's election campaign and backlash against their communities following terrorist attacks led by Islamic extremists in Paris and San Bernardino last year.
G/O Media may get a commission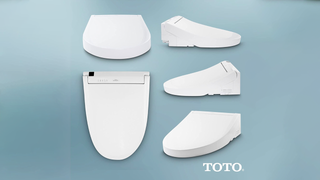 44% off
Toto Washlet Electronic Bidet Toilet Seat
"It was heartbreaking to us. A man like that, so humble, so kind, a peace-loving person, should not be just dead like that," said Mosharraf Hossain, 40, who's a teacher at P.S. 214 just down the road from the mosque where the men were killed. Ozone Park has been his home for 21 years. "People are getting frustrated and angry who don't know our background. Muslims are very peace-loving people…we have to learn more about each other."
Hossain was among the hundreds of people who gathered on Monday afternoon in the nearby City Line neighborhood on the border of Queens and Brooklyn, to say funeral prayers for the men, and to call on police and local representatives to understand the damage that these two deaths have inflicted on the local community and the pain felt in New York's wider Muslim community.
In a parking lot behind the Grant Avenue subway stop, the crowd heard from local leaders, New York City Mayor Bill de Blasio, and other city officials, before forming prayer lines in the sweltering afternoon heat and paying respect to the two slain members of their community, their cloth-draped coffins wheeled out in front of the gathering.
Some carried signs that read "Muslim Lives Matter" and "We Want Justice." For this crowd, justice means, for a start, the NYPD treating the killings as hate crimes.
"Their crime was that they were immigrants, minorities, and indeed Muslims," Jewel Chowdhury, General Secretary of the largest Bangladeshi community group in the U.S., the Jalalabad Association, told the crowd. "This bigot acted upon his hatred fueled and motivated by the constant rhetoric and xenophobic statements against minorities and Muslims made by politicians and candidates seeking the highest office of the land."
Iman Boukadoum, a lawyer and director of community partnerships at the Interfaith Center of New York, echoed sentiments that the NYPD isn't giving enough weight to the possibility that these shootings were hate crimes. And, she says, there's a broader problem that needs to be addressed.
"Regardless of whether or not this is charged as a hate crime, we know that the political atmosphere has contributed to giving license to people on the ground to do these horrific things to Muslims day in and day out," she said.
Elected officials who spoke at the event, including De Blasio, did not address the community's call for the shootings to be considered hate crimes. The mayor did tell the crowd that an increased number of NYPD officers will be stationed at intersections outside mosques this week. But for many, that's not enough.
"Today to be Muslim in America means to be gunned down in the middle of the day and shot," Boukadoum added. "To be harassed systematically if you wear a hijab, if you have a beard. It's just the way it is. I hear this all the time."
Hate crimes against Muslims in the U.S. increased three-fold following the Paris attacks in November last year, according to research from the Center for the Study of Hate and Extremism. On average, the center told The New York Times, there have been roughly 12.6 alleged hate crimes against Muslims in the U.S. per year. That number increased to 38 in just the month following the Paris attacks.
"I think everybody's waiting for bad things to happen almost, because of the Trump rhetoric that's going around, you feel that," 22-year-old Janis, who grew up in Ozone Park and asked that we not use her last name because of safety concerns, told me. She's angry that the police are not calling Akonjee and Uddin's deaths hate crimes.

The Washington Post reported over the weekend that the NYPD has received at least 16 reports of possible hate crimes against Muslims in New York City this year—that's up from nine at this time last year.
In Queens, where 60% of the roughly 48,677 Bangladeshis in New York City live, the killings have left an atmosphere of fear and frustration.
"I'm scared, upset and confused with everything that's going on," said Sam Alam, 25, who now lives in Astoria. "My dad goes to pray and knowing that he might not be back home is so frightening. No one's safe anymore. And seeing the video, knowing that the shots came from behind…if people are shooting us from the back, who's there to protect us?"