Hurricane Irma may have spared Puerto Rico from the brunt of its wrath, but Hurricane Maria is unlikely to do the same.
Maria, which strengthened into a Category 5 storm on Monday night, is expected to hit Puerto Rico by Wednesday. With sustained winds of 160 miles per hour, Maria barreled into the Caribbean island of Dominca on Monday night.
Conditions in Puerto Rico are expected to worsen on Tuesday. Governor Ricardo Rosselló warned that Maria could cause unprecedented damage on the island. "This is an event that will be damaging to the infrastructure, that will be catastrophic, and our main focus — our only focus right now — should be to make sure we save lives," Rosselló said in a press conference on Monday. In an interview with USA Today, Rosselló told residents to prepare for complete decimation. "It will essentially devastate most of the island," he said.
The island's 450 shelters that were opened before Irma hit will remain open during Maria, USA Today noted, as will U.S. rescue teams and FEMA. The National Hurricane Center cautioned that Maria could intensify as it travels towards Puerto Rico. "Maria is likely to affect Puerto Rico as an extremely dangerous major hurricane," the agency said.
G/O Media may get a commission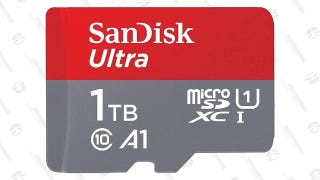 Save $75
SanDisk Ultra 1TB MicroSDXC Card
Maria has already passed through Caribbean islands that Hurricane Irma ravaged just two weeks ago. On Monday night Maria became the first Category 5 storm in history to hit Dominca. Maria's path also crossed Martinique, French Guadeloupe and St. Lucia.

The storm's path after it hits Puerto Rico is difficult to predict. Some models indicate that Maria will avoid the U.S. East Coast and careen into the Atlantic, but as The Washington Post noted, it's far too early to depend on that forecast.
Maria is the third Category 5 storm to form in the Atlantic this hurricane season, an astoundingly high number given that only four Category 5 storms, including Irma, in history have hit the United States. It's almost as if Earth's average global temperature has risen dramatically over the last, say, four decades and intensifying weather patterns might be related to a warmer climate, or something!