Welcome to WHAT NOW, a morning round-up of the news/fresh horrors that await you today.

In one of the areas of Texas worst hit by Hurricane Harvey, applicants for relief grants are being asked to promise they won't boycott Israel, a clause that free speech advocates say is unconstitutional.
To apply for a Hurricane Harvey Relief Grant from the city of Dickinson, Texas, the application posted on the city's website contains a clause with the subtitle "Verification not to Boycott Israel." It requires applicants to affirm they do not currently support the Palestinian-led Boycott, Divestment, and Sanctions, or BDS, movement, and will not during the duration of the agreement.
The city contends that they're just trying to comply with House Bill 89, an anti-BDS bill that Republican Gov. Greg Abbott signed into law in May, which mandates the state not contract with businesses that boycott Israel.
But the ACLU says the move is an egregious effort to limit residents' right to free speech.
G/O Media may get a commission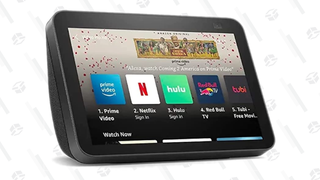 "The First Amendment protects Americans' right to boycott, and the government cannot condition hurricane relief or any other public benefit on a commitment to refrain from protected political expression," ACLU of Texas Legal Director Andre Segura said in a statement Thursday evening. "Dickinson's requirement is an egregious violation of the First Amendment, reminiscent of McCarthy-era loyalty oaths requiring Americans to disavow membership in the Communist party and other forms of 'subversive' activity."
WHAT ELSE?
Remember when Trump promised, seemingly out of the blue, to declare a national state of emergency for the opioid crisis? As Politico reports, the remark was not only unplanned but has officials totally scrambling to figure out how to implement an emergency response to a drug epidemic.

White House staffer Stephen Miller popped up at a party last night at Breitbart HQ in Washington celebrating right-wing commentator Laura Ingraham's new book. In brief comments captured in an audio recording, Miller thanked Breitbart for "giving hope to millions of people all around the country who believe that a nation ought to take care of its own people first and everything else flows down from that."
Lupita Nyong'o spoke out about her own experience being sexually harassed by fallen Hollywood mogul Harvey Weinstein.
Last night, the Senate adopted a 2018 budget resolution with a vote along party lines, setting the stage for their tax cuts-for-the-rich plan to be considered. Passing the resolution means Republicans only need a simple majority of 51, rather than 60 needed on major legislation, to pass a tax bill—without any Democrats' help.
For more news and opinions that get under your skin, follow Splinter on Facebook.