We're near the end of graduation season, and while obtaining a high school, college, or kindergarten diploma is a wonderful accomplishment, graduation ceremonies are boring as hell! Shout out to one Kentucky high school valedictorian then for trying to liven up these tedious pageants with an attempted own of his Trump-loving classmates.
"This is the part of my speech where I share some inspirational quotes I found on Google," Ben Bowling, the valedictorian of a Bell County, KY, high school starts.
"'Don't just get involved,'" Bowling recites. "'Fight for your seat at the table. Better yet, fight for a seat at the head of the table.'—Donald J. Trump."
SKKKKKKRRRTTTTTTTTT
"I'm kidding, I'm kidding," Bowling then said. "That was Barack Obama."
WUH OH! GOTCHA!! YA GOT GOT!
According to a video recording of the speech obtained by the Louisville Courier Journal, response to Bowling's joke was mixed: the applause after the bait-and-switch definitely died down; some laughed; others continued clapping; someone can be heard booing off camera. As to why he decided to troll his audience, Bowling told the Louisville Courier Journal:
"I just thought it was a really good quote," Bowling said. "Most people wouldn't like it if I used it, so I thought I'd use Donald Trump's name. It is southeastern Kentucky after all."
G/O Media may get a commission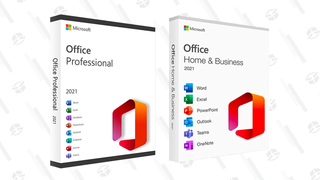 89% off
Microsoft Office Professional 2021 Lifetime License
Bowling's right: As HuffPost points out, Trump won nearly 80 percent of Bell County in 2016.
Our hero will be attending the University of Kentucky in the fall. "I'm really excited to go to college," Bowling told the Courier Journal. "There's more freedom in college and there's also way more places to eat in Lexington."
Keep your eye on the damn prize.