Rand Paul's campaign released an app on Wednesday, and the thing is actually pretty neat. It's nicely designed, offers an easy-to-navigate issue bar, location specific updates on when the Kentucky senator will be talking about endowing fertilized eggs with full legal rights near you, and has a feature that allows users to weigh in on how Paul should vote on upcoming legislation.
For the youths and young at heart, there's a meme generator and a secret Space Invaders-esque mobile game, which, if you're me, you can "unlock" by tapping blindly all over your phone screen until it shows up and lets you blast the hell out of campaign logos from Donald Trump, Ted Cruz, Jeb Bush, and Hillary Clinton.
Lose and a menu screen appears to chide you for failing to defeat "your inferiors" and encourage you to make a donation, penance for your inadequacy.
G/O Media may get a commission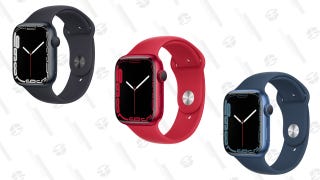 Up To $45 Off
Apple Watch Series 7
And if you're me, you lose a lot and keep hitting "play again" instead of writing about the app and filing something to your editor. So instead you imagine your failure to beat a very simple mobile game as a possible metaphor about the campaign, positioning the app as yet another reminder of how Paul is trying to reach voters who seem to no longer care about the self-styled rebel of the 2016 field. A poll released this week by the Democratic polling firm Public Policy Polling had Paul at just 1% of support, down from the also-not-great 4% he was pulling in last month.
Paul managed to make it into the "top tier" Republican debate last month, but he was the candidate who received the least air-time. Trump, whose campaign logos appear first in the app's mobile game and make for easy blasting thanks to their width, spoke for more than 10 minutes compared to Paul, who clocked in at 4:52.
But I stopped thinking about the game as a metaphor once as I started, again, to tap furiously on my phone, trying to destroy Cruz's strangely elegant tear-shaped emblem as it floated across the screen.
Clinton's logo appears later in the game than the others and seems to shoot more of the little barb laser things at you than the ones that come before it.
Now whether or not this is another bit of loaded imagery—the campaign's way of centering Clinton as the real foe while dismissing the other Republicans as distractions—I can't say. I can't say if the shooting down of competing logos is meant to serve as some kind of salve or cathartic activity to Paul's supporters who may be feeling down as their candidate, despite early enthusiasm and warm receptions at CPAC, fails to distinguish himself in an overcrowded primary and steer the press' attention away from Trump, his strange hats, and horrible ideas.
I was distracted from discerning the game's greater existential meaning because, at the moment it occurred to me to try, I shot down the last of Clinton's logos, launching me to the next level, which is dedicated to destroying the tax code, which is represented by what look like red rolls of toilet paper and 1040 forms.
But even an hour and a sandwich later, I couldn't defeat it.
It's possible to argue here that it's a level Paul may not surpass, either. He announced his plan to introduce a 14.5% flat tax rate in June to little fanfare, then tried to revitalize the idea again in July with a video of him taking an actual chainsaw to the actual tax code. But I didn't dwell on the void or Paul's possible political fate too long. I had logos to shoot down.