This puts bad landlords in perspective: Being slow to make repairs is one thing; leaving racist notes on your door and screaming slurs at you is another.
A Moroccan woman living in New York has filed a lawsuit claiming her Staten Island landlord discriminated against her, stole her property, and eventually evicted her illegally, after learning she was a Muslim.
In a civil complaint filed Wednesday in federal court, Hasna Jalal alleges the trouble started in September 2015, a few days after Jalal began renting the third floor of a townhouse owned by her landlord MaryLou Shanahan in the Eltingville neighborhood of Staten Island. Jalal was speaking on the phone with her family in Arabic when Shanahan began to bang on the door and shout.
"I don't need anyone speaking Arabic in my house! You're scaring the neighbors!" Shanahan said, according to the lawsuit. When Jalal explained she was speaking to her family, Shanahan allegedly followed up with "the neighbors will think you're from al-Qaeda."
Jalal says this was the first of a month of insults and threats over her religion and ethnicity. In the lawsuit, Jalala also claims that Shanahan:

G/O Media may get a commission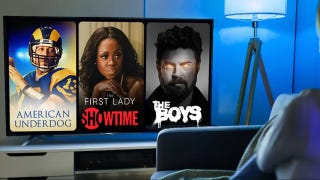 UNDER $1
99¢ Prime Video Channels
Left daily handwritten notes with threats and ethnic slurs on her door, such as "Get the fuck out of my house" and "You're a fucking nasty Arabic pig."
Entered Jalal's apartment without permission while she was in the shower to turn off a stereo that was playing music in Arabic.
Repeatedly called her names.
Fondly reminisced about the days "when this country was all white."
Broke a chain lock to enter the home and broke Jalal's phone while she was attempting to call 911.
The campaign reached its apparent peak on October 1, when Shanahan reportedly changed the locks on Jalal's unit and confiscated all of her possessions. That finally brought her to the attention of the NYPD, who arrested Shanahan and charged her with grand larceny and possession of stolen property. New York court records show she was released on her own recognizance, and her criminal charges are still pending.
In an article published shortly after her arrest by The Staten Island Advance, Shanahan's lawyer framed the incident as a tenant-landlord dispute and denied that any property was taken. More recently her lawyer told TV station NY1 that Shanahan was innocent, but otherwise declined to comment.
Shanahan owns a landscaping and construction business, which Jalal is also suing for assisting in the eviction. She previously served as the chairwoman of the Staten Island Conservative Party, which was founded by her parents, according to The Advance.
Conservatives involved in discrimination against Muslims? What is the world coming to!