ORLANDO—I am a McDonald's apologist. Growing up in Chicago, where the company is based, I ate there a ton; my friends would even have birthday parties there when we were younger. If you looked into the recesses of my parents' kitchen and closets, you would find them littered with ancient McDonald's giveaways.
So when McDonald's announced it was revamping the largest McDonald's in America, located in Orlando, into a new, 19,000-square foot "concept" called Epic McDonald's, I had to drive the three hours from Miami to check it out.
I expected a cavernous, towering resto-plex that would announce its presence from miles away. That turned out not not be the case: Epic McDonald's is perhaps marginally larger than a normal McDonald's. From miles away, it just looks like a standard-issue McDonald's that's across the street from a Perkins.
When I rolled into the parking lot, it still didn't seem that impressive. Just another McDonald's to me.
G/O Media may get a commission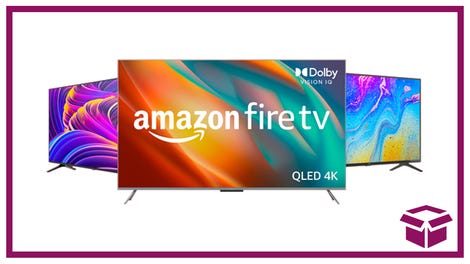 Ooh. stunning.
New Amazon Fire TVs
The drive-thru was only two lanes.
I did enjoy the haunting, pharaonic mural of Ronald McDonald, though.
What I quickly learned, however, was that the difference between this Mickey D's and any other McDonald's cannot be gleaned from its otherwise innocuous exterior.
"Create your taste" is part of a new McDonald's concept, which offers more gourmet options for your burger. As I soon found out, I'd also be able to Create My Taste across a number of different foods.
"Epic McD" (see below) has some special things going for it:
Open 24 hours a day, 365 days a year
Free wifi
A sensible "must wear a shirt" policy for all its customers
A hashtag, #epicmcdorl, which sounds like "epic mc-dore-ul" when you say it out loud
Here's what I saw when I first walked in: nice American families chowing down. Epic? *Still* not convinced.
Then I saw this: a giant open kitchen.
Part of the bad rap that fast food restaurants (justifiably) get is that their kitchens resemble a collection of deep-fryers and ovens imported from a jet built in 1973.
That was not the case here. In addition to deep-fryers, this McDonald's had a chef and three assistants diligently filling out orders for pizza, pasta, Philly cheesesteaks, and according to a fellow eater I talked to, waffles.
Here is an actual pizza being taken out of an actual pizza oven.
REAL PLATES.
I explored the first-floor dining area a bit more before ordering. Two things stood out: an aquarium…
And Fox News (feat. Montel).
It was time to order. The menu at Epic McD lives up to the name: You can order pizza and pasta from this place. Something else that is true about this menu: Philly cheesesteak (excuse me, "Philly Cheese Steak Sandwich") is now a pasta. Or maybe you can order pasta that tastes like a Philly cheesesteak. Unclear. Whatever the case, for seven dollars and twenty-nine cents you can order a Philly Cheese Steak Sandwich off the Pasta menu at this McDonald's in Orlando, Fla.
Interestingly, there was no image of pizza or pasta on the menu, just an assortment of ingredients you might put on a pizza or mix with pasta superimposed over the image of a rock. Is pizza and pasta nothing more than the incredible fusion of red and green peppers, tomatoes, mushrooms, broccoli, white onions, (presumably) parmesan cheese, and a rock darker than the night sky over a beautiful meadow?  I had to find out.
I am not a fan of cash, so I opted to order from a kiosk. I was bowled over by the options available.
I opted for chicken tortellini in a garlic and oil sauce with tomatoes and mushrooms and onions. Disturbingly, there was no way to prefer my pasta be cooked al dente.
I also decided to order a pizza to go. I had three choices: pizza sauce with a leaf in it, alfredo sauce, and an olive oil and garlic sauce that contained giant hunks of garlic.
My remaining pizza options appeared standard for most pizzas you might order from a machine:
When you're finished placing your order, you're given one of these babies. They have geo-locators inside them that let your server know exactly where you're sitting, so they may "bring your creation to you."
About five minutes later, my pasta arrived with a nice heat lid.
It tasted as good as it looked. [Ed. note: Hmmmmm]
My pizza arrived soon after; my plan was to save it for later.
(Here's what it looked like after a night in the fridge. It was good!):
Now, it turns out that Orlando's McDonald's is only the largest "entertainment" McDonald's—meaning one that also has a play area — in the world. In terms of pure square footage, the title belongs to a store in Russia, according to a McDonald's rep.
But this apocalyptic snarl of plastic is a dream come true for a small child on a hyperglycemic rush from Philly cheesesteaks ordered off the pasta menu and a nightmare for parent forced to climb inside this PVC prison when their child falls asleep inside.
There are also many of the same games you play on your phone here, giant-sized:
Now, Orlando is a company town, the amusement park capital of America. As McDonald's notes in its press materials about Epic McD, more people visit Orlando than any other destination in the United States.
So I was not surprised to run into a local celebrity: The Red Knight of Medieval Times.
I could not pass up this opportunity to bask in the glory of this god among men.
So if you should you be so inclined to make this journey yourself — and just to be clear, this is the only McDonald's in the world that has any of this; it's not a testing site for future restaurants — here is an approximate accounting of my trip:
McDonald's Store: #3896, Orlando, Florida, Zipcode 32819 (across from the Perkins)
Miles driven: 468 miles round-trip
Food eaten: One tagliatelli pasta dish, one sausage pizza
Calories ingested: Approximately 1,800 (spread over two meals)
American dollars spent: $21.27
Pasta menu: Yes (plus Philly cheesesteak)
Pizza menu: Yes
Local celebrities seen: 1
Swords gripped: 1
I will admit: as an unmarried 30-year-old, I'm not sure the World's Largest Entertainment McDonald's was made for me in mind, per se. But for a family outing? A slice (or cheesesteak) of futuristic Americana? I highly recommend.
Rob covers business, economics and the environment for Fusion. He previously worked at Business Insider. He grew up in Chicago.