Most stories about "millennials" focus on middle-class, educated twentysomethings, while the ones who grew up poor or working-class are simply ignored. Welcome to Uncovered, a series that sheds light on this forgotten group of our generation.
It was a big deal when I left Alabama to begin studying at Georgetown University. Rarely did anyone in my family go far from home, at least for a long time, and even if they did, most of them came back. But I think my family knew from the moment I left that I wouldn't be one of them.
Let me be clear: I didn't grow up in abject poverty. There was always food on the table when I was growing up. We never lived in a bad area. The suburbs of Birmingham were safe, quiet, and modest—the kind of place I wouldn't mind my own kids growing up. But some years were tougher than others. There were days when it was very obvious my single dad was struggling to keep up a carefree façade. Some days he was out of work; other days his heart issues were acting up.
And so I decided from the time I was 13 that I was going to graduate college, the thing my dad never did, and get a good job so we could live comfortably. I decided that never again would he have to fuss over utilities or medical expenses. Georgetown was my ticket. I took it.
I'd never experienced privilege so up close and personal until I came to Georgetown, though this was not unexpected. Georgetown is an elite school with a number of reputable alums and a hefty $65,000 a year price tag. If I'm honest, those were the reasons I was attracted to the school—well, those and the full scholarship they offered me.
G/O Media may get a commission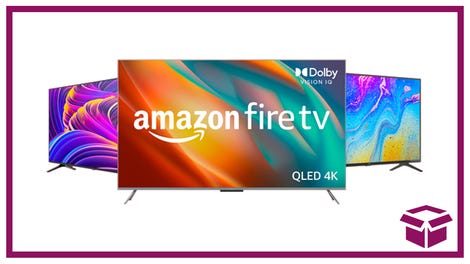 Ooh. stunning.
New Amazon Fire TVs
But getting into Georgetown wasn't the end of the battle. There has been one thing that I've struggled with since my freshman year of high school up until now: my field of study. Even before college I thought about getting a job in a field guaranteed to make money like medicine or business or law. I feel that pressure even more at Georgetown, a school famous for churning out investment bankers, lawyers and politicians. Here I am in this privileged place with the opportunity to do and be anything and everything. I constantly worry about wasting my time here, about not taking advantage of all Georgetown's resources. I want the best for myself, but I also want my family's faith in me to be worthwhile. And while I know that in the end all they care about is my happiness, part of me worries that I'll disappoint.
So I think about going into medicine or business or law, even though I know that could never be me. I'm terrible at math and science, and I hate arguing with people. But so many of my peers are going into industries with a guaranteed payout, and I want to make my family proud. I want to be the one to "make it." The one who everyone talks to their neighbors and coworkers about. I reason that I need a clear-cut path to professional success to validate all my father's hard work. Yet, I worry that in trying to do so that I will lose a part of myself, if I have not already.
I'm not alone in feeling this way. Many times I've had this conversation with one of my best friends from high school, Lauren Harris, a sophomore at Northwestern University. She too feels enormous pressure to be successful. Like me, she was raised by a single parent who gave everything to support her and allow her to get to the place she is today. "The point of college for a lot of people is wanting to move up from where they were," Harris says. "Being at a college where I see a lot of people who come from wealthy families, I do feel an incentive to sort of climb my way up."
There's also a strange parallel between people like me and kids who come from wealthier families. They, too, feel a similar expectation to maintain the status achieved by their parents. I look at some of my Georgetown peers— the sons and daughters of diplomats, doctors and businessmen—who have never known struggle, and I see them heading in similar directions to bestow the same luxury on their future children.
"I can't even imagine not getting at least a graduate degree," says Serena Gobbi, a senior at Georgetown. Her mom has an M.D., her dad has a Ph.D., and her sister has a Master's. None of her grandparents graduated from college, so it was a "very big deal" for her parents to go so far. "I would definitely feel like I was throwing away all that they did to get where they were by not pursuing higher education," she says.
I've lived my whole life watching my dad living to work instead of working to live. And so I promised myself long ago that whatever career I chose, it would be one that did not cause me to dread waking up every morning. Still, I cannot help but think, What if I could go through school knowing success was almost inevitable? I have never lived badly, but that doesn't mean I'm not greedy to live better. I am so over living on just enough.
So when I finally declared as an English major, I felt a pang of regret knowing I wouldn't be one of those kids guaranteed to make close to six figures soon after graduation. It especially didn't help when I finally told my dad I had declared and his first response was, "What are you going to do with that?" I know he will support me in whatever I do, but I also know his dreams for me are big. He sees the future version of myself on a far higher level than where we currently are.
So while I acknowledge and am grateful for the privilege of being in a place like Georgetown, I can't help but be afraid of what such high stakes mean. For so long, the push has to been just to get good grades and get in a good college and land an internship in an important place with important people. But once I've finished my four years at Georgetown, the steps aren't quite as clear. But what happens if in the end this all turns to shit? What if I fail? Am I even allowed to fail?
Throughout all this, there has been one thing I can never forget: it is my father's voice telling me over and over to "just finish." That he'll take care of everything else. "Just finish," he says. The sentence rings in my head like an incessant bell. Just finish my schooling and become somebody. Just finish all the goals that've been set for me, by both him and myself. Just finish it all—the thing he was unable to do.
Jasmine White is currently a sophomore at Georgetown University. She's obsessed with cats, chap stick and Korean soap operas.