Brussels was hit by a coordinated terrorist attack early Tuesday morning that left at least 34 dead and 198 injured. Two bombs killed 20 people at Brussels airport right around 8 a.m. local time. A third bomb exploded minutes later, at 9:11 a.m., on the car of a subway departing Maelbeek station, killing 14. At least one suspect remains at large.
The tragedy in Brussels comes just days after terrorists killed 37 people in Ankara.
The Islamic State has since claimed responsibility for the attack, which comes just days after Salah Abdeslam—a key suspect in the November terror attacks on Paris—was captured in Belgium. Prime Minister Charles Michel said "we were fearing terrorist attacks, and that has now happened."
Tim Natividad, 25, from Santa Monica, touched down in Brussels minutes before the bombs went off. He was at a hotel near the Brussels airport when I spoke to his this afternoon, around 12 hours after the deadly attacks. This is what he told me.
The following has been edited and condense for clarity. 

---
I was traveling to Brussels for work. I had a series of meetings scheduled for the week, and I took the early morning flight from LAX to Atlanta. I was running late, the flight was delayed, so I actually had to run to my flight to make sure I didn't miss [my connection]. I took the Atlanta to Brussels flight which, from what I hear, was if not the last, one of the last that landed right as the explosions happened.
G/O Media may get a commission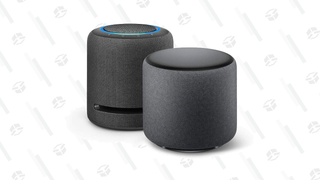 25% off - Prime Exclusive
Echo Studio + Echo Sub Bundle
The pilot said our wheels touched at ten to eight, and I think the bombings actually happened at 8 o'clock.
We never made it to the gate, but I did see people running out. I don't know where they were going. I didn't hear anything, but we saw people running out, and some smoke and then we saw a series of emergency cars or ambulances. We saw a series of cars rush by in front of us. A bunch of them, a ton. Not just one or two, but a lot. And from there we saw a lot of people go in one direction away from the airport, towards the hanger.
Our pilot hopped on the intercom and said, "Hey, we don't know what happened but we have to stay here." He was pretty calm. And then, eventually he said that there were two explosions. This was before we realized that they were terrorist attacks.
The moment that the explosions started happening I wanted to tell my girlfriend and my parents. I texted my girlfriend, and it was around midnight in Los Angeles, so she was just going to sleep. I sent her a text because at that point I could still text: "Two explosions went off, I'm safe." That was it. I was able to call my parents right afterwards as well.
At some point the pilot changed his description from two explosions to two bombs. And at that point, you know, two bombs is a real attack. That's an attack, it's not an accident. So at that moment I just, I don't know, I guess kind of blanked out for a second. I didn't really have a thing to do or a next action or a next step. I just kind of wanted to let people know that I was safe, and then I wanted to get out of there.
At that time I didn't realize that the whole city was on lockdown. I didn't realize that this was national news, I didn't realize that people had died until someone on the plane said that they had heard that 11 people had died. And then I started to take it very, very, very seriously.
We ended up deplaning. We didn't touch the gate, we were on the tarmac, a ways away from the gate.
Seeing these herds of people run into this airport hangar, almost like in single file, was weird. I didn't see someone's leg cut off, I didn't see anyone's face that was marred, but I've never walked on a tarmac before, as if it was like crossing the street. To walk past all these parked airplanes in the tarmac was quite surreal.
We had buses take us to this airport hangar, so we stayed there. In the hanger there were employees passing out blankets and water bottles.
People were texting and telling people they were OK. But no one was on the phone, everyone was just kind of trying to stay warm. It was chilly in the morning. We were all trying to figure out where to go. There was no clear direction about where to go, and there were some language barriers. There was a lot of walking and running around, like organized chaos. Because we were all confined within a certain space but no one was going really anywhere.
There was no cohesion. No one was grouped together, I stayed as close to my co-worker as I possibly could. That was kind of our plan. Everyone was just walking around looking for the next direction. Everyone was looking for instruction. And there wasn't any.
You go into a situation and you expect a certain group of people to have the ability to guide you towards a certain experience. When you saw people who were working there throw their hands up in the air—that's not one of the things I would have expected. I expected it to be almost like a fire drill. I expected there to be a fire marshall to say, OK we're all going to, here's the plan, we're going to do X, Y, and Z. And it was more like, eh, we kind of have a plan, and I think it's going to be like X, Y, and Z, but if you want to leave, you can do that, too. Which definitely doesn't leave any sense of guidance.
We stayed there for a several hours. Everyone was just walking around trying to figure out where to go or what to do. Some people walked away and ran away. Other people stayed in an area that was far off in the distance from where the actual explosions went off. For several hours my co-worker and I waited for shuttles to come. The shuttles came at 12 o'clock, one o'clock—hours after everything had happened.
By then they had shut off the phones, so we couldn't make any calls. I could text, and I was also able to use data on my phone to post to Facebook and let people know that I was safe. They dropped everyone off from the buses at a nearby train station.
There were no trains. There were buses and tons of people and some ambulances. Just a lot of confused people walking around. Because no one had plans to go there, and a lot of people didn't know what to do from there. We could smell smoke. I don't think anybody took their luggage from the flight. I never had my papers checked, there's no stamp on my passport. I don't have any local currency. I would not have known how to take the train anywhere, or how to go somewhere.
There we waited for the our local clients to pick us up and transport us. There were no taxis running. We obviously weren't able to make it to our hotels in the city center. I'm now staying at a hotel next to the airport, and I'm looking at cop cars out the windows as we speak.
I didn't find out [that it was a terror attack] until an like hour-and-a half ago, two hours ago. I went online at the hotel and looked everything up.
I knew about the capture of Salah Abdeslam last week. But I didn't realize that Brussels was going to be a high target zone for a terrorist attack.
Hearing that this was an ISIS thing, it's only now in my hotel room that I have a sense of nearly coming to tears or being very emotional about it. Because when you're there, at least for me, you're just trying to be very logical and think OK, what are we supposed to do, what are the next things to do. It's almost like I didn't have time or space to let my emotions register.
Though I think I was mentally and I guess subconsciously kind of prepared for an attack. I had a couple of co-workers and friends say, "Hey, have you been hearing about what's been happening in Belgium?" So I did in my head think, Oh, there's a lot of activity that's going on over there, but I was never like OK, let me cancel my plans. It was never enough for me to actually make a change. So when I saw this happen I saw myself go into this mode, where it was like OK, there's a part of you that thought this was going to happen so it's time to stay calm and to stay logical.
Now, I don't know what to do. It's almost like a weird stupor. I mean like, do I have these meetings tomorrow? Do I hop back on email, do I go back to work? I think it's really, right now, really weird. It's a weird feeling not knowing what to do—and also having nothing to do.
Technically I'm still staying the weekend. I don't really have a good plan as to what is happening next.
I've thought about 9/11, I was talking to my co-worker about that. 9/11 was a really large thing, and it's weird to be in a city that's not yours during such large moment.
Danielle Wiener-Bronner is a news reporter.