David Bowie, one of music's most legendary artists, died January 10 at the age of 69 after an 18-month private battle with cancer. Bowie was eccentric, unbelievably talented, and beautifully androgynous. As an artist, he transcended not only music, but art and beauty. He was also incredibly prolific.
In his almost 50-year career, Bowie put out 27 studio albums, sometimes releasing two in a single year. Working up until the end, Bowie released his last album, Blackstar, on January 8, his birthday. If there is an opposite of press-shy, Bowie was it. He gave dozens of interviews, off-the-cuff quips, and unnecessary (but fascinating) anecdotes.
In honor of Ziggy Stardust, here are 11 of Bowie's best quotes.

1. On being a star
"I'm an instant star. Just add water and stir."
–Halliwell's Who's Who in the Movies 15th Edition (2003) by Leslie Halliwell
2. On religion
"Questioning my spiritual life has always been germane to what I was writing. Always. It's because I'm not quite an atheist and it worries me. There's that little bit that holds on: 'Well, I'm almost an atheist. Give me a couple of months.'"
–Beliefnet, 2005
3. On experiencing the world
"I was virtually trying anything… And I think I have done just about everything that it's possible to do–except really dangerous things, like being an explorer. But anything that Western culture has to offer–I've put myself through it."
G/O Media may get a commission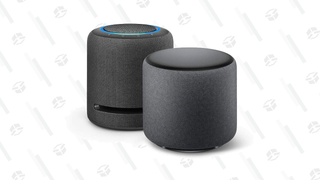 25% off - Prime Exclusive
Echo Studio + Echo Sub Bundle
–Telegraph, 1996
4. On fame
"I think fame itself is not a rewarding thing. The most you can say is that it gets you a seat in restaurants."
–Q Magazine, 1990
5. On knighthood
In 2000, the United Kingdom wanted to knight David Bowie. He'd created brilliant artistic work. He was from Great Britain. A knighthood seemed not only deserved, but expected. The queen wanted to name Bowie a Commander of the Order of the British Empire, a title given to people who have made "a distinguished, innovative contribution to any area" of British life.
But David Bowie did not want to be a knight.
"I seriously don't know what it's for," he explained.

6. On MTV and race
In 1982, David Bowie spoke with Mark Goodman, one of the original five VJs for MTV, about why the network was so white.
7. On expressing his emotions
"I had to resign myself, many years ago, that I'm not too articulate when it comes to explaining how I feel about things. But my music does it for me, it really does. There, in the chords and melodies, is everything I want to say. The words just jolly it along. It's always been my way of expressing what for me is inexpressible by any other means."
–Livewire Interview, 2002
8.On relationships
"The reason you don't want to make a commitment is not that you're such a freewheeling, adventurous person, it's because you're scared shitless that it will turn out like your mother and father."
–Interview, 1990
9. On getting older
"As I get older my questions are fewer, but I ask them more. I bark them, rather than ask them… The song 'Heathen' is about a man confronting the realization that life is a finite thing and that he can already feel it—life itself—going from him, ebbing out of him. The weakening of age. And I didn't want to write that. I didn't want to know that I do feel that. Who does? … You must realize, though, ageing doesn't faze me at all. It's the death part that's really a drag."
–BBC Online, 2002
10. On how to live
"Make the best of every moment. We're not evolving. We're not going anywhere."
11. On the future
"I don't know where I'm going from here, but I promise it won't be boring."
–To his audience at New York City's Madison Square Garden, 1998
Kelsey McKinney is a culture staff writer for Fusion.