PÁTZCUARO, Michoacán — I don't know a lot about death. I've written about it while covering Mexico, but never really seen it up close, except for my great grandmother's passing and when we had to euthanize my dog, Pinky. But last night I finally got to meet death in person. We hung out in a graveyard, ate tortillas and drank plenty of cerveza.
I traveled to the southern state of Michoacán to spend the night with dozens of families at a cemetery in Janitzio, the most famous island in Lake Pátzcuaro, the heart of Mexico's Day of the Dead celebrations.
On Día de los Muertos, the Janitzio graveyard turns into an overnight camping site for the relatives of those buried there. Families bring foldable chairs, blankets, food, booze and the favorite items of their deceased loved ones. They carry cempazúchitl, the flower of the dead, and shower the graves with its bright orange petals.
"The souls of those who have passed away rise at midnight to be with their friends and families," Gerardo Campos, a veteran island tour guide tells me.
G/O Media may get a commission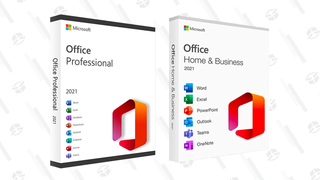 89% off
Microsoft Office Professional 2021 Lifetime License
The mystique of the annual celebration attracts foreigners and hipsters from all over the world. They all want to take a look inside the graveyard, and celebrate the lives of people they never knew.
"We heard you guys don't mourn the dead, you party with them," says David, a 19-year-old Canadian backpacker who's strumming folk music on a banjo.
Nearby a couple of posh young women dressed as Catrina, Mexico's iconic skeleton, step on somebody's grave while trying to take a sexy selfie. A drone hovers above and a TV crew walks around lugging tripods and lights. Surprisingly, the locals don't get pissed on this paranormal night. Instead, smiling children walk around with plastic pumpkins and hollow watermelons with a candle inside hustling visitors for money to buy their calaverita, or sugar skull.
It's become somewhat of a syncretic celebration that blends old beliefs with the realities of a modern world.
"It's an honor for us," a street vendor outside the cemetery tells me of the tourists who have come to participate in the spectacle.
Despite the droves of voyeurs, the tradition of Mexican families spending the night in the lakefront cemetery has remained mostly the same for hundreds of years.
There are open bottles of tequila and beer cans stacked on top of the graves, waiting to be consumed by the thirsty spirits. Orange, purple, white and green flowers and plants adorn what would otherwise be a dark and gray cemetery plot.
Jorge, a 50-year-old merchant with his wife Veronica, sweep the dust off his father's grave with a broom. "We take good care of it because we know it will be our last home," she tells me.
Veronica arranges the new flowers and waters the old ones. "He died of a nasal hemorrhage," Jorge tells me. "His lungs bursted."
They speak to each other in purépecha, the local indigenous dialect.
"There's a different sensation," Jorge tells me when I ask if he's ever perceived something supernatural on Day of the Dead. "You feel a presence and become very emotional."
His wife agrees. "I suddenly want to cry but feel very happy at the same time," she says. "I talk to the dead in my mind and I sometimes see my father and mother in my dreams."
But Día de los Muertos is more intimate than a dream. "I'm making tortillas to dine with them tonight," Veronica says.
At a neighboring plot, a woman named Maria installs a new plaque on her father's grave and cleans it with a cloth. Te amo viejo, "I love you old man," she whispers at the cross.
The island is packed with people as the sun goes down. Boats shuttle tourists back and forth across the lake.
The dead seem to reinvigorate the living. Bands play popular songs on the streets: Como te voy a olvidar, como te voy a olvidar. People drink jarritos locos, orange and lemon juice mixed with salt, chilipepper, pieces of fruit, Squirt soda and tequila. They eat tiny fried fish known as charales. At the very top of hill, a statue of Jose María Morelos, a revolutionary priest and one of Mexico's founding fathers, points to the sky.
There's a lot of talk and noise at the graveyard. Cameras flash and cellphones glow. A dude stumbles over a grave. At one point, there are more tourists than locals. But as midnight draws near some of the tired visitors start to leave.
I sit and rest against my backpack and watch a mother roll a tortilla into a taquito for her son. She pulls out bananas, apples, guava and pan de muerto from her bag.
They burn some copal, a type of tree resin used as a soothing incense. The smoke hits my nostrils and my eyes feel heavy even though I try to struggle to stay awake. I want to see and feel the dead, but I'm overcome by sleep. I doze off staring at a small altar with a sculpture of Mexico's Virgin of Guadalupe.
I have a brief dream about Pinky, my childhood dog. I pat her and touch her face. She feels very real. I wake up at around 2 AM. I don't know how long I've been asleep, maybe 15 minutes? I'm disoriented and it's cold, but the candles keep burning and the flames dance on the wind. Some of the children lay motionless, eyes closed and mouths open.
I walk down the narrow corridors filled with souvenir shops towards the lake.
As I leave the island, I keep thinking about a phrase I heard in a movie: "Every living creature on earth dies alone." But not in Mexico.
"By remembering them you bring them back to life," my mother used to tell me when I was a young boy eager to decorate the Día de los Muertos altar in our home.
That was the case last night in the graveyard in Janitzio, where the worlds of the dead and living joined for a night of celebration and memories.