What does it feel like to wait for Rihanna's eighth studio album to drop?
Let's just say that every morning, as I drift between the worlds of wakefulness and sleep, I find myself standing on the precipice of order and chaos. I stare into the void. The void stares back. I see the moon. The moon sees me. Just kidding, it's still a void. "WHERE IS R8?!" I demand of its shadowy maw, to which the void answers: "Lol idk." Only then do I find myself lying in bed, confused and naked—unless I wore underwear to bed.
On Monday, Aug. 31, I left my apartment in the hopes of finding others who might share this pain. I made my way over to the Macy's department store in Downtown Brooklyn, where the 27-year-old singer was holding a meet and greet with fans to promote the release of her newest perfume, RiRi. But wait, you're probably asking yourself, I thought "Rih" was the canon spelling? As troubling as it might be, please save all questions that aren't "where is R8?" for another time. Thank you.
In order to receive a VIP pass to meet (and also greet) Rihanna—who lost Best Video with a Social Message to Big Sean at the VMAs Sunday night—fans would need to have been "one of the first 400 customers [over the weekend] to purchase [Macy's] exclusive RiRi 3-piece set for $116," per a press release.
Fewer than 400 people must have actually purchased the perfume set in that three-day window, because about half-a-dozen sales associates remained stationed around the fragrance floor hyping up the offer. I asked how much the full meet and greet package would cost if I bought it in store. I was told $116.25—a 25 cent increase over what I had read in the RiRi press release. For two seconds I felt like the flayed accountant in "Bitch Better Have My Money." It was awesome.
G/O Media may get a commission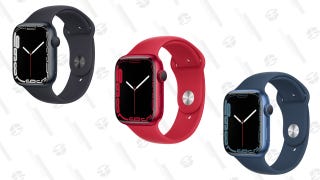 Up To $45 Off
Apple Watch Series 7
Still, $116+ seemed like a high price to pay for me to probably embarrass myself in front of a cool famous person, so I opted instead to interview fans who were brave enough to take that risk.
The people I found queued up around the first-floor escalator, waiting for their turn to go downstairs, were mostly women and, among them, mostly women of color. They were almost all from the New York area, one notable exception being a young French woman who literally flew in from Paris for the event. "We booked the plane tickets, like, two days ago," she told me.
Most of the Navy I chatted with appeared to be in their teens or twenties, although there were a couple of outliers at either end of the age spectrum—including one super cute girl who was there with her older sister. She told me that she likes "everything" about Rihanna and that her favorite track is, as she called it, "Better Have My Money." She also told me that she once hugged Rih at an Unapologetic album signing and that "there was candy" at said signing. My memories are trash compared to this girl's.
The older of the two sisters shared that love of "BBHMM," but she didn't mince words when asked about Rihanna's as yet unreleased eighth album: "Where's R8? I'm ready for that album. We've been waiting since 2012." Finally, someone who gets me.
One of the few male fans I spoke to expressed similar R8-related sentiments, although he was a little more diplomatic with respect to Rihanna's artistic process. When asked what he would say to Rih during the meet and greet if he were given the chance, he said: "I would definitely [ask about] R8. I support her decision to make us wait, because I know she's gonna deliver."
One young woman told me that she was pleased with her perfume purchase, saying that RiRi smells "fruity." Another fan shared an incredible/incredibly 2006 anecdote about meeting Rihanna during a My Super Sweet 16 taping, asking Rih what her AIM screen name was, and being told to check out the singer's MySpace page instead. A young boy said that he liked Rihanna's most recent Eminem collaboration, "The Monster," and then turned away to hug his mom's leg.
Maybe it's my out-of-control bias talking, but I was surprised not to find anyone else wondering where R8 was. This November will mark the third consecutive year that the followup to Unapologetic has failed to materialize—unless it materializes!—but that anxiety seemed to be the furthest thing from the meet and greet attendees' minds.
And that's great for them. I don't like it when my void-staring precipice gets too crowded anyway.
Bad at filling out bios seeks same.