I did not want to see a psychiatrist. And like many who are referred to a psychiatrist, I was sure I did not need to see a psychiatrist.
I had just received an infertility diagnosis. My estrogen levels were abnormally low, I was severely underweight, and soon enough my husband and I would learn that we were both carriers for the same rare genetic disorder. My reproductive endocrinologist, the kind of expert who exudes authority and compassion in equal measure, said that before I could progress with my infertility treatment I needed to get my mental health in order.
I had been dealing with chronic illness and a series of high-stress media jobs for almost a decade. I had struggled with depression and anxiety. I had spent two years in talk therapy with various Atlanta psychologists. And yet, still, I insisted I was fine. I did not need a psychiatrist.
In the new edition of his seminal book The Noonday Demon, author Andrew Solomon writes of a largely hidden epidemic of women who struggle with depression during pregnancy. Perhaps because of the hurdles I faced getting pregnant at all, I was first in denial that I could be one of them, and then, ultimately, afraid to let depression commandeer my pregnancy. After all, shouldn't expecting a desperately wanted child bring bliss?
My infertility doctor wrote a name and number on a scrap of paper, passed it to me, and told me it was who she would refer her own daughter to if she thought she needed help. She told me to make sure I had made an appointment with the psychiatrist before my next appointment with her as we continued to evaluate my fertility situation.
G/O Media may get a commission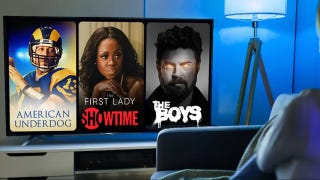 UNDER $1
99¢ Prime Video Channels
Naturally, I began my first appointment with my psychiatrist by insisting how fine I was. Naturally, by the end of that appointment, I was in tears. It wasn't long before she told me that in addition to my having anxiety and depression, she was also concerned, especially given my highly irregular hormones, that I had "every red flag" to be a "serious postpartum case." And that was of obvious concern to her, since my goal, ultimately, was to become pregnant and then have a child.
"You need Prozac," she said. "Good old-fashioned Prozac. How do you feel about that?"
I hesitated.
"What is making you uncomfortable with the idea of Prozac?" she asked.
"I don't want to feel like a different person. I don't want to not be myself anymore."
And the wonderful woman I would come to trust implicitly laughed the deep, throaty laugh I learned to look forward to at our appointments.
"Oh, you wish the drugs were that good. My job would be so much easier if there was a pill you could take that made someone into a completely different person."
I smiled and nodded, trying to talk myself into believing that the medication was the right choice. And as she already, magically had the ability to do, my newest doctor once again read my mind.
"It's so safe," she told me. "It is so old-school. We have had so many years to watch and observe and just know. This is a perfectly safe drug to take during pregnancy. Which is why I want you to start it now—and continue it while you're pregnant and forever after that."
Even the most cursory of Google searches will yield the risks that can accompany taking antidepressants and anti-anxiety medications during pregnancy, which Solomon also describes in his book. From early studies linking selective serotonin reuptake inhibitors (SSRIs) to fetal respiratory disorders to the anonymous mommy-shaming message boards that haunt the deep bowels of the Internet, there are plenty of voices, both expert and anecdotal, willing to explicate on the dangers that these medications—so necessary for so many women, myself included—can have on fetal development.
I left her office with a prescription in hand. Within a week, I could feel a noticeable difference in how I felt. I did not lay awake at night wracked with fear of life and the unknown. I did not spontaneously find myself overcome with tears at the grocery store. The little "grandma dose," as she called it, a paltry 10 milligrams, of the drug that has become an iconic part of the American lexicon was working. And I felt such tremendous relief to learn that not only did I not not feel like myself, but rather that I felt like myself, but better.
And so when two years later—fifteen pounds and a combined fresh and frozen IVF cycle with genetic testing later—I did become pregnant, there was no question over what the right decision was for both me and my future child in regard to continuing my medication.
Becoming pregnant had not been easy. So staying pregnant—and healthy—was of especially great concern to me. And if the two years it had taken me to get pregnant taught me anything, it was to trust and listen to my doctors.
Each new doctor that was added to my medical team as my pregnancy progressed—I now had not only a reproductive endocrinologist and psychiatrist and nutritionist, but also an OB-GYN and perinatalogist—never flinched when I mentioned that I was on Prozac. Rather, they all nodded encouragingly, expressing both explicitly and through silent smiles how much they agreed with my decision.
Almost eight weeks before my due date, my psychiatrist doubled my dosage to help my body prepare for the tasks ahead of it: Childbirth and motherhood were hard. There was no reason to pretend that these things were not difficult. There was no reason to not help my body—and brain—as much as possible.
My mom had always told me that you can't take care of your child if you aren't taking care of yourself. Yes, motherhood was about sacrifice—but for me, forgoing the medication that allowed me to be productive and successful was not a necessary sacrifice. I saw it as endangering my future child's health. I had worked so hard to conceive and carry this child. I wanted to do everything in my power to keep her safe while in-utero—and do everything I could to ensure her wellbeing and security once she was born.
I never once felt guilty about taking Prozac during my pregnancy. And of the many things I did worry about, the effect of my anti-depressant on my fetus was not one of them. It seemed arrogant and callous to assume that I knew better than the people in whose hands I had entrusted my health and that of my child. It seemed selfish and foolish to do anything that would jeopardize my ability to mother that child.
My beautiful daughter Arden is now 11 weeks old, and even on the longest and most sleep-deprived days, I am reluctant to put her down, not wanting to miss a second of watching her grow. She has allowed me to feel a love and joy I had never previously known, and I am so grateful to the medication that lets me feel that rapture to the fullest. Swallowing my Prozac each morning is a meditation and a promise to her to honor my commitment to being the best mother I can be.
Jen Gerson Uffalussy is a regular contributor to Fusion. She also writes about reproductive and sexual health/policy for Glamour, and television for The Guardian. She lives in Atlanta.