Donald Trump announced the launch of his official "America First" smartphone app on Friday—a donation-soliciting, media-broadcasting, one-stop-shop for all things Donald. And like the man himself, it's a slick piece of work that provides users with a mile's worth of options—all of them an inch deep and none of them particularly good.
I hate this stupid app. It is really bad.
Created by Political Social Media LLC (who also made apps for Rand Paul and the NRA) "America First" lets users "engage with the campaign, meet fellow supporters, and collaborate to Make America Great Again by answering various calls to action and building an active online community of supporters." According to the app's iTunes description, users can:

*Stay up to date on the latest campaign news
*Meet and communicate with fellow supporters
*Earn points for taking action to unlock special activist badges and win prizes
*RSVP, get directions, and check-in at official events and rallies
*Sign up to vote, sign up to volunteer, and make a difference
*Invite your friends to join you on the app!
G/O Media may get a commission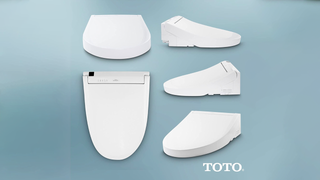 44% off
Toto Washlet Electronic Bidet Toilet Seat
What that means for actual app-havers is a mishmash of Trump news alerts, requests to donate to the campaign, a clock measuring the "Time Left Until We Defeat Crooked Hillary" (really just an election countdown) and the ability to check-in at a Trump rally, among other things. Seriously, check out the homepage. It's a mess:
Ostensibly tying this all together is a gaming engine in which every interaction with the app is rewarded with "Action Points." APs can be earned by doing things like filling out your user profile, watching Trump ads, sharing content with contacts in your phone's address book (more on that in a bit) and answering some Trump trivia. Earn enough APs, the app promises, and you'll unlock "up to 8 levels of Activist Badges, ranging from 'Apprentice" to 'Big League.'" Depending on the level, "different content and opportunities" will be made available.
No, that's not just you losing the will to live.
At nearly every point in the app, users are asked, or sometimes prompted, to share their progress with a friend. While social sharing is nothing new, the detail with which Trump's app is interested in learning not just about you, but about every one of your address book contacts, has some electronic privacy experts worried already.
"Trump's is asking to collect significantly more data, and not just data about you, but data about anyone who might be in your contact list," ACLU of Northern California technology and civil liberties policy director Nicole Ozer told ABC News.
While some other political apps—Hillary Clinton's, for example—requests access to a user's address book only when that user attempts to share content with a friend, Trump's requests that same expansive access as part of the initial registration process. In other words, while Clinton's app asks to dive into your contacts only when you prompt it to, Trump's does so before a user can even get through the door. It's legal, but also shady.
"I think most people have this perception that if they don't click yes, they can't use the apps. It's misleading at best," Marc Rotenberg, executive director of the Electronic Privacy Information Center told ABC. "But it's unfair when we look more closely at the Trump policy in particular, because it says, 'You're giving us the right to capture your contact list.'"
In light of the recent high profile hacking of the Democratic National Committee servers, Ozer cautions ABC that "the more data, the longer its retained, the more likely that something can happen to it. That it ends up being used in a way that the individual did not intend or could end up being hacked or breached at some point down the line."
So, to recap, Donald Trump's new app is really awful and also, if you're not careful, might take some serious liberties with your phone's contacts list. Call it an aspiring politician practicing his government overreach. I deleted the app as soon as I could. But, if you're so inclined, "America First' is available on both iTunes and Google Play.