Anthony Scaramucci, who was fired as White House communications director before starting his job as White House communications director, hosted TMZ on Monday.

But the porous membrane that separates the White House and the craven entertainment industry is not what this story is about. Instead, it is about Scaramucci's height. And also my height.
According to noted authority on the heights of famous people Heavy.com, the founder of SkyBridge Capital is 5'8". However, after watching Scaramucci's appearance on TMZ, and looking at other photos online, I would wager he is closer to my height, which is 5'2" (and a half).
It is fine to be 5'8" and it is fine to be 5'2" (and a half), but you can't be both at the same time.
G/O Media may get a commission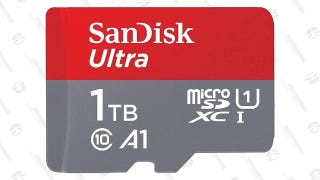 Save $70
SanDisk Ultra 1TB MicroSDXC Card
There are a few reasons to suspect that Anthony Scaramucci is not 5'8". One is the photo of him standing alongside some carry-on luggage which I have used as the featured image on this very post. (Please scroll up.) Now, the maximum dimensions of carry-on luggage can vary by airline, but American Airlines, United, and Delta each have 9" x 14" x 22" listed as the upper limit of any non-checked baggage.
Keeping this fact in mind, I invite you to look again at this image, helpfully enhanced by my colleague Isha Aran.
Now, 66" is 5'6".* These bags, stacked end-to-end, are taller than Scaramucci. Makes you think, no doubt.
Is measurement via luggage an exact science? Certainly no. But I would add that Scaramucci seems to not be 5'8" in this picture of him walking alongside Mitt Romney, who is reportedly 6'2". Scaramucci tweeted this photo but then deleted it before assuming his post as White House communications director, a post he never actually assumed.
I have reached out to Scaramucci for comment through Twitter direct message, as we follow one another on that social media platform, and will update should I hear back.
Update: Scaramucci responds.
*Corrected