Wisely realizing that their previous political sketch, mocking the Vice Presidential debate, was quickly outdated by Trump's latest scandal—dubbed "Pussygate" by Politico—Saturday Night Live dedicated its cold open to mocking Trump's hot mic moment with Billy Bush.
After briefly mocking the VP debate—between Sen. Tim Kaine, America's dad, and Gov. Mike Pence, America's stepdad—the show quickly cut to an interview between Trump, played by Alec Baldwin, and CNN's Brooke Baldwin, played by Cecily Strong.
"I was just a young, childish 59-year-old man," Trump says. ""C'mon Brooke, I was trying to look cool. I mean what normal, red-blooded American doesn't want to impress THE Billy Bush?"
Baldwin's Trump manages to make even more disgusting comments than Trump himself: "Listen women, I promise I can do a whole lot more than grab it. I can also bop it, twist it and pull it."
G/O Media may get a commission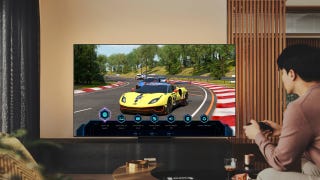 Up to $700 off
TVs, Cell Phones, Smart Home, and More
After his CNN segment, Trump is caught on a hot mic saying he wishes he was Hurricane Matthew, "Tearing through all of that hot Miami pussy. I would just destroy it."
The show then cuts to Hillary Clinton's campaign headquarters, where the candidate is getting drunk with her staff. Baldwin asks if Trump should drop out of the race due to the comments. "NO!" SNL's Clinton, played by Kate McKinnon, shouts. "Give him a chance!"
Trump is then caught on a hot mic again, talking trash about Ted Cruz: "Talk about a pussy I'd love to grab—by the throat."
SNL, which was harshly criticized for having Trump host an episode last season, appeared to be hitting him harder. He was also a subject of host Lin-Manuel Miranda's opening monologue, in which the Hamilton writer and star nearly refers to him as a "piece of shit."
Sam Stecklow is the Weekend Editor for Fusion.