Immigration and Customs Enforcement agents detained three immigrants working at a Michigan restaurant on Wednesday, but not before helping themselves to a hearty breakfast. Because, as everyone knows, breakfast is the most important meal of the day—especially if your day consists of handcuffing the people who cooked it for you.

Sava Lelcaj, owner of Sava's Restaurant in downtown Ann Arbor, claims that ICE officials entered her business just before noon on Wednesday, ate a meal, and then began questioning her kitchen employees, according to MLive.com. And although Lelcaj reportedly screens applicants to ensure any immigrants have the requisite permissions to work in her restaurant, she said several members of her staff didn't have those forms on them at the time of the ICE raid.
So, just after cooking and serving the agents their breakfast, three of Sava's employees were detained and taken to a Detroit-area ICE office. They have since been released.
To make matters worse, the ICE agents had come to the restaurant looking for someone else entirely.
"They came in looking for one person, who was not on duty," Lelcaj told MLive.
Speaking with the Daily Beast, Sava's employee Bree Sitwell described the post-breakfast raid.
G/O Media may get a commission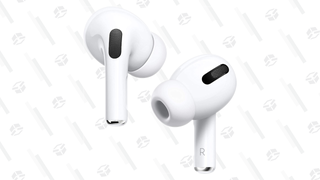 28% Off
Apple AirPods Pro Wireless Earbuds
"One ICE agent was stationed at the back door, and one at the front," Stilwell said. "They apprehended one of our employees taking the trash out to the back alley and immediately put him in handcuffs, misidentifying him as the employee they were looking for. The detained employee showed the agents his documentation and was released, but three others were arrested."
Ann Arbor police were notified of the ICE action before it took place, but were asked not to participate and had not been a part of the investigation that prompted the raid, an police department representative told MLive.
"It's a very sad day here at Sava's," Lelcaj told the site. "These things really shake people up. We have a lot of people who have family roots here."
I have reached out to both Sava's and ICE for their comments on the raid, and will update this story with their responses.
Update, 10:12 AM: A representative from the Immigration and Customs Enforcement Agency confirmed the detentions in a statement. According to ICE, only one of the three detainees has been released, contradicting earlier reports that all three men were to be released on Wednesday:
While conducting a targeted enforcement action at Sava's restaurant in Ann Arbor, Michigan, ICE Enforcement and Removal Operations (ERO) officers encountered and arrested three individuals on immigration violations. Sergio Cardenas Rubio and Jesus Ortiz Hernandez unlawfully entered the United States without inspection at an unknown date and location. Mohamed Souman lawfully entered the country, but did not depart in accordance with the terms of his status. One has been released and two are currently in ICE custody.