I'm beginning to wonder if immigration agents actually get off on these horrific headlines. Or if there's some type of internal contest at Immigration and Customs Enforcement to see who can be the cruelest human.
In the past month alone, ICE agents have detained workers at a Michigan restaurant after the agents ate breakfast there, arrested a father on his way to pick up his newborn son from a Boston hospital following an emergency surgery, and bragged about how many undocumented immigrants they've arrested since Donald Trump took office.

In the latest chapter of this sad tale of modern American cruelty, ICE agents in Ossining, NY, stalked and then arrested 19–year–old Diego Ismael Puma Macancela at his cousin's home on the day of his high school prom, just days before he was supposed to graduate. Not only that, but they had just arrested his mother the night before.

Puma Macancela and his mother came to the U.S. from Ecuador in 2014, fleeing the threat of gangs, NBC News New York Channel 4 reported. Relatives say that they were unaware an immigration judge had issued a deportation order last November against both mother and son. Even if they had known, relatives say, they thought such an order could be appealed.

On Wednesday night, after Puma Macancela's mother was detained, he fled in fear to his cousin's home, which happens to be located across the street from the residence of Ossining Mayor Victoria Gearity. Ossining is a town of about 25,000 people 30 miles north of Manhattan.

G/O Media may get a commission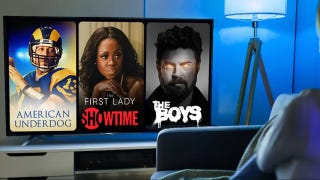 UNDER $1
99¢ Prime Video Channels
The mayor said she had no idea ICE agents were planning on targeting a high school student, much less in the early morning hours before school on the day of his prom.

Gearity watched the arrest out her window, The Journal News reported.

"As people were heading out to work, and kids were walking to the bus stop, three federal agents were walking around the property of the house across the street from me," Gearity told the newspaper.

The town's police chief told Gearity that the ICE agents were "not where we thought they were," according to the mayor. ICE disputed that claim.

Inside the home of Puma Macancela's cousin Gabriela Macancela, the two teenagers, along with a third sibling, huddled in fear in the bedroom of Macancela's parents as ICE agents surrounded the home and banged on the door looking for Puma Macancela, who eventually stepped outside and was arrested.

"They grabbed him like he was a criminal," Gabriela Macancela told NBC. "He came here and he started a new life. And now he has to go back and start all over again."

A local legal advocacy group is trying to convince immigration officials to allow the teenager to graduate from Ossining High School before they deport him and his mother. School Superintendent Ray Sanchez supports that effort, telling the Journal, "Given permission by the courts, we would, of course, welcome our student back for his final exams and graduation next week."

In a statement responding to Puma Macancela's detention, New York State Assemblymember Francisco Moya asked:
At what point does this administration admit that their immigration policy has immeasurably overstepped itself? The arrest of Diego Macancela , just days ahead of his graduation, demonstrates just how unhinged DHS and ICE protocol has become under Donald Trump. Neither a danger to national security or his community, Diego is simply a 19 year old student who only aspired to graduate with a high school degree.
An online petition calling for Puma Macancela's deportation to be halted so far has over 7,000 supporters.

On Friday, Reuters reported that the Trump administration has targeted hundreds of undocumented immigrants with longstanding ties to the U.S. for whom former President Barack Obama had previously lifted the threat of deportation.