When Viviana Andazola Marquez walked into an appointment with federal immigration officials in Denver last week, she thought it would be the end of a long effort to obtain legal status for her father, Melecio.

But then a U.S. Citizenship and Immigration official allegedly told her, "Your dad has been recommended for approval, but there's just one more thing," before she was asked to leave the room. Shortly thereafter, a trio of Immigration and Customs Enforcement agents arrived. "And my dad's been in detention ever since," Viviana told the Denver Post.
Speaking with Denver ABC7, Viviana shared the hurt and frustration she felt after her father's surprise arrest.
"Honestly, it was incredibly cruel," she said. "In retrospect, now I know they had planned that all along."
"My dad was trying to do right by the law," she continued. "He filed all the necessary paperwork, paid all the fees, hired a lawyer, did everything in his power to obtain lawful status and he was tricked and brought into the office and detained."
G/O Media may get a commission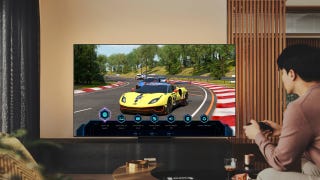 Up to $700 off
TVs, Cell Phones, Smart Home, and More
In a statement to the station, ICE officials confirmed the arrest:
Melecio Andazola Morales, 41, from Mexico, was arrested by deportation officers with the U.S. Immigration and Customs Enforcement (ICE) Enforcement and Removal Operations (ERO) at the U.S. Citizenship and Immigration Services office on Oct. 12.
Speaking with the Post, the family's lawyer explained that Melecio's arrest stemmed from an "order of exclusion" (essentially a deportation order) issued in 1997 when he had been stopped at the Texas/Mexico border. Melecio then re-entered the United States without documentation the following year, and has been living here and raising four children ever since.
According to the attorney, Andazola Morales has no criminal history from his time in the U.S. and poses no flight risk. The family has requested a stay of removal for Melecio's deportation, and are seeking his release from the Geo Group private detention facility in Aurora, CO, where he is currently being held.
At Yale, where Viviana is a senior, the campus community has rallied for their classmate as she debates leaving school to care for her family.
"Viviana is a dear member of the Yale community and La Casa," Eileen Galvez, director of the school's La Casa cultural club told the Yale Daily News. "Over the past few days, we have seen how our students utilize their intellect, creativity, networks and organizational skills to be present and supportive of one another … Melecio is indeed a part of the extended Yale family. Our students have certainly showed us that."
Viviana's Yale admission essay was featured in the New York Times in 2014. In it, she describes some of the hardships she and her family had endured as a result of her parents' undocumented status.
"During the bitter winter of 2012, I reached a dead end," she wrote. "My family was denied residence in a homeless shelter due to my mother's legal status."
Since Melecio's arrest, a crowdfunding campaign has raised over $66,000 from nearly 1,500 donors for Viviana and her family. But, as she pointed out in a video posted to Facebook on a page about her father's situation over the weekend, this is larger than one deportation.
"This incident goes beyond my dad," she said. "This is an incident that exemplifies the way that undocumented immigrants get treated in this country when they seek to obtain status."