Immigration officials have finally acknowledged they arrested 680 immigrants in a five-day nationwide operation that sparked fear and panic in immigrant communities across the country.
The raids were conducted in Los Angeles, Chicago, Atlanta, San Antonio, and New York City, according to a Homeland Security statement issued by Secretary John Kelly. Officials did not explain why these locations were targeted but said plans were underway before President Donald Trump issued his immigration executive orders.
U.S. Immigration and Customs Enforcement (ICE) officials initially denied the agency was conducting any operations that were out of the ordinary, despite officers arresting hundreds of immigrants at homes and in public spaces across the country. ICE officials said they didn't comment on the arrests earlier because the operations were not completed.
ICE said 75% of those arrested were "criminal aliens, convicted of crimes including, but not limited to, homicide, aggravated sexual abuse, sexual assault of a minor, lewd and lascivious acts with a child, indecent liberties with a minor, drug trafficking, battery, assault, DUI and weapons charges." It is not clear who the remaining 25% of detainees are but there were reports of bystanders being picked up when they could not prove they were in the U.S. with proper authorization.
In Southern California, there were 161 people detained in what David Marin, field office director for ICE enforcement and removal operations in the Los Angeles area, described as an "enforcement surge."
G/O Media may get a commission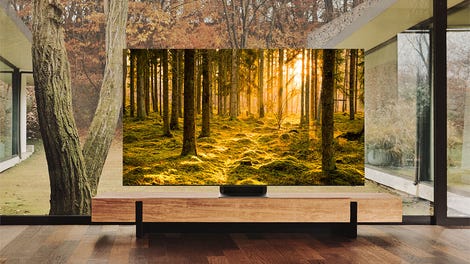 Up to 40% off
Samsung Smart TVs
In the South, there were 192 people detained in Georgia, South Carolina, and North Carolina.
In Texas, ICE reports there were 51 arrests in the San Antonio area. Of the 51 individuals arrested, 23 had criminal convictions.
ICE officials also arrested 235 individuals in six midwestern states: Illinois, Indiana, Wisconsin, Kentucky, Kansas, and Missouri.
There were also 40 individuals detained in the five boroughs of New York City.
"Shame on ICE for putting New York's immigrant communities—four million strong—in a state of panic," said Steve Choi, executive director of the New York Immigration Coalition, in a statement.
While ICE officials arrested some immigrants at private residences, there were others who were arrested on busy streets in plain view of the public, triggering a confusion and panic in immigrant communities.
In Los Angeles, at least five officers arrested a man in a parking lot near a Van's shoe store on Whittier Boulevard. ICE officials were specifically targeting the man they arrested, but in a community that is predominantly Latinx, the scene of a group of officers carrying large guns and wearing vests that read "POLICE ICE" in capital letters is alarming. The arrest Tuesday took place during the day, just two blocks away from an elementary school.
In Austin, ICE officials arrested a man in an H.E.B. grocery store parking lot while someone broadcasted the scene live on Facebook. The video posted Friday morning had more than half a million views by the end of the day.
The panic allowed for rumors of ICE visiting K–12 public schools in Austin to thrive. The Mexican Consulate in Austin told KVUE some people were taken into custody at schools but ICE officials maintain they did not conduct checkpoints or random arrests. Fusion could not independently verify reports ICE agents were visiting schools.
At the end of the school day on Friday, the students were reportedly sent home with a flyer telling parents what to do in the event ICE agents showed up at their door.
The five-day nationwide raid is not unprecedented. In March 2015, under the Obama administration, ICE detained 2,059 immigrants as part of what they called operation "Cross Check."