Immigration and Customs Enforcement (ICE) said on Wednesday that it was "deeply disturbed" by a federal judge's ruling that says hundreds of Iraqi immigrants currently languishing in ICE's custody are constitutionally entitled to be released on bond, according to Courthouse News. 

District Judge Mark Goldsmith's Tuesday ruling is the latest in a protracted legal battle involving more than 300 Iraqi immigrants from Michigan. In June, ICE detained and attempted to initiate deportation proceedings against the immigrants, according to the Detroit Free Press. In July, Judge Goldsmith issued a stay against immediate deportation after the American Civil Liberties Union (ACLU) filed a federal lawsuit against ICE on behalf of those detained.
Said ICE spokesperson Khaalid Walls on Wednesday regarding the latest ruling, "ICE is deeply disturbed by the decision, but will comply with the decision unless and until it is reversed by an appellate court."
Goldsmith's most recent ruling comes after the ACLU argued that ICE's current practices mean many of those detained would have to remain in ICE detention centers during the years it could take immigration courts to resolve their cases. The ACLU argued that detainees are constitutionally entitled to be released on bond in the meantime, assuming that they are not dangerous.
Wrote Judge Goldsmith in his ruling:
Our legal tradition rejects warehousing human beings while their legal rights are being determined, without an opportunity to persuade a judge that the norm of monitored freedom should be followed. This principle is familiar to all in the context of the criminal law, where even a heinous criminal — whether a citizen or not — enjoys the right to seek pre-trial release. In either context, the principle illustrates our Nation's historic commitment to individual human dignity — a core value that the Constitution protects by preserving liberty through the due process of law.
G/O Media may get a commission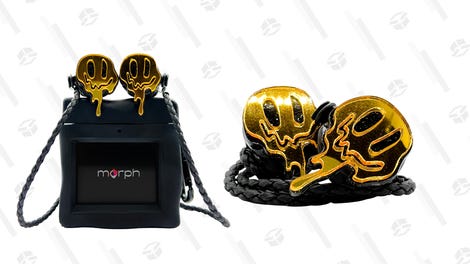 morph audio
Morph Earphones
The government's case against the some of the detained immigrants rests on the fact that many (but not all) have a criminal record. However, according to Judge Goldsmith's ruling, all of those ICE detained had already served their sentences and been released.
Goldsmith's ruling also alludes to the United Nations Convention against Torture, which prohibits deporting people to countries where they may face persecution.
Petitioners state that because of their having resided in the United States and their status as religious minorities – many are Christian, others are members of oppressed Muslim sects – they are likely to be persecuted, tortured, or killed by members of the Islamic State in Iraq and Syria, the de facto government in many parts of Iraq.
For now, ICE is reviewing the judge's order "to determine the path forward." It is not yet known whether or not the agency will appeal the decision.
Judge Goldsmith's ruling set a February 2, 2018 deadline for immigration authorities to hold the now legally-required bond hearings. After that, the ruling says, ICE would be required to release the affected detainees, unless the agency can prove a detainee is a risk.