Note: the headline and body of this post have been updated to reflecting ongoing developments.
UPDATE, 4/11: Maribel Trujillo's deportation was temporarily put on hold while the Sixth Circuit Court of Appeals reviewed it. The court rejected Trujillo's appeal. Her lawyer told me in a statement that she is still due to be deported in the next few days.
ORIGINAL STORY: Despite rallies, letters to Ohio's governor, and an intervention from the church, the federal Board of Immigration Appeals has denied an undocumented mother of four's emergency request for a stay of deportation, according to a lawyer involved with the case.
That means that Maribel Trujillo Diaz is still scheduled to be deported from her Ohio home on Tuesday morning.
Trujillo came to the U.S. in 2002. She reportedly fled Mexico because her family was being threatened by cartels. She does not have a criminal record and was legally allowed to work in the U.S.
G/O Media may get a commission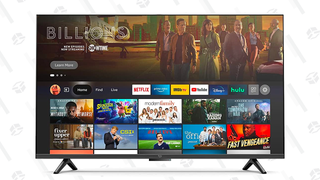 22% off
Amazon Fire TV - 50" Omni Series 4K - Early Access Deal
Trujillo first came into contact with immigration authorities after a raid at her job in 2007, according to her lawyers. As a result, she attended regular meetings with ICE, but was not under any imminent threat of being kicked out of the country. However, the Trump administration has dramatically broadened the category of undocumented people it considers priorities for deportation.
Last Wednesday, Trujillo was taken into custody. She was then moved from a local jail to an immigration detention center farther away from her home, making it harder for her lawyers and faith leaders to reach her, according to Advocates for Basic Legal Equality (ABLE), a nonprofit civil legal aid law firm working on her case.
According to Trujillo's lawyer, Kathleen Kersh, she had a pending request for asylum. ABLE has also filed "a petition for review and motion to stay removal in the Sixth Circuit."
"Ms. Trujillo doesn't present a threat to public safety," Kersh said in a press release. "She has lived here peacefully since 2002 with no criminal record. All these efforts to detain and remove her draw a big question mark over President Trump's immigration strategy – this is not making America safer, it's leaving four American kids without their mom."

Trujillo is the main provider for her family, including her four children. One of her children has seizures, and another is pre-diabetic. She reportedly was unable to say goodbye to all of them before being detained by immigration officials.
Over the weekend, local churches held vigils, rallies, and participated in letter writing campaigns in hopes of getting a stay of Trujillo's deportation order.

"Maribel's family is devastated by the news of the stay denial. We hope that the government will see how their policies are tearing this family apart. ABLE and our partners will continue to pursue all possible legal and advocacy options to keep this family together," Kersh said in an emailed statement. "We will keep fighting, and we ask others who share in our sadness for this family to keep putting pressure on [Ohio Senators Sherrod Brown and Rob Portman) as well as the Governor's office."
A representative from the Board of Immigration Appeals declined to comment on Trujillo's specific case. ICE did not return my request for comment.
UPDATE: A spokesperson for ICE sent me the following statement. (The statement misspells Maribel Trujillo's name.)
Case background:

Mirabel Trujillo's immigration case has undergone review at multiple levels of our nation's legal system and the courts have uniformly held that she has no legal basis to remain in the United States. In 2014, the Board of Immigration Appeals dismissed her legal appeals and she became subject to a final order of deportation.

In an exercise of discretion, the agency allowed Ms. Trujillo to remain free from custody with periodic reporting, while her immigration case was pending.

With respect to the removal:

For operational security and detainee privacy reasons, ICE does not provide information on specific removal arrangements prior to an individual's successful repatriation.