U.S. Immigration and Customs Enforcement's detention of immigrants has become a well-publicized cash cow for private, for-profit prison companies including GEO Group and CoreCivic, but a new story by the Daily Beast has gotten deeper into the specifics of just how much corporations are making off of the imprisonment of immigrants.

In an investigation published on Thursday, the Daily Beast reviewed ICE budget submissions, pricing information for 19 privately-owned or operated detention centers, and other public records for as comprehensive a look as possible into just how much private prisons are earning per incarcerated person from taxpayer funds. They found that ICE paid at least $807 million in public dollars to the operators of those prisons in fiscal year 2018. 
At these facilities, 18,000 detainees voluntarily work for as low as $1 a day. Private companies such as GEO Group, meanwhile, charge ICE one hundred times that per detainee.
This information is just based off the data available, meaning that the amount that ICE paid private prisons in this fiscal year is likely higher. In November 2017, the National Immigrant Justice Center estimated that 71 percent of immigrant detainees on average were being detained at 33 private prisons.
G/O Media may get a commission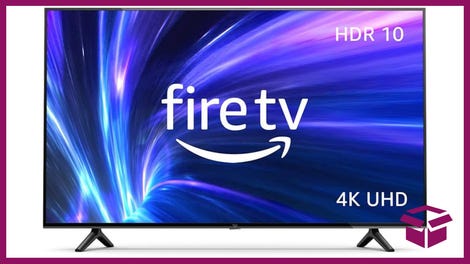 42% Off
Amazon Fire TV 50" 4K Smart TV
There's some discrepancy as to how many facilities ICE actually operates. ICE told the Daily Beast it operates 205 detention centers, while the Department of Homeland Security says that ICE operates 250 centers. The American Immigration Council, meanwhile, found earlier this year that ICE "used" 638 centers to detain "noncitizens, including juveniles," in fiscal year 2015. (We've reached out to ICE for clarification, and will update with any response we receive.)
Private prisons' ability to capitalize on incarcerated immigrants is all the more exacerbated by the amount that these corporations funnel into lobbying efforts to increase incarceration. Per the Daily Beast:
While for-profit immigration detention by no means began on Trump's watch, the Trump administration has been very good for the corporation. In November, GEO Group reported that it expects to earn $2.3 billion this year, including immigration detention revenues—an increase of nearly 1.8 percent from the $2.26 billion it reported in 2017 and up 5.5 percent from the $2.18 billion it earned in 2016...That same year, GEO gave $281,360 to Trump's campaign.

In 2004, GEO Group spent $120,000 on federal lobbying. By 2016, it was spending $1.2 million. Fellow private prisons giant CoreCivic spent nearly $10 million between 2008 and 2014 just to lobby the House appropriations subcommittee that controls immigration-detention funding. Together, according to the Migration Policy Institute, the two corporations dished out a combined half-million dollars to Trump's inauguration committee.

In essence, immigration advocates say, the detention corporations pay Trump and his congressional allies, whose enthusiasm for treating immigration as a crime ensures delivery of a growing population of captives to companies that pay them far below a minimum wage.
Of course, this is no different that all the ways in which private prisons companies GEO Group and CoreCivic continue to be the largest of their kind in the country, and will continue to capitalize on the incarceration and post-incarceration of U.S. citizens by bolstering their profits by millions of dollars under the new criminal justice reform law. In other words: Same as it ever was.