Kyle Odom thought Martians were controlling his mind, taking over the U.S. government, and turning him into a "sex slave." The former marine claimed to have checked himself into a mental institution and received medication for mental illness.
But that wasn't enough to prevent him from getting a gun.
On the afternoon of Mar. 6, Odom drove to The Altar, an evangelical church in Coeur D'Alene, Idaho. He walked up to pastor Tim Remington in the parking lot and shot him six times in the head and the back with a .45 caliber handgun.
He then drove to Idaho and boarded a plane for Washington, D.C., police say. He was arrested on Tuesday evening after Secret Service officers saw him throw something over the White House fence—an attempt to deliver a manifesto about Martians to President Obama.
Investigators haven't said so far if they know how Odom, 30, got his gun. But under Idaho and federal law, it appears that it wouldn't have been too difficult for him to buy one legally. If Odom was never declared mentally incompetent by a court or involuntarily committed to a mental institution, he would have passed a background check—and in Idaho, he wouldn't even need a permit.
G/O Media may get a commission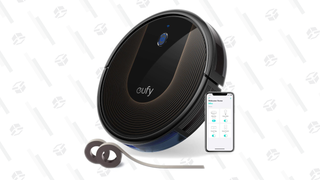 48% Off
Eufy BoostIQ RoboVac
Now, Odom is facing attempted first degree murder charges with a gun enhancement that could put him in prison for up to 30 years, said Barry McHugh, the prosecutor for Kootenai County. He's expected in court in Washington, D.C. today to begin extradition proceedings to Idaho.

A spokesperson for the county district court said the detailed charges against Odom are currently sealed and not available to the public.
Remington, the victim, is in stable condition, said John Padula, an outreach pastor at the church. "He's very stable, he's talking and joking and laughing," Padula said. "We just want the shooter to know we love him and are praying for him."
In his manifesto, which Odom also sent to news organizations, he wrote that he was admitted to the local VA hospital in nearby Spokane, Wash., sometime in the last two years:

I decided to check myself into the VA. They shipped me straight to the mental ward and I was admitted. Nothing improved while I was there. The medication they gave me did absolutely nothing. I just sat there surrounded by a bunch of psychotic people and became exasperated. I knew their goal was to ruin my life by making me into a crazy person. I became determined not to let that happen and I started fighting back.
Bret Bowers, a spokesperson for the Spokane VA hospital, said he could not yet confirm or deny any of Odom's account, citing federal law prohibiting the VA from releasing veterans' health information without their consent.
If it's true that Odom checked himself into the hospital voluntarily, that alone would not be enough to keep him from getting a gun. The federal gun background check form only requires a customer to note if they were declared mentally deficient by a court or involuntarily committed to a mental institution. In the past 18 years that the federal background check system has been in operation, 22,285 people have been denied a gun because of mental health issues.
Idaho gun laws require no permit for the purchase of any rifle, shotgun, or handgun. Permits are required for concealed carry, but it's not clear whether Odom held one. A staff member at the Kootenai County sheriff's office said their database of concealed carry permits—which cost $20—are not public information.
Moreover, Idaho doesn't require universal background checks, which means that even if Odom had been committed involuntarily, he could have bought a gun online or at a gun show and avoided the background check altogether. (Universal background check legislation failed in the Senate in 2013 and 2015.)
In the manifesto, Odom claimed he had been suffering from visions of Martians who wanted to control his mind for several years, that he had tried to kill himself twice, and that more than 50 members of Congress were actually martians disguised as humans. (The Washington Post has a very detailed breakdown of the manifesto's claims.)
When he met Remington, Odom wrote, he realized the priest was also a Martian:

We were in mid conversation when he suddenly revealed himself to me… His eyes really stood out so they captured my attention. They were huge and bulging, the eyelids were darker green, and the irises were yellow/brown with slit pupils.
Seeing that face made him realize he had to kill Remington, Odom claimed.
If Idaho or the federal government had stricter gun control laws, Odom's deluded visions might not have resulted in the shooting, said Andrew Patrick, a spokesperson for the Coalition to Stop Gun Violence, an advocacy group. Under current law, "if he was voluntarily committed, it would not be a prohibitor for purchasing a firearm," Patrick said.
According to a Mother Jones database of mass shootings, a majority of shooters between 1988 and 2016 exhibited prior signs of possible mental illness. In addition, more than 75% of the shooters legally purchased their gun.
"We don't want to get into the habit of demonizing the mental health community," Patrick said. "The overwhelming majority of those who suffer from mental health issues are not going to be violent. The bigger issue is access to guns."
Casey Tolan is a National News Reporter for Fusion based in New York City.