We all know the depressing statistic that women make 79 cents for every man's dollar. But the numbers are even more extreme for black women—just 63 cents on the dollar. Perhaps that's why we need days like today: a separate equal pay day for black women. It's actually that bad.
But what if black women did make as much as men? Would the richest black women in the country start leapfrogging over their white-dude counterparts with abandon? Below, we did the math so you don't have to.
But before we begin, an obvious caveat: There are just not all that many super-rich black American women out there. When I typed "richest black women in America" into Google, no Forbes lists appeared with this information. Actually, there are no lists on any reliable site with this information at all. Perhaps this is because even the wealthiest black women don't clear enough cash to rank on these lists in the first place. Coming in at 29th on Business Insider's 29 richest [white] Americans is a random white guy named James Simons who started a quantitative-trading firm and is worth a cool $14.3 billion. That's $11.2 billion more than Oprah cottdamn Winfrey, who appears to be the only black female billionaire in America.
So, since I have no idea who the richest black women in America really are, here is a highly unscientific* list of 10 very, very rich black women who, if they were paid the same amount as men, would be killing it even more than they already are.
G/O Media may get a commission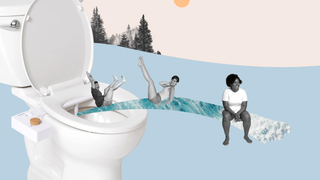 17% off
Tushy 3.0 Warm Water Spa Bidet Attachment
Oprah Winfrey, as herself: worth $3.1 billion
Oprah Winfrey, if she were a dude: $4.92 billion
This means that, in a just world, Oprah would be worth more than Sam Zell, a real estate and private equity bro whom most of us have surely never heard of and is worth $4.9 billion.
BET co-creator Sheila Johnson, as herself: worth $710 million
Sheila Johnson, if she were a man-bro: $1.1 billion
Johnson, who is also CEO of Salamander Hotels and Resorts, would surpass Hollywood super-producer Jerry Bruckheimer, who is worth $900 million.
Mariah Carey, as herself: worth $535 million (estimated)
Mariah Carey, if she were a monsieur: $849.2 million
In our equal-pay fantasyland, she'd top Ireland's king of rock, Bono, who is worth $590 million.
ACT-1 Group founder and CEO Janice Bryant Howroyd, as herself: worth $420 million
Janice Bryant Howroyd, if she were a guy: $666.6 million
If Howroyd, who made her millions when she founded an employment agency, earned as much as men, she'd surpass Nathan Myhrvold, Microsoft's former Chief Technology Officer who is worth an estimated $650 million.
NewsOne owner Cathy Hughes, as herself: estimated worth of $300 million
Cathy Hughes, as a man: $476 million.
That means Rush Limbaugh, another media mogul slash soft-spoken cuddle bug, would be worth about the same as Hughes.
Beyonce, as herself: $265 million
Beyonce, if she were a duder: $420.6 million
That's more than Mick Jagger, who has been doing this for decades longer than Bey, and is worth a mere $336 million.
Janet Jackson, as herself: $175 million
Janet Jackson, if she were a man: $277.7 million
In our dream world, she'd be slaying baby boy Justin Bieber, who is worth $200 million.
Serena Williams, as herself: worth $150 million
Serena Williams, with man dollars: $238.1 million
If we lived in a country where black women made the same as men, Williams would have more money than tennis legend Andre Agassi, who is worth $178 million.
Tyra Banks, as herself: worth $90 million
Tyra Banks, if she were a dude: $143 million
That's more than Ashton Kutcher, also a former model, who is worth $140 million.
Halle Berry: worth $70 Million
Halle Berry, in black-women-get-equal-pay land: $111.1 million
That's more than everyone's favorite basic white male actor, Bradley Cooper, who is worth $80 million.
*And yes, we realize net worth is different than salary. But the point still stands.
Collier Meyerson is a reporter at Fusion with a focus on race and politics. She lives in Brooklyn.